Turning all the attention to the upcoming work, "Whispering Dreams," the brazilian Black Metal band, CORPSE OV CHRIST launched their newest project for 2017.
 We are talking about the "Whispering Tour 2017", which will serve as support for the release of the above mentioned album. The tour has already confirmed several dates and since the beginning of this year several concerts have been made, among them the successful mini-tour alongside the bands Animus Mortis (Chile) and Wisdom (Paraguay), where the group went through the states Of Minas Gerais and São Paulo – Brazil – in four different events. Check below the complete poster with DATES AVAILABLE: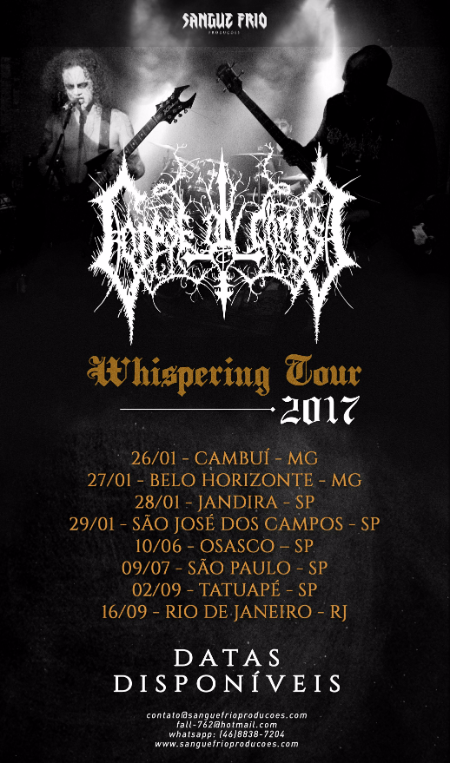 As quoted in the story, CORPSE OV CHRIST follows with dates available for the "Whispering Tour 2017" Producers interested in knowing more write to contato@sanguefrioproducoes.com or fall-762@hotmail.com and ask for a quote.
 In other news, the group recently released the cover and teaser of the long awaited full length "Whispering Dreams", which will feature support in the physical and digital launch of SANGUE FRIO RECORDS, watch:
 Labels and distros interested in knowing more about this and other company launches, write to sangrefriorecords@sanguefrioproducoes.com .
Contact for shows and advice: www.sanguefrioproducoes.com/contato
Related Sites:
Https://www.facebook.com/corpseovchrist/
Http://www.sanguefrioproducoes.com/artistas/CorpseOvChrist/37
Source: Sangue Frio Produções