Rockshots Records - Feel The "Revival" w/ HILLTOPS ARE FOR DREAMERS New Music Video + New Album "In Disbelief" Due Out March 25th
Photo Credit - Victor Lamprinos
Hilltops Are For Dreamers will be releasing their debut album "In Disbelief" via Rockshots Records on March 25th. The album itself is a world of extremes and vastly different from the band's musical past. It blends influences from post-hardcore with acoustic blues melodies, progressive structuring, heavy riffing, a dash of black metal along with exploring electronic and cinematic paths. The record is meant to be a journey from a gloomy emotional state to a possible healing point through the process of realization. It is divided into three parts, Shadows, which is the dark unfolding of the path, Overturn, where the growing consciousness leads to the hope of a better self, and Awakening, which depicts a moment of revival and prospective remedy. For the album's mixing and mastering, they teamed up once again with Steve Lado at SL Studios.
"In Disbelief has a loose concept and it's not a storytelling album from the point of having a main character or hero. However, each of the songs has a lyrical and musical theme that matches with the part where it belongs to." adds band founder Vasilis Papageorgakopoulos (Guitars / Bass / Keys / Programming).
Today, the band presents their first single "Revival", a personal favourite of Vasilis' as he explains further:
"In my opinion, it is a very open-minded song. It's a mix of all my influences, starting from electronic and jazz music (the acoustic parts remind me of 'Thrice' jazz moments) and moving to extreme metal respectively. This is why the song is accompanied by an animated music video. Lyrically, this is about realization, where you understand all these messages from the past, your nightmares, and the signs. You might have ignored them and taken some risks, but you understand now. It's never too late."
Watch and listen to "Revival" at the following links:
Music Video - 
Digital -   https://bfan.link/revival-1
Hilltops Are For Dreamers   are recommended for fans of Opeth, Thrice and Soilwork.
Album pre-order -   https://bit.ly/InDisbelief_CD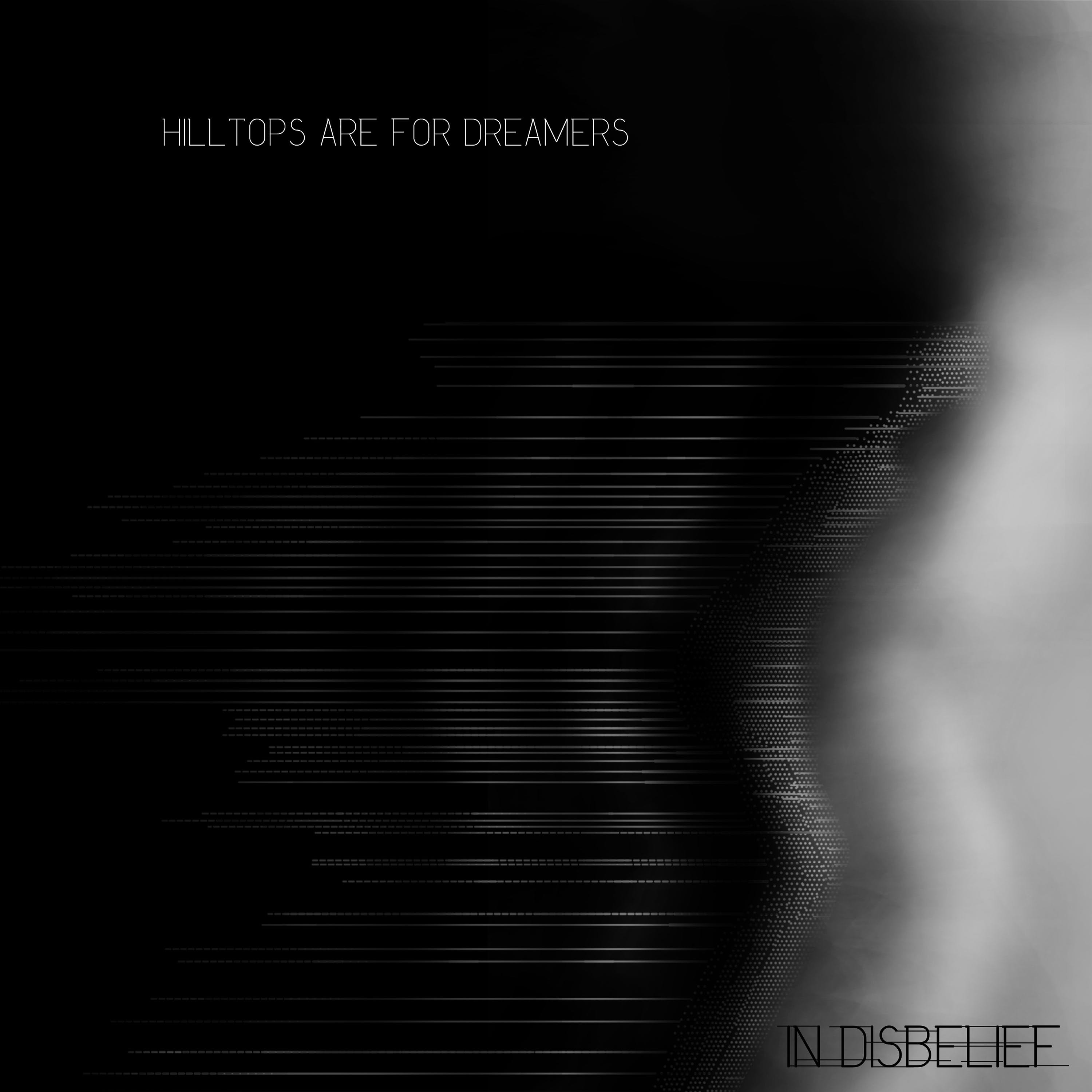 Track Listing:
Shadows
1. Silence (5:03)
2. Severe Serenity (3:56)
3. Healing After The Fall (5:19)
Overturn
4. The Tide (3:15)
5. Turn Into Oblivion (4:09)
Awakening
6. The Sirens Woe (4:10)
7. Revival (3:53)
8. Unsoiled Soul (3:34)
Album Length: 31:99
Band Line Up:
Vasilis Papageorgakopoulos: Guitars / Bass / Keys / Programming
Michael Enger: Vocals
Dionysus Maratos: Programming
Album Credits:
- Guitars & bass recorded and played by Vasilis Papageorgakopoulos
- Keys and programming by Vasilis Papageorgakopoulos
- Vocals performed by Michael Enger
- Drums arranged and programmed by Vasilis Papageorgakopoulos & Dionysus Maratos
- Drums refined and edited by Defkalion Dimos
- All music & lyrics by Vasilis Papageorgakopoulos, except 'Unsoiled Soul' music by Vasilis Papageorgakopoulos & Dionysus Maratos; classical guitar lead by Victor Lamprinos
- Recorded by Vasilis Papageorgakopoulos at Hilltops Recordings & Michael Enger
- Produced by Steve Lado at SL Studios
- Mixed & Mastered by Steve Lado at SL Studios
- Co-Produced, edited & engineered by Vasilis Papageorgakopoulos
- Artwork synthesis & design by Sophia D.
- Band Logo by Sophia D.
- Artwork photography by Vasilis Papageorgakopoulos
About:
Hilltops Are For Dreamers (HAFD) is an ambitious project that took shape and form in London around 2018 by Vasilis Papageorgakopoulos. However, they pride themselves in being a multinational band, specifically, UK and Greece-based. The band was born through the ashes of the five-piece Greek metalcore act 'From Zero To Hero, (FO2H)' that was disbanded in 2012 immediately after the release of their debut album and Dionysus Maratos (ex-FO2H, Celene) was the only one who joined HAFD in their first steps.
Since 2018, the band has managed to self-release their first 'self-titled' EP (January 2020) in digital format, receiving a number of positive reviews, including Metal Hammer, Greece (07/10). Mainly focused on a post-hardcore direction, the EP has successfully blended early '00s metalcore elements with blues licks and catchy melodies. One lyric and a unique music video have also been produced to support the achievement.
Additionally, during the first Covid-19 lockdown, they wrote and then released the split digital EP 'A Transition' (July 2020) with the fellow band 'Repent For Joy', pushing their music a step further. That release was accompanied by a music video for the song 'The Tide', featuring Michael Enger, who also does vocals on the debut album, 'In Disbelief'.
What first began as a studio project by Vasilis Papageorgakopoulos from the unfulfilled musical restlessness of the past has become a strong collaboration of fellow international musicians to create and record.
In the end, everyone's goal remains the same; to create influential music following the vision of a no-boundaries-physical or not-world where people connect with sounds and emotions.
Fun Facts:
The artwork photographs were taken over the years by Vasilis in the UK, he never thought that they could be used to synthesize the album inner booklet, but now they are. They challenge fans to find out where some of the pics are from, especially the one in the 'Awakening' part of the booklet.
Some of the lyrics were written/conceptualized by Vasilis while he traveled to work by train before the Covid era. Also, some of them are the outcome of just singing while strolling/walking around the streets of London.
For more info :
Facebook.com/ HilltopsAreForDreamers
Instagram.com/ hilltopsarefordreamers
Spotify