Onslaught Tour 2017 - THE FORCE is BACK Due To Popular Demand!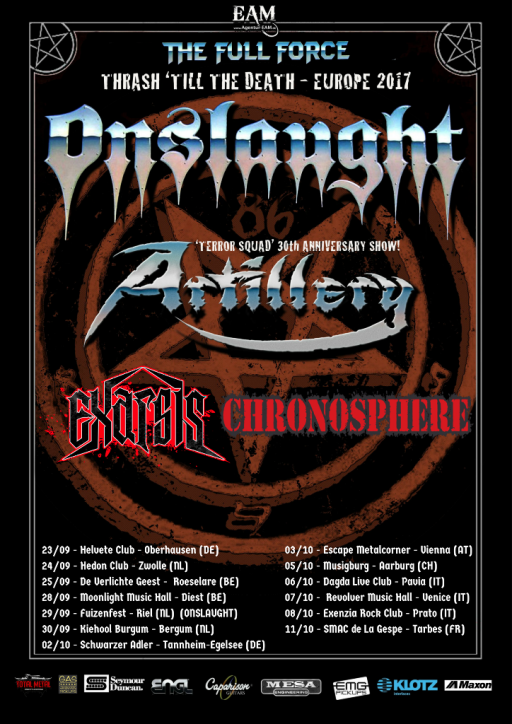 Agentur EAM proudly presents 'Thrash 'till Death' EU Tour 2017 featuring Onslaught and Artillery.
UK Thrash legends ' Onslaught ' are one of the most explosive and controversial Metal bands ever to come out of the UK. Releasing 3 now legendary albums in the 80's (Power from Hell / The Force / In Search of Sanity) they will be performing 'The Force' in its entirety to celebrate the album's 30th Anniversary.
Early 2016 saw the release of 'Live at the Slaughterhouse' a live DVD that celebrated the power and raw intensity of an Onslaught show that was well received by the public and critics alike. 2016 has also seen Onslaught as the first international thrash metal band to play Vietnam as well as touring China, Taiwan, Japan and Singapore.
The Onslaught continues as relentless and hungry as ever! 'The Force' is back due to popular demand and the tour will be extended to Eastern EU this December for the very last time!
Joined by Denmark's  Artillery  who are easily appointed as one of Europe's earliest exponents of thrash metal, this tour will pay homage to the glory of 80's Trash Metal.
After touring in China, Japan, South America and USA/Canada Artillery released their last offering 'Penalty by Perception' in 2016. They are now back on the road celebrating the 30th Anniversary of 'Terror Squad'.
When heavy metal is played by musicians who are dedicated 100%, the genre can reach a level of passion, feeling and sheer raw power like no other. Join us for an unforgettable journey fused with abrasive brutality, technicality and remarkable riffs which have defined the development of Thrash Metal through the years. 

Support by: Chronosphere and Exarsis

CHRONOSPHERE :  https://www.facebook.com/pg/ChronosphereGr/
CHRONOSPHERE were formed in Athens back in 2009. Members include
Spyros Lafias(Vocals/Guitar), Kostas Spades(Bass/Backing Vocals), Thanos Krommidas(Drums), Panos Tsampras(Guitar/Backing Vocals) delivering new wave thrash metal.

They released their first demo (Hypnosis, recorded at Made In Hell Studios) in 2010. Their debut album "Envirusment" (recorded at Esoteron Studios/ released by Athens Thrash Attack + Eat Metal records) was released in 2011.
Chronosphere have performed alongside Sodom, Rotting Christ Suicidal Angels and Evile. They have also graced the stages of Metaldays Festival and Wacken Open Air. The second full length album Embracing Oblivion was released in 2014  and Chronosphere hit the road to unleash a new wave of razor sharp riffs supporting thrash legends Sodom, Destruction, Tankard and many more !! Their first EU headlining tour took place in 2015 and consisted of 27 shows.The 3rd album is now here ' Red N' Roll ' will be performed throughout the Thrash 'Till Death EU Tour.   

EXARSIS :  https://www.facebook.com/exarsis/ 
Exarsis began their journey in 2009 in Greece. Their first demo was released in 2010 and was sold out during their live shows. 2011 -  "Under Destruction"  their debut album was recorded and produced exclusively by the band and was released by Athens Thrash Attack and Eat Metal Records. Exarsis performed extensively in Greece and supported the likes of Sodom, Rotting Christ and Onslaught. By 2012 under Epic Mash Management they entered GrindHouse studios for the recordings of their second album "The Brutal State" with George Bokos (Ex-Rotting Christ, ex-Nightfall) as their producer. 2013 - The guitarist Chris Tsitsis left the band to join Suicidal Angels. Meanwhile the band signed with MDD Records to release "The Brutal State".

Following some line up changes and live shows with Anthrax and Suicidal Angels the band toured Europe with Lost Society, Fueled By Fire and Suicidal Angels. They are now back with their upcoming release 'New War Order'.