Austin (TX) - Texas Punk Thrashers BÖNDBREAKR have partnered with Dead Rhetoric for the pre-release premiere of the band's self-titled EP. Stream it below!
BÖNDBREAKR s/t EP (Exclusive Premiere)
deadrhetoric.com/features/ep-stream-bondbreakrs-bondbreakr
BÖNDBREAKR will release the EP on October 20. Pre-order it below:
bondbreakr.bandcamp.com/album/b-ndbreakr
distrokid.com/hyperfollow/bondbreakr/bondbreakr
"Listening to BÖNDBREAKR is an immediate gut-punch. Punk attitude and snarling metallic riffs. BÖNDBREAKR are able to grab your attention with both their music and message."
- Dead Rhetoric
BÖNDBREAKR is a hardcore punk / metal quartet from Austin,Texas featuring members from local punk/metal luminaries dating back several decades (Suburban Terror Project, The Blood Royale, Vex, In Oblivion, Transfixr). Formed in September 2018, the band intersects grimy, noisy, strange music with street grit sensibilities.
Since their formation, BÖNDBREAKR has played several gigs with heavy-hitting acts such as Cancer Slug, Voice of Addiction, Gregg Turner (ex-Angry Samoans), Hellfury, Dead Register, and The American Psycho Band.
After a year of gigging extensively in Austin and the surrounding cities, BÖNDBREAKR entered AMP Studios in Austin,TX to record their debut self-titled EP under the helm of engineer Michael Day. Recorded live over the course of a single weekend, the EP uses several sonic motifs to curate a soundtrack to the disorder, strife and general chaos of life in 2020 America.
Track Listing:
1. Into The Night
2. Cop Rock [Featuring Jake Roussel]
3. Angry Tooth
4. Shaman
5. Kill Your Gods
6. The Whole Fekkin Thing [Bonus Track]
Album Credits:
Engineered by Michael Day at AMP Studios.
Mastered by Jerry Tubb at Terra Nova Mastering.
Backing vocals on "Cop Rock" by Jake Roussel.
All songs written by BÖNDBREAKR.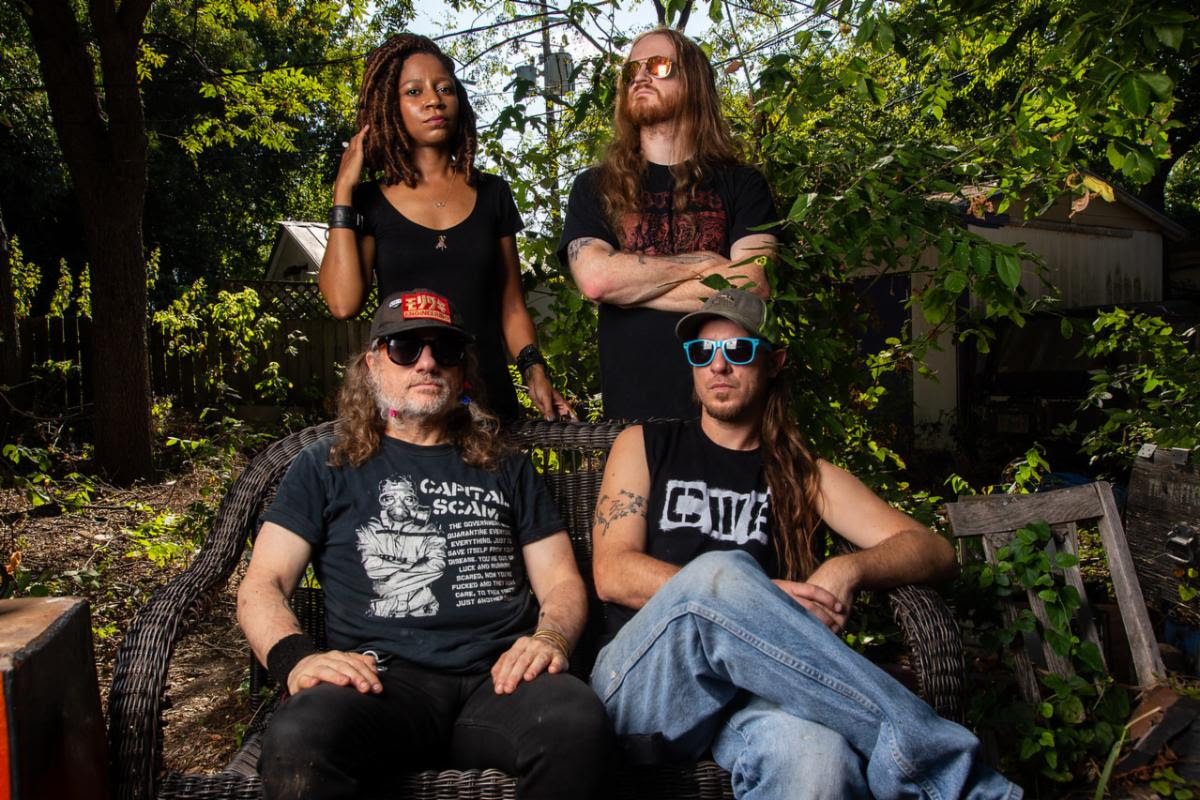 Line-up:
Vocals, cowbell – Hurricane G.
Guitar, backing vocals – Red Death
Bass, backing vocals – The Shaman
Drums, backing vox – Uncle Patrick
facebook.com/bondbreakratx
instagram.com/bondbreakratx
twitter.com/BONDBREAKR_ATX
bondbreakr.band
bondbreakr.bandcamp.com