Ba'alzamon - A Desolate Place- Reviewed By The Doorway To Magazine! Check it out here at this link: https://thedoorwayto.blogspot.com/2020/10/brutality-in-all-forms-can-be-beautiful.html
So Symphonic Black Death from Arkansas??? I wasn't ready for that. The album starts off with a horror inspired religious theme and then what do we get as it says very much a mix of  Cradle of Filth , Hecate Enthroned and Behemoth. Ba'alzamon is sad to say very much paint by the numbers. Its nothing wrong or bad just really heard this style 10,000 times before. I'm biggest suggestion to this album is maybe some separation in the instruments. It really has everything very hot and high in the mix I think there needs some more mids and the Guitars and Synths need to be spread a bit so it doesn't have that demo vibe so much.  These are strong well done songs. Just really has that  90's  Cacophonous Records sound for sure. I feel Ba'alzamon maybe a grower for me as just need to get used to the higher end tones on this album. I do love that 90's  Blackened Death with heavy symphonic elements.
For fans of Setherial , Moonspell , Paradise Lost
Led by the thunderous vocals of Fitzpatrick and the dynamic compositions of Anderson and WIlliams, Ba'alzamon formed in 1998, and began playing live in and around the Little Rock metal scene in 1999, with a rotating lineup of additional musicians. Mired in a scene dominated by Southern Sludge , Ba'alzamon' s unique blend of Black and Traditional Death Metal stood apart both in sound and performance.
Ba'alzamon 's unbridled energy could not be sustained forever and in around 2001 the band split up, with members going on to other music and stage projects. However, the main core of Fitzpatrick, Williams and Anderson maintained a close friendship that, in 2017, served to bring them back together to record their first full-length album. This project would expand into the double length  A Desolate Place  (May 25, 2020).
A southern blend of Melodic Death and Black Metal beautifully packaged together in this journey of isolation, unbridled hatred, and rebirth. Twenty years in the making, haunting, and crushingly brutal, A Desolate Place is the crowning achievement in Ba'alzamon's unique brand of Ozark Mountain Metal .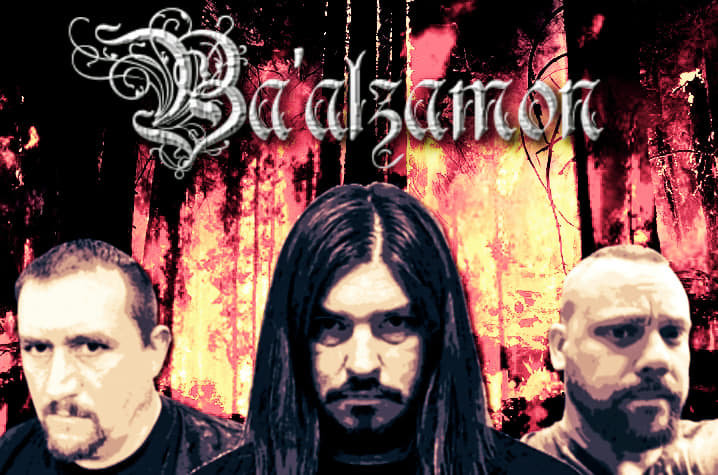 BAND MEMBERS
Curtis Fitzpatrick: Vocals, Samples
Marc Williams: Keyboards, Bass, Additional Guitar
Rob Anderson: Guitar, Drums, Additional Bass
ARTIST INFORMATION
Label: self-released
Genre: Death, Black Metal
Hometown: Conway, Arkansas
Influences: Cradle of Filth, Dimmu Borgir, Behemoth
Links :
https://baalzamon.bandcamp.com/album/a-desolate-place
https://baalzamon.com/sample-page/bio/
https://music.apple.com/us/album/a-desolate-place-re-mastered/1513811988?uo=4&app=itunes
https://play.google.com/store/music/album?id=Bnpj7ufrvcs6l2fkjykgaoqdyei&tid=song-T2yql4xnwvzfphlfsvwsk3oeh3i&hl=en_US
https://open.spotify.com/album/0avFgHrQcnMeWtzMt3YqSm
https://music.amazon.com/artists/B07Y1KDLMB/ba%E2%80%99alzamon
https://www.deezer.com/us/album/148949452
https://www.iheart.com/artist/baalzamon-33693918/albums/a-desolate-place-102275172/