New York City's SUBZERO are back with a fiery new single, "HOUSE OF GRIEF". SEPTEMBER 24, 2020
Matty "Pasta" Mangiaracina, Lou Di Bella, Riggs Ross, Lawrence Susi, Richie Kennon
Photo Credit: Lou Di Bella
Delving deep into an emotional pendulum of internal petulance, Subzero's new single, "House of Grief" conjures a personal an auditory introspection of anger, frustration and limitations.  In a world that continues to move forward around you, the overwhelming feeling monotony and stagnation can wreck havoc on one's ability to overcome the reality of living a simple life.
"House of Grief" immediately kicks in with a quick percussion set-up by drummer, Riggs Ross, which sets the tone for the remainder of this roller-coaster of song.  Vocalist, Lou Di Bella immediately follows, throwing down the gloves and proclaiming, Subzero is in the house and you better take notice.
Tear my fuckin' heart out and choke on the lump up in my throat,
swingin' off this bed of roses
Rippin' me up
Spittin' me out
Heavy chains, they're bringin' me down
Guitarists Richie Kennon and Matty Pasta tag-team guitars duties for onslaught of chuggy riffs and melodies and bassist Lawrence Susi feels in the deep end with the perfect compliment, laying nicely between guitars and drums.
True blue, genuine and as real as it gets, Subzero have always retained the ethics of the underground music culture from which they came.  Never wavering, never compromising, Subzero continues to deliver a powerful message and musical style, crossbreeding multiple genres of punk, hardcore and metal.
In May of 2020, Subzero checked themselves into Barking Dog Recording Studios in Brewster, NY (owned by guitarist Richie Kennon) to begin recording their first release since their 2006 Stillborn Records LP, "The Suffering of Man".  
Coordinating the release through Upstate Records (US) and Demons Run Amok (EU) along with a digital distribution deal through Blood Blast Distribution, Subzero is in prime position to release "House Of Grief" to the masses. The first release will be a 7" single featuring new track "House Of Grief" as the A-side and a re-recorded version of Necropolis as the B-side. Mastered by the legendary Alan Douches, House Of Grief is set to be released ‪on October 30th.
Recorded and Mixed by Richie Kennon (Barking Dog Studios)
Mastered by Alan Douches (West West Side)
Cover art by Dave Quiggle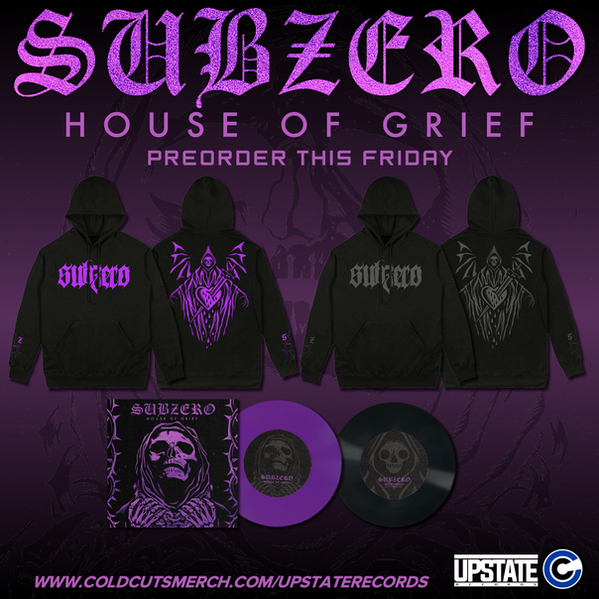 Subzero History:
New York Hardcore in the 1980's spawned some of the most legendary hardcore bands in the history of hardcore.  Acts like Agnostic Front, Sick of it All, Breakdown, Warzone, Raw Deal/Killing Time all paved the way to establish NYC as the mecca of worldwide hardcore.
New York City's Subzero is part of that historical lineage.  Bridging the gap between punk, metal and hardcore, their sound has been recognizable for decades.  
There is no question that 30 years in the game, Subzero continues to deliver.  True blue, genuine and as real as it gets, Subzero retain the ethics of the underground music culture from which they came.
It all started in 1989 when Subzero recorded a raw 2 song demo tape which they self-financed and distributed on their own (DIY style) throughout the underground NY hardcore and punk scenes. Within weeks, the demo caught on and spread like wildfire amongst hardcore communities worldwide. Earning the band respect from one of the most exclusive and intimidating music subcultures of the time. Soon after, the band found themselves playing packed shows in some of NYC's most infamous venues such as The Ritz, CBGB's and Irving Plaza, along with well recognized venues in Boston, DC, Philly and L.A. 
It wasn't long before record deals were being offered. Most of which were turned down, as the band dedicated themselves strictly to the DIY movement and wanted no part of any corrupt corporation who could possibly compromise the integrity of their music. They left their jobs to continuously tour the country in a van, while slowly gaining a genuine core following. After releasing a 7" record on Maryland's Inner Journey Records in 1991, followed by a second self-financed demo tape in 1993, the band was approached by Philadelphia independent based label, Too Damn Hype Records. They came to a fair agreement which ultimately led to the release of their first full length LP entitled "Happiness Without Peace". Widely acclaimed, "Happiness Without Peace" broke boundaries in the NYHC scene as an extremely versatile record with no limits or rules in the direction of their writing style.  Terrorizer Magazine quoted: "Subzero are thoroughly distraught with genuine NYHC rage, but are quite diverse in their musical ethics."
Metal Maniacs Magazine quoted: "One of NY's most promising and powerful Hardcore/Metal acts...This style of hardcore sounds like no other...Punctuated by seriously metallic and almost artsy moments."
With that said, Subzero follow no trends and write strictly from their hearts, not for what they think other people want to hear or for the sake of gaining popularity. 
As the hype from "Happiness Without Peace" continued to grow, it sparked the attention of metal label giants Century Media Records, who ended up buying out the album from Too Damn Hype. It was then re-mixed/re-mastered at Normandy Sounds by the legendary Tom Soares. 
The re-release of the album immediately landed them a 4-month European tour with the return of the Misfits, followed by a month long European tour with Germany's Rykers and a sold out headlining tour of Japan. Subzero were one of the first handfuls of American hardcore bands to ever tour Japan, thus helping to open the gates for those to follow. 
During the mid-2000's, Subzero caught the attention of Jamey Jasta of the mighty Hatebreed, who signed them for a 5 song EP "Necropolis, City of the Damned" to be released on Jasta's own Stillborn Records. 
During that time, Walter "Monsta" Ryan (Madball, DRI, Possessed, etc.) was recruited to take over drum duties, while guitarist Eddie Ortiz (Cattlepress, Candiria) was also added to the mix, ultimately transforming this unit into a 5 piece arsenal of devastation. 
With the new lineup in full motion and making serious waves, a second Stillborn Records release was soon to follow. Subzero's highly acclaimed LP "The Suffering of Man" dropped in 2006 and commanded full attention from their fans and piers alike. The progression and maturity in their songwriting, along with the ferocity of their sound, was undeniable. The band was more determined than ever. It was apparent in all of their grueling performances and support tours, including a US tour with thrash metal titans Exodus.
Throughout those years of touring, a few more lineup changes were made. In 2007, Matty "Pasta" Mangiaracina (Merauder, Crown of Thornz) was enlisted as second guitarist and has remained a significant part of the band. And finally, in 2015, longtime friend and highly praised hardcore drummer Riggs Ross (Madball, Hatebreed) joined and also remains a solid member of Subzero.
Subzero remains one of the longest active bands in New York hardcore history, despite a period of inactivity during the late 1990's due to singer Lou Di Bella's bout with terminal stage 4 cancer (Acute Lymphoblastic Leukemia). He claims his harrowing experiences and numerous brushes with death have made him a stronger person, evidenced by a tongue-in-cheek tattoo across his sternum reading "Cancer Killah", as well as the lyrics to their song "Lionhearted" off of "The Suffering of Man" LP. The track inspired a music video that debuted on MTV's Headbangers Ball and pulled in just shy of 900,000 views on YouTube. 
The band have toured the world many times over. As headliners, and as a support group under national acts as well. They've shared the stage with an array of prominent artists including Slayer, Hatebreed, Megadeth, Motörhead, Misfits, Exodus, Sick of it All, Rancid, Cro-Mags, Killswitch Engage, Napalm Death, Cannibal Corpse, and Eminem. All the while, staying true to their roots and continuing to play in small clubs, dive bars and basements.