Alright Brother - "Redeemer" - Reviewed By WOM! Check it out here at this link! https://worldofmetalmag.com/wom-reviews-rews-slut-machine-ils-maggot-heart-pazmonstro-last-lamb-me-chama-de-ze-alright-brother/
Sometimes It can look too neat with the covers, but it has a point. Although we live in a digital age, the concept of graphic presentation of an album never fails to have its importance. Even more when we are witnessing a kind of vinyl revival. All this to say that this cover, as you already noticed, hurts. It hurts the eyes. Which is also a way to get attention, especially when you are looking at Spotify thumbnails. Well, design considerations aside, the Alright Brother play a kind of post-punk that unfortunately doesn't get as much attention as the cover but it's just as bad. Something irritating and aimed at enjoying some experimentalism based on the nostalgia for the music of the eighties that was made in the garages of those who lived on the sides of Minneapolis. Even the cover of Nirvana ("Lounge Act") feels like a surreal nightmare. What matters is that you only have to listen once.
2/10
Fernando Ferreira
REDEEMER is the upcoming 7 track EP from ALRIGHT brother . It is a collection of 6 originals and 1 cover recorded at home  in Los Angeles between late 2019 and early 2020.
The songs (even the cover) are all short stories, story fragments and meditations on cycling thoughts, paranoia and the frustration of the modern condition. the material is about 70% from the days before quarantine, but I the vibe fits right into our current shared experience.
The EP was mastered  by Dave Blackman ( Coldplay , Echo & The Bunnymen , Art Brut , Killing Joke , The Subways ) at Hiltongrove in Essex .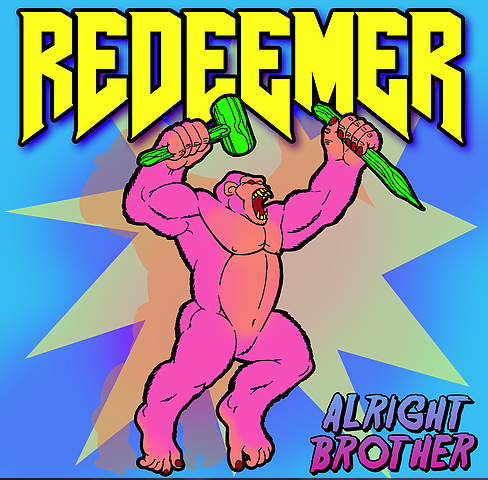 Listen to more of ALRIGHT brother
Soundcloud
Grungy vocals and synths characterize the post punk album ' REDEEMER ' the latest offering from LA based songwriter ALRIGHT brother. Short stories and fragments of life, ' REDEEMER ' exposes the paranoia and frustration of the modern condition. Although mostly written before Coronavirus , ALRIGHT brother found a strange correlation between the vibe of the songs and the current global feeling, hoping that his latest album will offer some comfort in a distanced shared experience. Mastered by Dave Blackman ( Coldplay , Echo & the Bunnymen ) the album is available with a set of downloadable coloring sheets.
ALRIGHT brother is a multi-instrumentalist, songwriter and visual artist living in LA. His music comes with short hand drawn animated promos that ALRIGHT brother creates himself. Receiving recognition for a lo-fi cover of a Kendrick Lamar track, ALRIGHT brother has been steadily building up his portfolio of music, taking inspiration from a lot of punk , hardcore and grunge .
Support ALRIGHT brother on Social Media
https://www.facebook.com/ALRIGHTbrothermusic/
https://twitter.com/alrightbrother
https://www.instagram.com/alrightbrothermusic/
https://www.alrightbrother.com/redeemer
https://open.spotify.com/artist/3M5D6KHUAifx8ChDaB6HsS?si=0s0-G1NXSUeK_8rsnp-7Vw
https://www.youtube.com/channel/UCQxvdRFdGuQJ6Y8E7GwoOHg