Myronath - Djevelkraft - Reviewed By Occult Black Metal Zine ! Check it out here at this link: http://occultblackmetalzine.blogspot.com/2021/05/myronathdjevelkrafthellstain.html
Myronath  are  a  band  from  Sweden  that  has  been  featured  before  in  this  zine  and  plays  an  occult  form  of  black  metal  and  this  is  a  review  of  their  2021  album  "Djecelkraft"  which  will  be  released  in  June  by  Hellstain  Productions.
  A  very  heavy  and  melodic  sound  starts  off  the  album  while  the  faster  sections  of  the  songs  also  add  in  a  great  amount  of  blast  beats.  When  tremolo  picking  is  utilized  it  also  gives  the  music  more  of  a  raw  feeling  while  the  vocals  are  mostly  high  pitched  black  metal  screams  and  the  music  is  also  heavily  rooted  in  the  Swedish  style.
  Throughout  the  recording  you  can  also  hear  a  decent  mixture  of  slow,  mid  paced  and  fast  parts  while  growls  are  also  utilized  at  times.  All  of  the  musical  instruments  on  the  recording  also  have  a  very  powerful  sound  to  them  along  with  some  ritualistic  and  melodic  chants  also  being  added  into  the  music  briefly.
  When  guitar  solos  and  leads  are  utilized  they  are  done  in  a  very  melodic  style  along  with  a  couple  of  the  tracks  also  adding  in  a  brief  use  of  classical  guitars  and  clean  playing  and  a  couple  of  the  songs  are  also  long  and  epic  in  length,  as  the  album  progresses  a  brief  use  of  throat  singing  can  also  be  heard.  as  well  as  a  later  track  also  adding  in  a  brief  use  of  synths.  The  production  sounds  very  professional  while  the  lyrics  cover  Satanism,  Luciferian,  Occult  Practices  and  Veneration  Of  Death  themes.
  In  my  opinion  this  is  another  great  sounding  recording  from  Myronath  and  if  you  are  a  fan  of  Swedish  and  occult  black  metal,  you  should  check  out  this  album.  RECOMMENDED  TRACKS  INCLUDE  "Evil  Unchained"  'Effigy  of  Malediction"  "The  Sword  of  Satan"  and  "Reborn  In  Chaos".  8  out  of  10. - Occult Black Metal Zine
Hellstain Productions
Release-date: 4 June 2021
Swedish Black Metal for fans of Dark Funeral, Necrophobic, Marduk…
56 minutes of powerful black metal and dark melodic passages across 11 tracks with Fredrik Andersson (ex-Amon Amarth) on drums! 
"Ritualistic, Agressive and Dynamic"
- Metal Hammer PT
Here are some words from the band about "Djevelkraft" from an upcoming interview in Metalized Magazine Denmark: "We are all very satisfied with the final result. The sound is exactly as we imagined! Kudos to Devo Andersson (ex Marduk) at Endarker Studio for his work on this one! He is a very talented person and his experience in Black Metal really shows, and immediately understood what we needed. Musicwise, all songs offer different emotions and we hope that these emotions will also reach our listeners the way we intended!" - Hellcommander Vargblod
Check out these videos!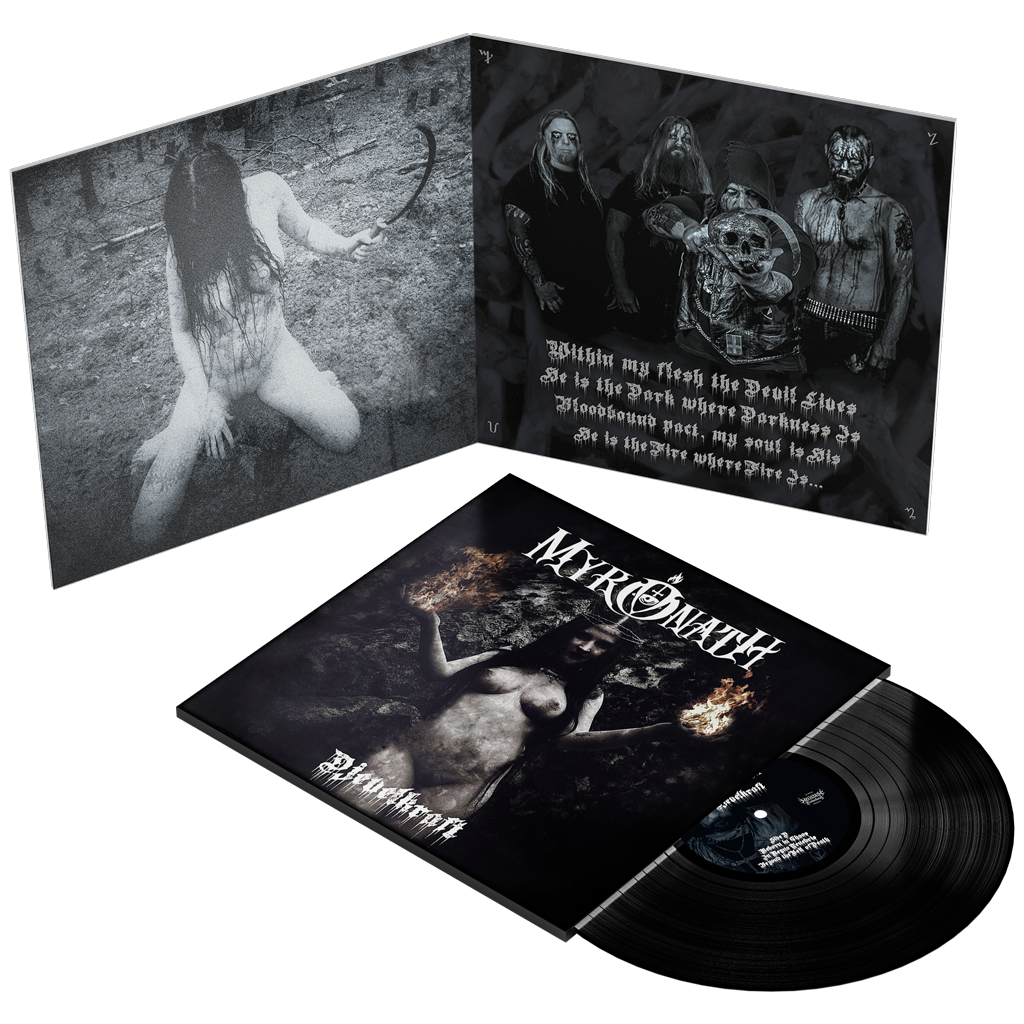 Tracklist:
1. Evil Unchained
2. She Who Dwells In Flames
3. Radix Diaboli
4. Effigy of Malediction 
5. Till Aska
6. The Sword of Satan
7. Evigt Mörker 
8. To Walk the Paths of the Dead
9. Reborn In Chaos
10. In Regno Tenebris
11. Beyond the veil of Death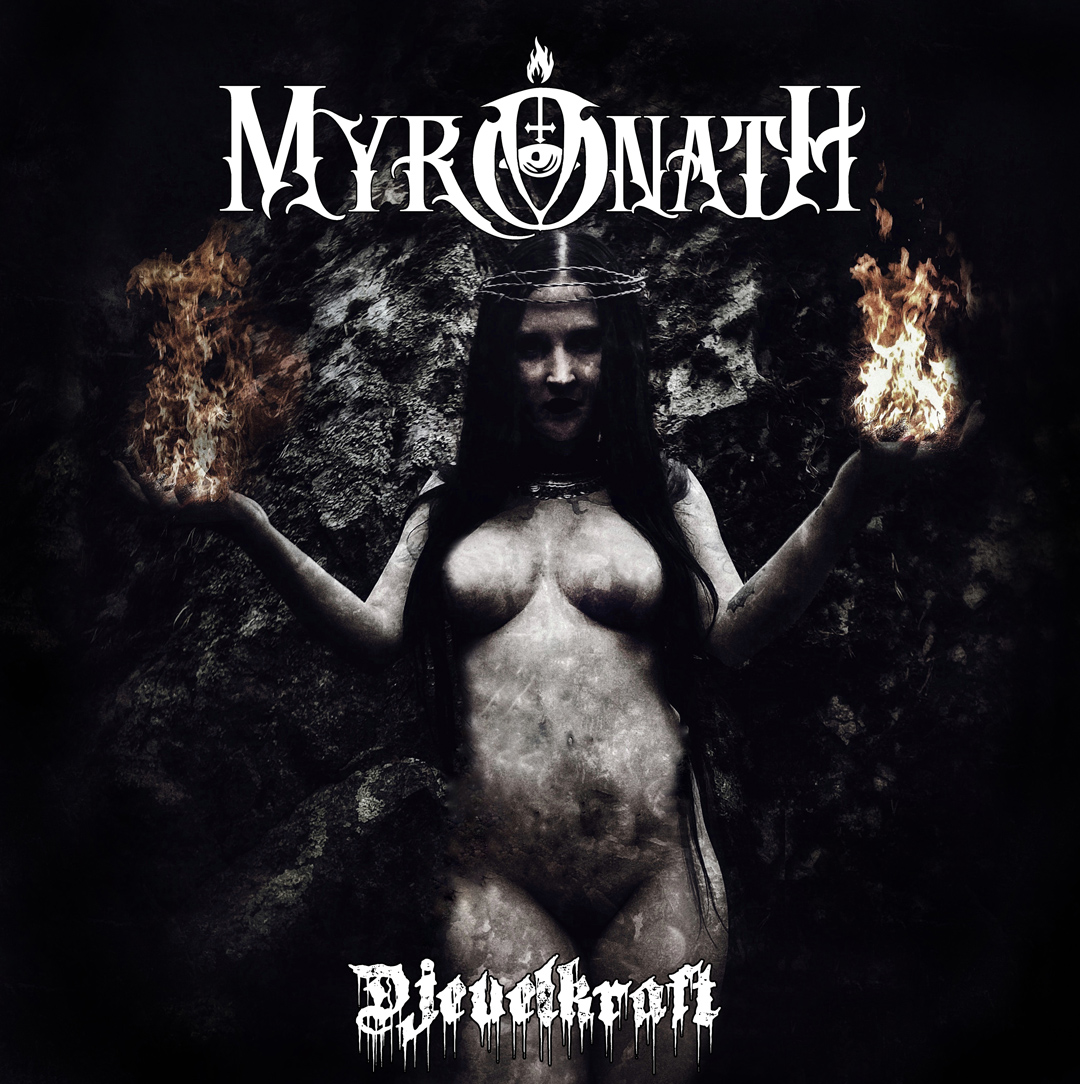 BIOGRAPHY
Myronath started out as a side project of Hellcommander Vargblod (H.V), sole member of Khaospath and Draugûl – together with Bjarkan who also plays in various other bands; Ragnarok, Throne of Heresy, Kala, Blood of Serpents amongst others.
The band took a quick turn to be a serious one and the two members started writing material directly for their first release. H.V (bass and vocals) and Bjarkan (guitars) were shortly after joined by none other than Lars Broddesson on session studio and live drums, who people certainly know from Marduk. Then Myrkheim (from Serpesta) joined as a live session guitarist for Myronath.
In late spring 2019 Myronath entered the studio and recorded their first full length "Into the Qliphoth". It consists of 8 tracks solely dedicated and in veneration to the members' creed and practices. The album was mixed by Lars Broddesson at Twisting Serpent Studios, and was later mastered by Devo Andersson (ex-Marduk) at Endarker Studio, Sweden.
Summer 2019 Myronath signed with Dutch record label Non Serviam Records for one album, and "Into the Qliphoth" was released early September 2019. This was during the band's very first live performance at the "Mörkaste Småland Festival" in Hultsfred, Sweden – alongside bands such as Gra and Svartidaudi.
December 2019 saw Myronath playing live again at the December Darkness festival, alongside Marduk, Avslut and others.
Due to personal reasons Lars Broddesson could unfortunately not continue as drummer of Myronath at this point, but without delay the band recruited none other than Fredrik Andersson (ex-Amon Amarth, Netherbird) to replace Lars behind the battery.
Myrkheim was by now also a full member of the band, and Myronath started working with new material for the band's second release. The album was recorded at Endarker Studio autumn 2020 under the hands of Devo Andersson (ex-Marduk).
Myronath was now looking for new partnership to release their second album and develop the band further. Early 2021 they inked a deal with Hellstain Productions, and together they soon after released "Effigy of Malediction" as the first single from the upcoming album, together with an official video for the song.
The second album is entitled "Djevelkraft" and is set for release 4th of June 2021 on CD and Gatefold double vinyl together with official merchandise. The second single "Evigt Mörker" is also out now, including a lyric video.
The journey into the Abyss continues…
LINE-UP:
Hellcommander Vargblod – Bass and Vocals
Bjarkan – Guitars
Myrkheim – Guitars
Fredrik Andersson – Drums
MYRONATH FACTS:
Country of orign: Sweden
Formed in year: 2019
Style/genre: black metal
Follow the band at these links:
https://www.facebook.com/myronath/
https://open.spotify.com/artist/1Oc25qGAiSUWAjXvk5oadx?si=qt-S5wMQRjCm_Z0FM8AqTg
Check them out on Spotify and add them to your playlists!
Follow Hellstain Productions : https://linktr.ee/hellstain