Bliss of flesh has shared his new single "Tyrant" and is now available on all digital platforms .
The band frontman Necurat comments "This title is the eponymous title. It represents the best portrait of a Tyrant. The riffing is like those emotions and feelings impressive with hate and fury. So serve the Tyrant"
Guitarist Sikkardinal also states "Tyrant keep the listener in suspense and make more sensible to him the strength of convictions. The tempos can be fast or slower, as long as the melodies and riffs find an echo in the darkness inside you and make you alternate between rage and despair, we reached our goal."
« Tyrants are only great because we are on our knees. » -Etienne de la Boétie -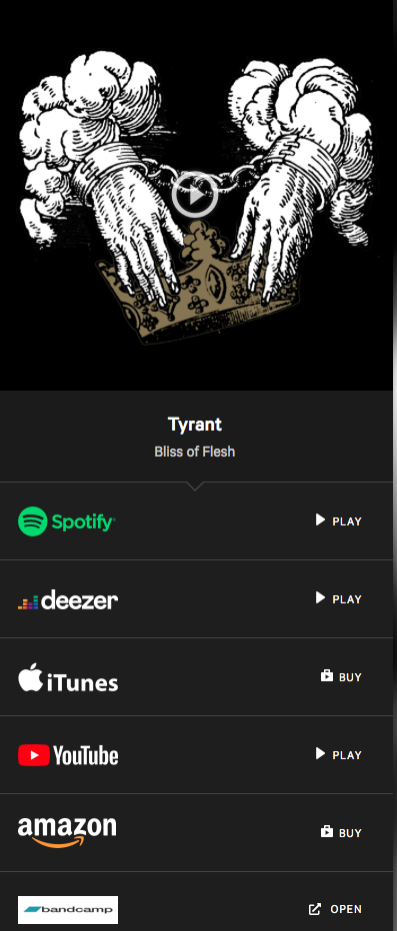 You can preorder the album now  HERE
- LIMITED EDITION GATEFOLD GOLD VINYL OF 100 COPIES WORLDWIDE ( ONLINE ONLY )
- LIMITED EDITION GATEFOLD BLACK VINYL OF 200 COPIES WORLDWIDE FIRST PRESS !
- LIMITED EDTION 6 PANEL DIGIPACK
- EXCLUSIV T-SHIRT ( ONLINE ONLY )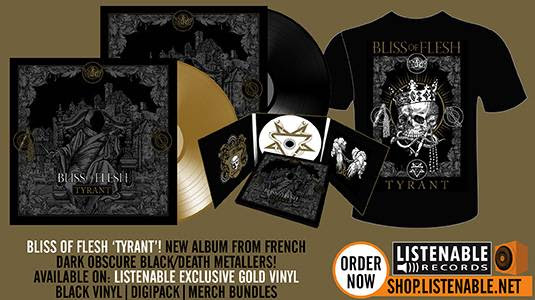 Mixed and mastered at Vamacara studio in France by HK. (vamacarastudio.com) , "Tyrant" will be released by Listenable Records worldwide this October .
'TYRANT' tracklisting  :
I Serve
II Genesis 
III Vanitas 
IV Krieg 
V Hexis
VI Panem 
VII Tyrant 
VIII Mors 
IX Naturae
Formed in 1999 in Calais - France, BLISS OF FLESH have always been a very charismatic band. Their obscure brand of non typical, lyrically and musically thoughtful, obscure black/ death metal has aroused genuine passion in many European lands drawing them an ever growing amount of followers. The band has also been building up a scorching reputation for their incendiary live shows. BLISS OF FLESH developed a conceptual trilogy of three albums inspired by Dante'sTrilogy : Divine Comedy . Their previous  album 'Empyrean' released in 2017 on Listenable concluded such trilogy.
2020 sees the release of their brand new album 'Tyrant' and is this time based on the concept of  'Le Discours de la Servitude Volontaire ' ( Voluntary Servitude Thesis) written by French philosopher Etienne de la Boétie.  Published fully in 1576, it deals with the idea that although servitude may appear to be forced, and that obedience is imposed to the people, appearances are misleading and such servitude is in fact entirely voluntary.
hand drawing_...
Check BLISS OF FLESH live appearance at Hellfest in 2019 : 
BAND LINE UP :
Necurat (Vocals)
Sikkardinal (Guitars)
Fleshtstigma (Drums)
Rictus ( Guitars)
Poison ( Bass)
 
'EMPYREAN' is available on digital platforms :