Inception Of Eternity Interviewed By Metal Heads Forever! Check it out at this link: http://mhf-mag.com/interviews/inception-of-eternity-who-are-they-really/
Veteran musicians Thorsten Elighausen and Ken Pike, along with strong support from guitarist Marc Vanderberg bring us INTO DARKNESS. Released in August 2020, it is a combination of Goth, Industrial, Dark Wave, and even a bit Folk. At first, it sounds quite familiar, but after a short while, one learns there is a vast soundscape to be explored.  This album decidedly deserves a spin on your playlist.
1. Greetings from Colorado and Metalheads Forever… Please introduce yourselves more thoroughly to our readers and tell us about your new album. Are there any parts that make you especially proud?
Hello from Germany and I am proud and surprised that our album has reached so many people so far and also found its way to Colorado.
First of all I would like to thank you for taking the time to get involved with us and our album. I hope my English is good enough and you can understand what I want to say. 🙂
My name is Thorsten Eligehausen and I am the founder, songwriter, and producer of "Inception Of Eternity".
Like most other musicians, I probably started learning musical instruments as a child. At that time I was persuaded by my parents to learn piano, organ and guitar a few times but from today's point of view it was very good and in retrospect I am happy about it and am therefore able to play many instruments in my projects.
Nevertheless I like to get professional help from time to time because there are of course musicians who are much better at playing the instruments than I am. For example Marc Vanderberg as lead guitarist in the song "Beyond Sunrise".
But let's take a few steps back in time again.
I started making music with a computer at some point in the late 90s. Thereupon the project "Cradle of Haze" slowly developed, with which I released 13 albums and various singles over the years until today. At the same time, I wrote songs that did not fit into the genre of "Cradle of Haze" and therefore I created the projects "Schandpfahl" and "Narcotic Elements". Also about these projects there were several releases in the course of the last years.
In 2016 I had somehow the idea and the wish to produce a cover version of a well-known old song and was looking for a suitable singer and a guitarist who was also able to play reasonable solos.
That was when Ken Pike came into play for the first time. Ken and I have known each other for 7 years from a time when we were both signed to the same German label and I knew how well he could sing. In 2014 I decided to start my own label but that's another story. Ken also has several own projects like "Absolon", "Firesphere" and currently "Blutlaich".
As a guitarist Marc Vanderberg immediately came to my mind. I have known Marc for several years because I have the honor to produce his songs and albums.
So the team was complete and it got the name "Eli van Pike". The cover version didn't work out because we didn't get a release from the copyright holder and while waiting for the release we wrote and produced songs and then just released them in the album called "Welcome to My Dark Side"
Now you probably ask yourself why Thorsten has to have a 5th one besides 4 projects.
The reason is actually simple. I released a Best Of and Reworked of "Cradle of Haze" at the beginning of this year and had the feeling that this will be the last album of this project. During the completion phase, new songs were already bubbling out of me and I knew that these songs wouldn't fit into any existing project and that I had to develop something completely new to be able to develop myself further.
I then produced the first song, which was to be called "My Mortality" and started to think about a name for the project and a singer. For what I wanted to do my own singing is not good enough so I needed professional support again. I asked Ken and he agreed immediately without hearing a song. Over the years a friendship developed despite the distance to Florida and the fact that we never met in person. It's crazy but it works perfectly. 🙂
The name for the project just came to my mind one morning and so "Inception Of Eternity" was born and ready to be developed further.
The decision to get Marc as a guest musician came later. I wanted to try to play all the instruments myself or, as is so common and normal today, to generate them with the computer.
To the question what I am especially proud of I can say that it is the fact that despite some doubts at the beginning I have put a really cool project on the legs with which I have written all songs myself and recorded or programmed. And I am especially proud of the collaboration with such cool and professional musicians like Ken, Marc and of course SINtana. But more about that later.
2. You all have very diverse backgrounds; what does each member bring to the table and how has that shaped the sound of Inception of Eternity?
Yes, we both bring something that has definitely shaped the sound and feel of IOE. Currently only Ken and I are permanent members of the project. More about that later.
Ken's voice has a unique character and he fills all the parts I can't sing. Instead I fill the harder parts that he can't handle with his voice. We complement each other perfectly.
It was also important to choose the instrumentation so that the voices can unfold and not get lost in it, so the rhythm guitars are a bit more in the background and the synthesizers and orchestras are a bit more dominant.
I think that's exactly this mixture that makes up the sound of IOE.
3. What has been your song writing/production process in the past and how has it been affected as of late, if at all?
My songwriting process has always been the same. A melody comes into my head and from that I develop a complete song and then I write a text on it. At IOE it has become a little different in the course of the production because I can write vocal melodies that I know I can't sing – that's why I have Ken. 😉
4. Artists constantly strive to keep things fresh. What gives you inspiration to achieve this?
I constantly have new ideas and try to bring in new elements or unusual instruments. You have listed four genres through which the album moves. This already shows how multifaceted the whole thing is and how much potential there is still slumbering. Some listeners feel disturbed by this change, others find it right and are totally excited about what comes after the album. I can only say that after the 12 songs (No. 13 is an acoustic version) have stopped for the first time because somewhere that is a good number of songs for the debut album. In my head and in one or the other demo version there is much more. So there is already a lot of material for the next release. In addition, I also wanted to wait and see how this kind of music is received or whether it is accepted at all.
I am also totally happy and proud that the music could not be pressed into a drawer by the reviewers right away. With the projects "Cradle of Haze" and especially with "Eli van Pike" we were quickly imprinted the Rammstein stamp due to my deep voice and the partly German lyrics and it won't be released so fast.
5. I'd like to touch on a few specific songs from Into Darkness. "My Mortality."  Phrases like "When you become aware of your own mortality,"   "A perfect afterlife," and "You no longer recognize yourself" conjure an array of images. What are you wanting to convey with this song?
For the answer to this question, I actually had to retrieve the text. 😀
On the note is actually still "Project XY – My Mortality This is proof that there was no project name yet. When writing the lyrics, I've always been in the morbid dark. I can't explain why, it's just in my blood. The song is simply about clinging to every straw in the face of one's own mortality to be able to live on. It doesn't matter what you have to do about it. You just want to live.
6. "Children From Hell" features vocals from SINtana. Sorry gentlemen, but her voice is far lovelier than yours.  "They say that we are evil. They say we are children from Hell."  Is there a particular story behind this song? What was it like working with SINtana?
Of course, you're absolutely right. SINtana's voice is definitely more beautiful than ours!

This is basically about unwanted children who have to live on the streets in the end and are not accepted by society and have no real future. In my story, they're called children from hell. The collaboration with SINtana was actually more of a coincidence. I met her on a mastering assignment for one of her own projects and was immediately enthusiastic about her voice. Coincidentally, I was looking for a female voice for exactly this song and she immediately agreed and gave the song exactly what it needed. We have also talked about further cooperation at IOE and I could well imagine that SINtana could become a permanent member. Let's be surprised. 😉
7. The song "Father" was given the acoustic treatment. Oftentimes, this makes a song even more powerful. "Father" is a great example of this. Were there other songs recorded in this fashion? If so, can you elaborate?
"Father" has an interesting creation story and this song almost didn't make it to the album. I finished the song but I didn't think of a lyrics or a vocal melody. That was really bad. I was totally enthusiastic about the instrumental version but somehow it didn't go any further. Sometime later I remembered lyrics and melody but only when Ken sent me his singing I found the right approach. Then there was the following hurdle to overcome: The song was previously called "Desire" but because of that the test listeners interpreted something completely different in the lyrics than I wanted to express. For her, it was about a simple love song, but it's about a child who was abandoned by his father and has been looking for him ever since. After the renaming to "Father" this was also clarified and the listener approaches the song quite differently. I just had to do the acoustic version to underline the emotionality again. This version has also turned out to be one of the most popular songs of the album. There are no other versions of the current album like this but I think there will be acoustic versions again in the future.
8. Making long-term plans today can be precarious; what are your plans for the immediate future? 
My personal plans for the future? I have my family, my main job, my mix and mastering company and my music projects. Getting it all under one hat is enough task. 🙂 Not to mention the crazy situation with the pandemic. For IOE there is a plan to work on the next album very soon in order to be able to release it in the first half of 2021. Time will show whether the plan can be implemented.
9. We know you are busy and we appreciate your taking time to talk with us. Any parting words for our readers?
I was happy to take this time and thank you again for giving me the chance to present my new project here. Many thanks and greetings also from SINtana, Ken and Marc. Never lose sight of your goal, take care of yourself and stay healthy.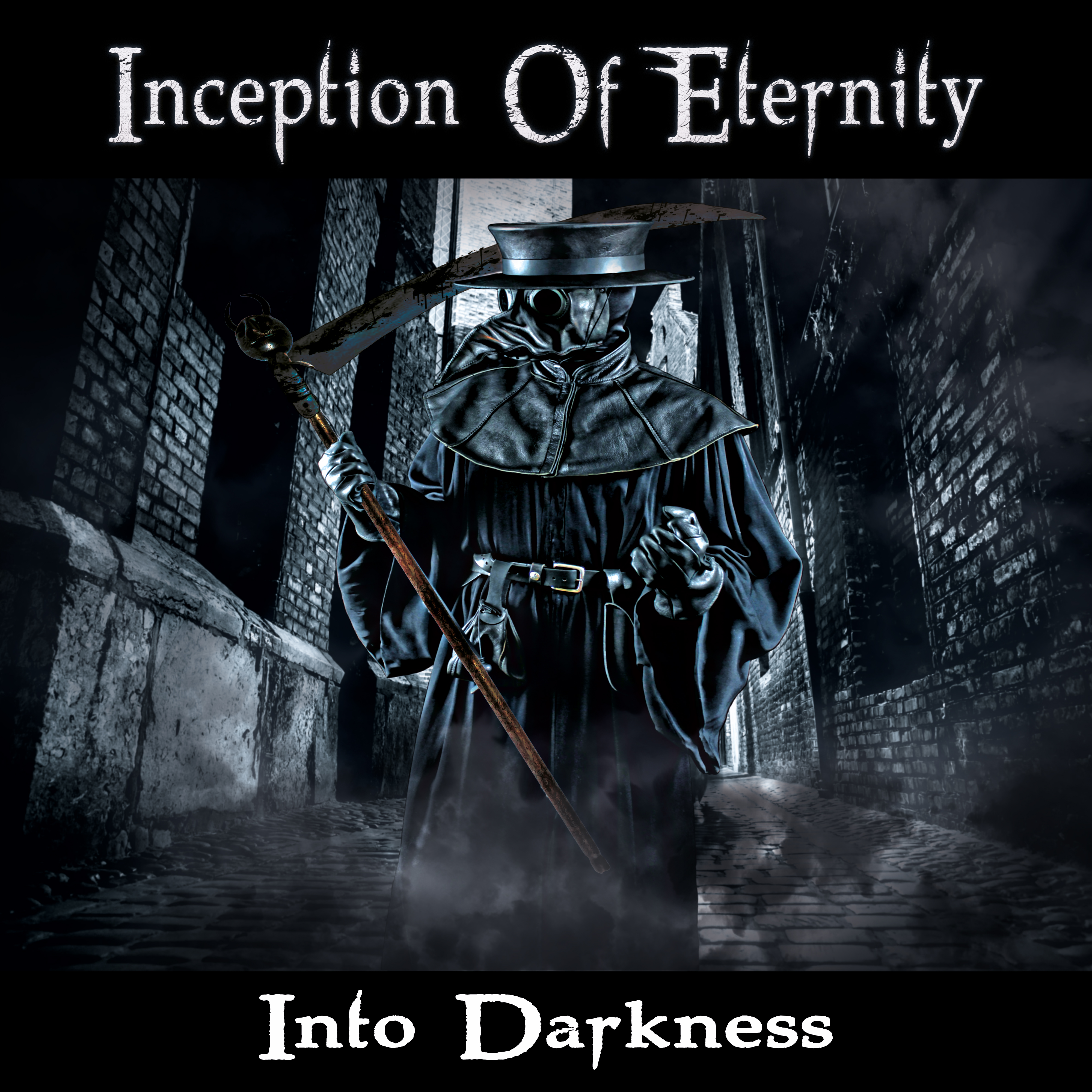 With Inception Of Eternity, the German label darkSIGN-Records brings another promising project to the start.
Head of the project is again Thorsten Eligehausen, who has already founded, produced and successfully established projects like Cradle of Haze, Eli van Pike or Schandpfahl in the scene. With Inception Of Eternity influences from Scandinavian Symphonic Metal and German medieval rock are combined to an interesting Gothic Rock mixture. The songs were written, recorded and produced by Thorsten Eligehausen. As vocal support, Eligehausen brought no less a person than the American singer Ken Pike into the team. Pike is also
a member of the project Eli van Pike and is also a well-known figure through his own projects Absolon, Firesphere and brand new Blutlaich. Eligehausen has also brought other professionals on board as supporting musicians: For the lead guitar in the instrumental song "Beyond Sunrise" he could win the German guitarist Marc Vanderberg (also a member of Eli van Pike) and the song "Children from Hell" is perfected by the German singer SINtana.
The album will be available from 21.08.2020 on all platforms corresponding to the genre.
Release Information
Band / Artist  - Inception Of Eternity
Title -  Into Darkness
Type  - Album
Release -  21.08.2020 / August 21, 2020
Erhältlich als / available as Download, Streaming
Genre -  Gothic Rock / Symphonic Metal
Website - http://www.darksignmusic.de/
Facebook  - https://www.facebook.com/Inception-Of-Eternity-101520674901316/
YouTube  - https://www.youtube.com/channel/UChweI5FGkVcvdtDl0pNcqvQ/
EAN 4061707418372
Label darkSIGN-Records
Label-Code LC 83765