Lightning Born, Eldritch Horror, Mo'ynoq and More Contribute to Metal Compilation Benefiting Live Music Venue The Maywood
Massive Bandcamp Digital Release Will Directly Support Covid Relief Fund for Raleigh, NC Metal Club
In Raleigh, North Carolina, the metal community has banded together to pitch in to help local metal haven  The Maywood  avoid permanent closure, a real possibility for many live music venues amid the affects of COVID-19.  Across the US, independent venue owners, promoters and bookers are facing the dire prospect of never re-opening without an infusion of funding.

Brenna Leath , the powerful singer for North Carolina riff-metal band  Lightning Born  and bassist for stoner doom outfit  Crystal Spiders , has assembled a digital Bandcamp compilation featuring exclusive new tracks, covers, and rare demos from a number of NC metal bands. All proceeds will benefit the continued existence of  The Maywood  venue.

The compilation, titled  Maywood Mayhem, Vol. 11 , features 25 songs from 25 bands, all of whom are local to Raleigh and practice at the club, which has been shut down for months due to the pandemic.  It will be released on October 2 via  Bandcamp  for their next no-fee Friday, with preorders available  at this location  and all proceeds going to the Maywood relief fund.  Those interested in contributing directly can also do so  here .

Maywood Mayhem, Vol. 11  will encompass a variety of heavy genres such as doom, death metal, grindcore, stoner rock, black metal, thrash and more, and feature notable North Carolina metal bands including old school death metallers  Eldritch Horror , power metal favorites  Mega-Colossus , and the acclaimed black metal of  Mo'ynoq . Bring in the star power of '70s riff worshippers  Lightning Born  (featuring legendary  Corrosion of Conformity   bassist   Mike Dean ) and thrashers  Blatant Disarray  and you can feel the power of the genre-crossing support for this venerable venue.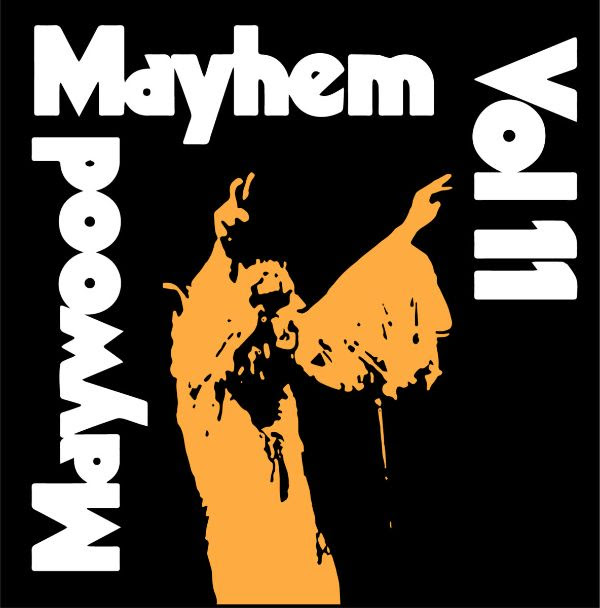 Maywood Mayhem, Vol. 11 Track listing:

Bedowyn - "Of Sentient Spirit" 05:23
Blatant Disarray - "Monomaniacal" 05:05
Chaosmic - "Invocation" 06:56
Crowley's Inquisition - "Into the Light" 05:51
Crystal Spiders - "Molt" 03:37
Darth Kannabyss - "All Tacos No Sides" 04:12
Eldritch Horror - "Feeder Planet" 05:34
Eyn - "Bedridden" 05:21
Few Good Things - "Nothing At All" 01:54
Goatchoker - "Egypt Mountain Road" 01:57
Grohg - "Familiar Stench" 03:02
Gross Reality - "The Incomplete" 03:24
KIFF - "Most Likely to Succeed" 06:30
Knightmare - "Sea of Deception" 05:55
Leachate - "Where's Benny" 0:22
Lightning Born - "Silence" 04:52
Mega-Colossus - "Highwayman" 04:15
Midnite Sun - "Psycho Girlfriend" 02:50
Mo'ynoq - "These Once Tranquil Grounds" 04:45
NightQuill - "Spiritual Beating" 04.42
Noctomb - "Zombie Fungus" 02:24
RBT - "Dual Eyed Hellride" 04:07
Sardonic Smile - "Zaux" 02.11
The Hell No - "Nuclear Holocaust" 3:57
Witchtit - "Silver Tongue" 06:54


Once again, the Bandcamp link.