Madrost interviewed by Skull Fracturing Metal!
Skull Fracturing Metal (SFM):   Hello   Madrost ! Your new album, "Charring The Rotting Earth", will be released on September 25 th   and is definitely the band's most interesting work to date! The biggest surprise for me was the use of piano and keys throughout the record. What was the reason the band decided to go in this direction?
Tanner Poppitt (TP):   Hails Skull Fracturing Metal! First of all, thank you for the kind words and of course for the opportunity to help get "Charring the Rotting Earth" out to the masses. The keyboard aspect isn't exactly new for the band itself. We had used them in "Dimensions" off of our previous album "The Essence of Time Matches No Flesh", so I think the main reason for this decision was because we wanted to take that aspect further within our own sound already. In my humble opinion,   Madrost   (Muh-drawst) can get away with adding those elements in because we don't care what the other bands of the same style are doing. We have always added more and more elements in with each of our albums and "Charring the Rotting Earth" is no different. We continue to push ourselves as musicians and songwriters, in turn the music is ultimately what counts at the end of the day for us.
SFM:   This work was played by Sam from Xanthochroid. How does this collaboration work – did you guys write the parts and he played them? And how did you get connected with Sam?
TP:   So how that whole thing works and where Sam comes in is this; Basically as we were writing and as I am structuring our riffs together and what not, I already knew which parts needed that little extra push to bring out the song more and more. We gave Sam certain sections of the songs that I personally felt needed his magic and wisdom on and that is exactly what we got back from him.  Essentially what you are hearing is first and only drafts to those pieces of music, we liked them so much that it was perfect the first time he gave us back his ideas.
SFM:   The new record will be released on No Life 'til Metal Records. How did you get connected with the label?
TP:   No Life Til Metal Records which is a division of Roxx Records came to the fold for me completely by accident. I am a fan of vinyl and would watch Scott's channel(Owner of No Life Til Metal Records) and wanted to send him "The Essence of Time Matches No Flesh" on vinyl just because I hoped he would showcase it in one of his videos. Well he did that and much more. I received an email from him wanting to work with us and of course being a fan of the bands he was showing and later seeing all the albums he was putting out for our buddies in Hellbender and From the Ruins, it really was a no brainer. We could not be more happy working with Scott and Bill(Owner of Roxx Records).
SFM:   Most of   Madrost's   records fall on the shorter side. Generally bands that are more ambitious (such as yourselves) write lengthy albums. What draws the band towards more succinct albums?
TP:   I think the phrase "Never overstay your welcome" comes to mind for me every time I hear that our records aren't long enough. With our attention spans these days and how we work as musicians, we never want to put out fluff. Each of our albums takes the listener on a journey in their own ways and cater towards a listening experience rather than just releasing singles. If that means we are a dying breed then so be it, but for now we hope you guys enjoy the albums in their entirety and continue to support what our vision is. Quality over quantity.
SFM:   What impact has the current pandemic had on the band? Have you been able to have any sort of activity over the last few months (writing, practicing, live streams)?
TP:   Honestly, the pandemic hasn't really had much of an impact for the band per se. We all talk over emails and texts and what not about the future. With that in mind we are excited for things to come for us. For now we wanted to get this album out and focus on the next venture in the band's career.
SFM:   What are the best ways for fans to support you during these tough times?
TP:  Madrost.bandcamp.com   is the best place to support us digitally, we will have "Charring the Rotting Earth" compact discs available soon. For now, the vinyl and the compact discs are available at   nolifetilmetalrecords.com
SFM:   Thanks so much for the interview. Any last words for the fans?
TP:   Thank you Skull Fracturing Metal for all the years of countless support towards us. We greatly appreciate publications such as yourselves, anyone who has supported us in any way. No matter how big or small it was, that is what keeps us going. Huge thanks to Scott and Bill again for helping us get to the next stage in our career and last but certainly not least…. THE FANS!!!! THANK YOU ALL!!! WE WILL SEE YOU ON THE ROAD!!!
Via https://skullfracturingmetal.com/2020/09/madrost-interview/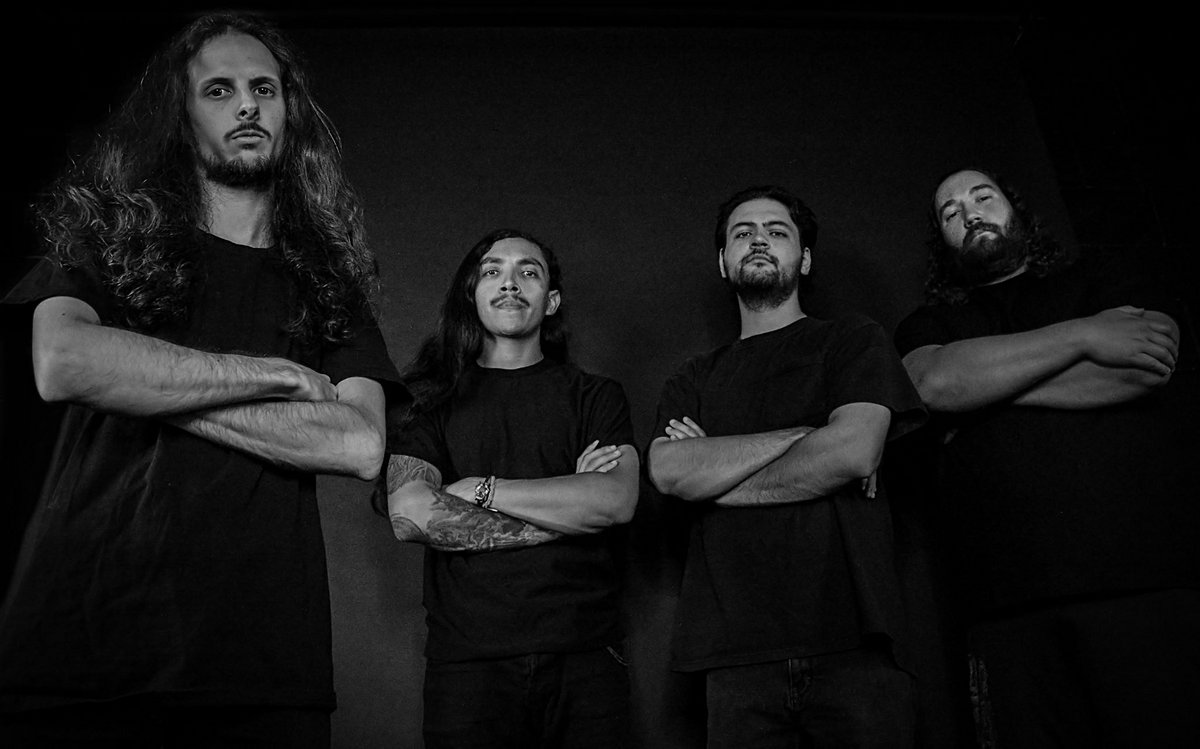 Founded in the summer of 2007, MADROST is a Southern California based progressive death thrash act with a focus on precision songwriting and energetic diverse approach to their sound. Influenced by the likes of Metal Church, Death, ELP, Believer, Exhumed and Iron Maiden , the band has transformed from the simplistic death thrash style to incorporating a wide range of other instruments and time signatures into their version of extreme metal.
For fans of Toxic Holocaust, The Crown, Vader, Nevalra
With the release of 2012's Maleficent album, the world had gained a small taste of what was to come for the bands overall sound and career. A standard death thrash style album, but was only further developed with 2014's sophomore release Into the Aquatic Sector . The same year, the band had been on a few tours and was starting to gain more support within the metal scene world wide. It wasn't until 2017's The Essence of Time Matches No Flesh that the band really saw a huge jump in popularity. Incorporating more of a progressive element into their sound and getting reviewed by such magazines as Decibel , the band had really come together and found their sound.
2020's Charring the Rotting Earth saw MADROST not only working with No Life Til Metal Records for the first time, but the band was not afraid to incorporate more symphonic elements into their sound. With the help of keyboardist Sam Meador (Xanthochroid) making a huge presence on the album, the band is on the pathway to a new sound that is sure to be remembered and taken to the next level.
Track Listing:
01 - The Serpent's Quest
02 - To Prevail the Wicked
03 - Dying Thoughts
04 - Impossible Dreams
05 - A Violent End to Life
06 - Pulverized
07 - Charring the Rotting Earth
Lineup:
Tanner Poppitt: Vocals and Guitar
Necro Nick: Guitar
Richard Orellana: Vocals and Bass
Mark Rivas: Drums
Keyboards: Sam Meador courtesy of Xanthochroid
Music by Tanner Poppitt and Necro Nick
Except Pulverized by Tanner Poppitt and Mark Rivas
Lyrics by Tanner Poppitt
Artwork by Tony Koehl
Produced and Recorded by Madrost
Mixed and Mastered by Hannes Grossman
CD Pre-order:
https://roxxrecords.com/collections/nltm-2019-releases/products/madrost-charring-the-rotting-earth-cd
LP Pre-order:
https://roxxrecords.com/collections/nltm-2019-releases/products/madrost-charring-the-rotting-earth-lp 
Follow the band here:
www.facebook.com/madrost
madrost.bandcamp.com
https://www.instagram.com/madrost_official/