Just released! The new single from Gravehuffer entitled "Ghost Dance" from the upcoming album ' NecroEclosion '. Download is free. Pre-Sale starts October 18 &  includes 180 grams -  3 color Vinyl, free download + surprise swag! Also, first 250 hand numbered!
For fans of Neurosis , High On Fire , and old school Mastodon !
We once lived here freely, raised our children on these plains
Pale greedy thieves invaded, steeling our plains away
Land swindled, left with nothing, our lives ripped from us
We only have each other, may not be enough
Ghost Dance – defy oppression,
Ghost Dance – raise our dead
Ghost Dance – new earth forms,
Ghost Dance beneath our feet
Ghost...Dance...Ghost...Dance...
Return from shining mountains, Short Bull and Kicking Bear
Bring words from Wovoka, carry on through ghost dance
Dance to raise the fallen, warriors from then and now
In the sky, all together, in defiance we will dance
Ghost Dance – old souls and dancers,
Ghost Dance – bring on new soil
Ghost Dance – white devil buried,
Ghost Dance – will live on
Ghost... Dance...Ghost...Dance...
They killed Sitting Bull. They're taking all our guns.
Outnumbered & out armed, Ghost Dance our last defense
Soldiers surrounding us, waiting for surrender.
We do nothing now, we will dance
Dancing until we are aloft as one.
Invite the Earth to swallow our foes
New soil will cover the pale enemy.
Wovoka says Earth will be ours
Confusion scattering, fleeing bullets flying.
Cowardly murdering old, young & unarmed
Watching people die, just lies stacked on lies.
Ghost dance was not enough!
"There is no center... The Sacred Tree is dead..."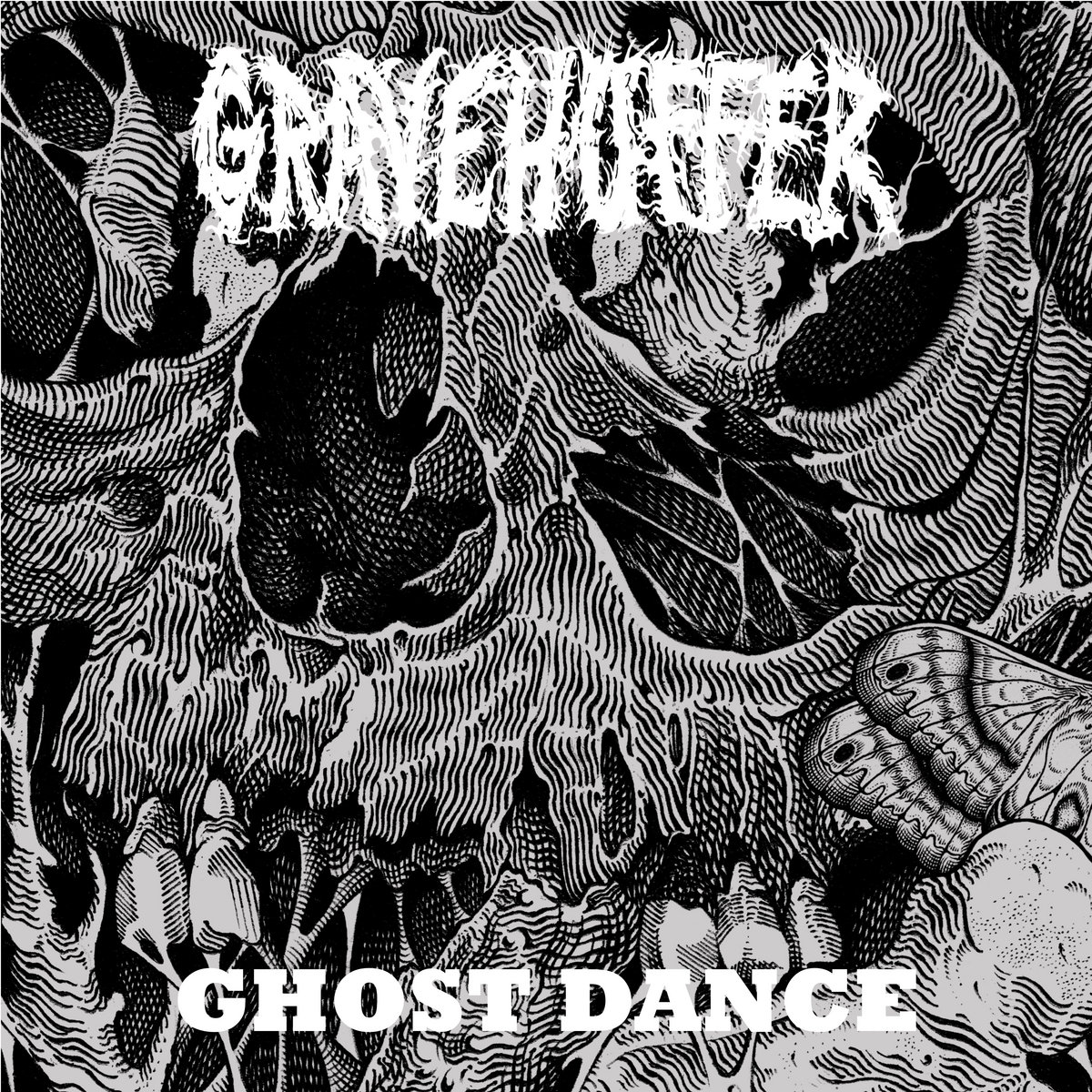 Since their inception in 2008, Gravehuffer has crafted their sound into an other-worldly amalgamation of Crust, Punk, Metal, Grindcore , and unapologetic down-tuned Sludge-laden Doom . From the remnants of former projects Initial Detonation, H.R.B., and Aether Bunny , Krom was formed. Krom evolved into what is now known as Gravehuffer .
Without ever making a conscious effort to do so, the Joplin, Missouri band proudly shuns the confines of genre confinements and so-called rules for the sake of the music itself and their collective creative output. Featuring Travis McKenzie on vocals/effects, Ritchie Randall on guitar & vocals, and a rhythm section comprised of Mike Jilge on bass, and Jay Willis on drums & vocals, Gravehuffer steers clear of trends and limits by being themselves and letting the music take them where it wants to go.
With an assortment of original songs in their repertoire that showcase the vast array of influence the band pulls from and a fearlessness to never conform or compromise, Gravehuffer is in it for the sake of the songs and the art itself in a world where most are content to follow rather than lead. Gravehuffer were signed on with Bluntface Records for a special vinyl release of their acclaimed Your Fault album, which features 2 bonus tracks and a guest solo by former Carcass lead guitarist Carlo Regadas . They were briefly with NoSlip Records and released a 2 song EP on vinyl with them.
They are now currently signed with Black Doomba Records, and are currently promoting their new album "NecroEclosion" to be released in January 2021.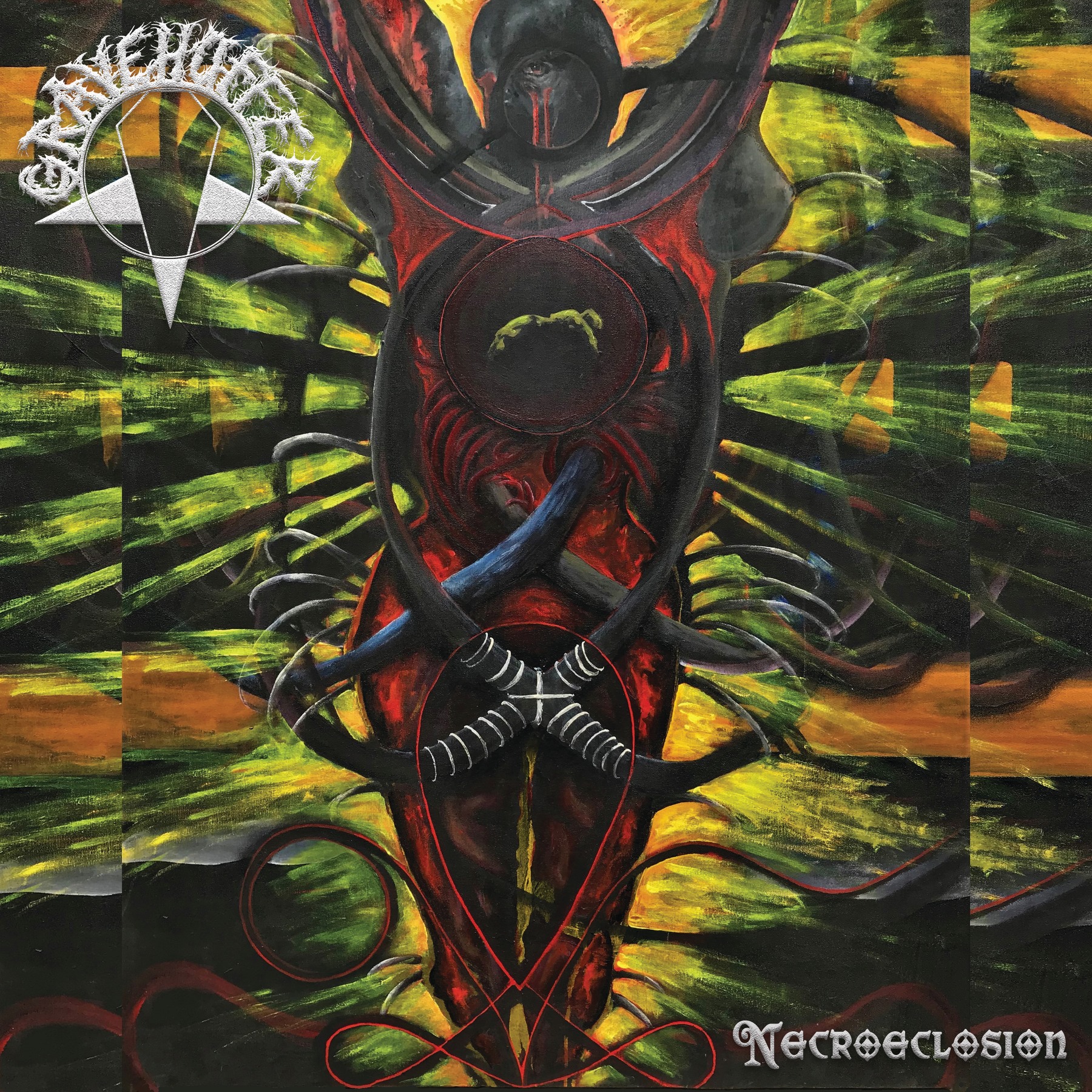 Gravehuffer is proudly endorsed by: Arachnid Cabinets https://www.facebook.com/ArachnidCabinets/ Custom Audio Mutation Amplification https://www.facebook.com/CustomAudioMutation/ Firebird Straps https://www.facebook.com/firebirdstraps/ Solar Guitars https://www.solar-guitars.com/ Spectraflex Cables https://spectraflex.com/ Seymour Duncan Pickups https://www.seymourduncan.com/ Coffin Case https://coffingear.com/ WB Gear - SIT Strings, Prestige Guitars, InTune Guitar Picks, Rock Stock Pedal Co., Mental Case Road Cases, Best-Tronics Audio Cables, Big Bends Nut Sauce, Guitar Gifts 4 U, Revv Amplification. https://wbgear.com/ http://intunegp.com/ https://sitstrings.com/
"Ghost Dance" Single from the album 'NecroEclosion' by Gravehuffer (2021 Black Doomba Records)

Released September 3, 2020
Produced by Gravehuffer
Recorded at Skunkwax Audio Unit by M.Jilge 2020
Mixed by M. Jilge
Mastered by Garry Moore
Lineup:
Travis McKenzie - Vox
Ritchie Randal - Guitars, Vox
Jay Willis - Drums, Vox
Mike Jilge - Bass
https://www.facebook.com/gravehuffer
https://gravehuffer2.bandcamp.com/album/ghost-dance