Italy's doom and sludge rock heavy weights Di'Aul, who have teamed up with iconic Mos Generator for the release of a 5-track split LP, have unleashed a song from the upcoming record. The split is slated for a release on September 25th 2020 via cult underground label Argonauta Records, eclectic home of heavy and high class acts such as Mammoth Storm, Niklas Sundin's Mitochondrial Sun, High Fighter, Los Natas, Kayleth, Di'Aul and many more.
Ever since their inception in 2010, Di'Aul, who are no longer one of Italy's best kept doom metal and hard rock secrets, strive a distinctive, heavy yet catchy sound. Their latest, fourth album "Nobody's Heaven", released in 2018 on Argonauta Records, gained the band high praise from both fans and critics alike. The four-piece collective mixes the elements of '70s rock, a modern metal groove with a heavy dose of the doom. From a harsh distortion to slow-paced sludge infusions, powerful, fuzz-fueled riffs, big grooves and expressive vocals, Di'Aul take you on a trip through all that is heavy.
After a decade of shows across Europe and four albums to date, Di'Aul have grabbed the chance to team up with one of the best rock bands of our time: Mos Generator. "We saw them live with Saint Vitus during their European tour, completely astonished from their sound, MoMo and Rex decided to write a message to Mr. Tony Reed and ask him to make a record together. And so it is!"
Di'Aul recorded two brand new songs in a one day session with longtime friends and producers Federico Lino and Alessio Massara of the Iron Ape Studio in Vigevano (Pavia – Italy), mastered at HeavyHead Recording Co. by Tony Reed himself.


Both tracks represent a vibrant sound of heavy as hell rock, sludge-infused doom tunes with a melancholic atmosphere: a mix between the '70s Sabbath sound and the power of 90's heavy music. Today, the band is sharing one of them, the ultimate doom juggernaut "The House On The Edge Of The World". Give ear:
The Mos Generator / Di'Aul split will be coming out as Vinyl on September 25th, 2020, via Argonauta Records, the pre-sale is available at  THIS LOCATION!
The tracklist reads as follows:


A Side Mos Generator - "Plundering of the Vaults : Vol II"
I Spoke to Death
The Paranoid
Fearless ( Pink Floyd Cover )
B Side Di'Aul
The House on the Edge of the World
Three Ladies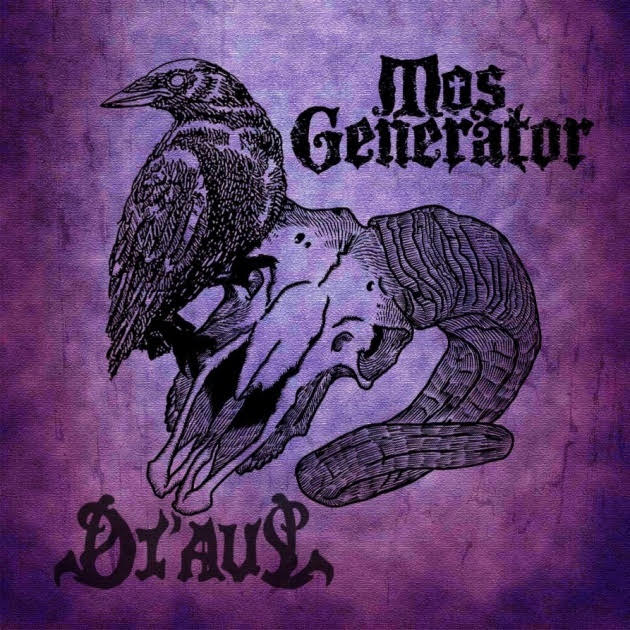 Tony Reed's Mos Generator, who formed in 2000 in Port Orchard, Washington from the ashes of a ten year off & on collaboration between it's three members, all of which are long time veterans of road & studio, inspired the heavy music scene since decades. The need to strip down to the basics of hard rock was apparent from their start and continues to be the foundation for all the bands recent material. Mos Generator have released 9 full length studio albums, a retrospective album, 2 live albums and a plethora of split 7" and 12" singles on such labels as Listenable, Roadburn, Small Stone, Ripple, Nasoni, Lay Bare, Hevi Sike, H42, Devil's Child, Kozmik Artifactz and Heavy Psych Sounds. Touring has been just as important to the profile of the band as making records has. Over the years Mos Generator has shared the stage with many great heavy rock bands across Europe and North America including extensive tours with Saint Vitus, FU Manchu, Elder, Spirit Caravan and Atomic Bitchwax. They have also played many prestigious festivals throughout Europe including 2 appearances at Hellfest in France, opening up a whole new fan base to the Mos Generator sound. After 20 years of making music Mos Generator show no signs of slowing down. Says Mos Generator mastermind, Tony Reed, about the upcoming split with Di'Aul:


"The plundering of the Vaults continues with three demos recorded between May 2014 and June 2018. All three of these songs were recorded live in our rehearsal space and then layers were added later in the studio. There are a few interesting things about these songs. First, they are loosely arranged ideas that were only played two or three times before we recorded them, and I think that is what helps give them the raw edge that they have. And two, there is a crossover of band line-ups. On the Pink Floyd cover "Fearless", original drummer Shawn Johnson is playing with second line-up bassist Sean Booth. That has happened before with other configurations and I enjoy it. Someday I would like to record with both rhythm sections at once."
For More Info Visit:
www.argonautarecords.com
www.facebook.com/MosGenerator
www.mosgenerator.bandcamp.com
www.facebook.com/DIAUL111
www.diaul.bandcamp.com