DAN WEISS STAREBABY: New York City Avant Jazz Collective To Release Natural Selection LP Via Pi Recordings In September; Teaser Posted
See DAN WEISS STAREBABY's Natural Selection teaser 
HERE
.
Pi Records presents Natural Selection, the highly anticipated follow-up to drummer composer DAN WEISS's 2018 release Starebaby. Now confirmed for release in late September, a brief teaser as well as the cover art and other details on Natural Selection have been issued.
Starebaby presented an unconventional compounding of doom metal, electronic music, and improvisation into a dark and mystic brew. The album was named to many best-of 2018 lists, including Rolling Stone, which described it as, "an album that creates its own sonic cinematic reality," while NPR called it, "Astonishing... A true convergence of heavy trudge and spontaneous combustion." Now, DAN WEISS and his top-tier collective of musicians return with another equally stirring, moody, expertly crafted masterpiece with Natural Selection.
The recording of Natural Selection came fast at the end of a run of performances for the band - also named STAREBABY - which helped further cement the group's unique sound. According to WEISS, "Logging so many hours playing together helped us to really internalize this music, which allows us to improvise with more freedom and fewer inhibitions." Along with WEISS, the band - who all return from the first album - is made up of a dream-team of musicians who share a love for heavy metal and whose playing is unbound by genre, with Ben Monder on guitar, Trevor Dunn on bass, and the twin-keyboard/piano/ electronics attack of Matt Mitchell and Craig Taborn. It's staggering to contemplate the wide-ranging ability of these musicians from bone-crunching power to pensive reflection; exacting hits to improvised texture; faith to the compositions and manic improvisation. Each of these musicians is a leader in his own right; their 2019 releases evidence the sheer scope of their individual talents Dunn, a member of Mr. Bungle, Fantômas, Melvins, and Secret Chiefs 3, released his album Nocturnes, which features his compositions for string quartet, piano and bass. Monder, who plays on David Bowie's Blackstar, put out the dreamy Day After Day, for solo guitar and trio. Taborn collaborated with pianist Vijay Iyer on The Transitory Poems, an album of piano duos. Mitchell's Phalanx Ambassadors features his usual synapse-exploding, intricately detailed work, this time for guitar, vibraphone, bass and drums. WEISS himself released the more jazz-oriented Utica Box, featuring his long-running trio with pianist Jaco Sacks, bassist Thomas Morgan, with the addition of bassist Eivind Opsvik. The success of Natural Selection would not be possible without these particular musicians, with their wide-ranging, all-embracing love of music and ability to execute everything that WEISS throws at them with conviction. It's all captured exceptionally by veteran recording engineer Ron Saint Germain (Soundgarden, Living Colour, Bad Brains, Sonic Youth) and mastered by Joe Gastwirt.

See a brief teaser for DAN WEISS STAREBABY's Natural Selection 
RIGHT HERE
.
Pi Recordings will release Natural Selection on CD and through all digital providers on September 18th. Watch for audio premieres, preorders, and more on the album to be issued over the weeks ahead.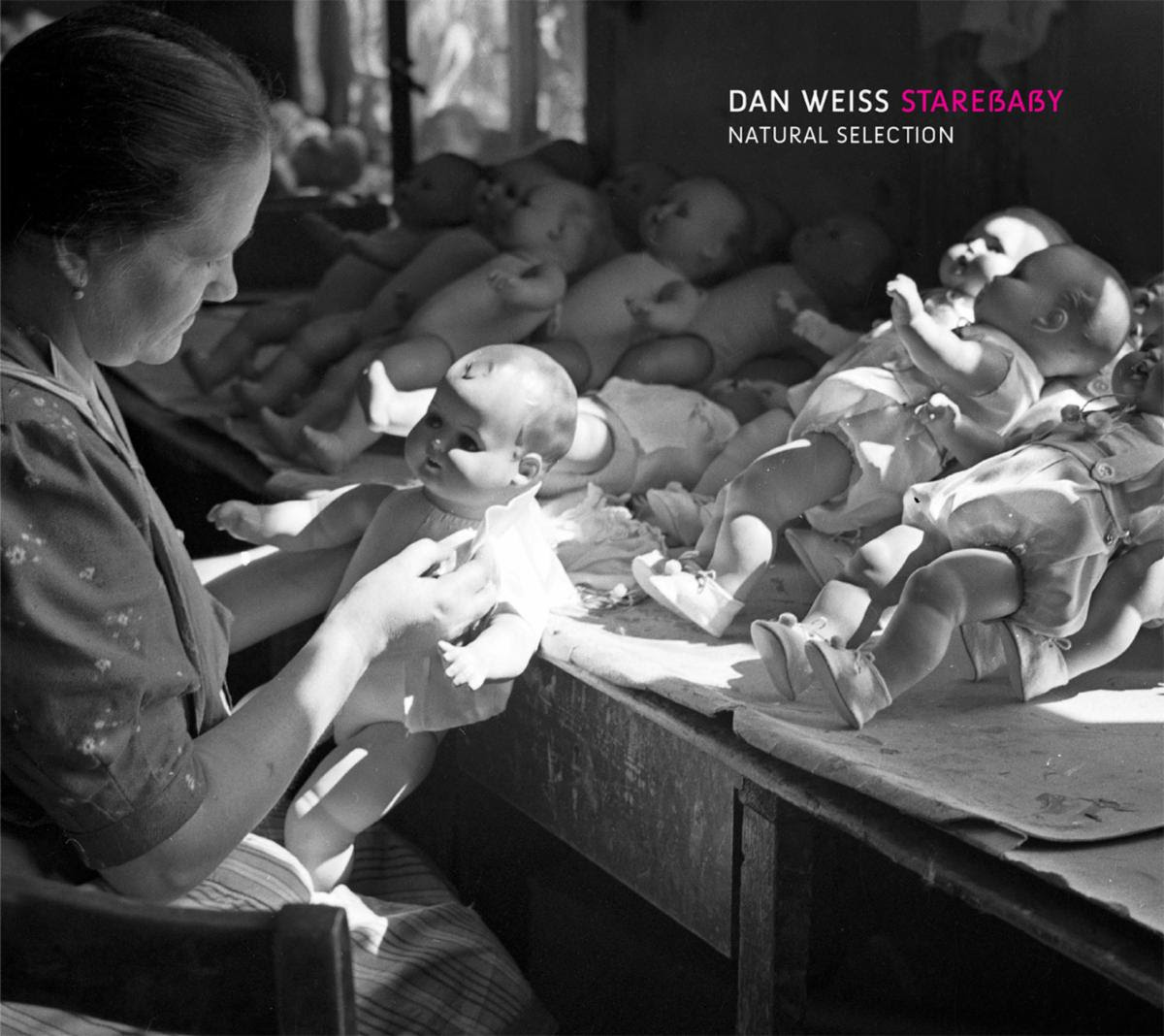 Natural Selection Track Listing:
1. Episode 18
2. Dawn
3. The Long Diagonal
4. A Taste Of A Memory
5. Today Is Wednesday Tomorrow
6. Bridge Of Trust
7. Accina
8. Head Wreck  
STAREBABY is the upshot of DAN WEISS's long-running dream to bring together some of the most accomplished players on the jazz scene to play music that combines jazz with the power of heavy metal and electronic new music. STAREBABY is a decidedly original work that is largely without precedence, reflecting the power of conviction coming from a single, brimming wellspring. As with his prior output, STAREBABY reflects his catholic taste in music, where improvisation, doom metal, electro-acoustic music, Indian beat cycles, and innumerable other influences are all compounding into an outpouring of personal expression beyond musical boundaries. STAREBABY, though, tilts towards the heavy, and DAN WEISS cites as influences metal bands such as Meshuggah, electronic and electroacoustic composers such as Karlheinz Stockhausen, Bernard Parmegiani, and Luc Ferrari, and jazz ranging from Sidney Bechet to Henry Threadgill. It is also inspired by Season 3 of the television show Twin Peaks, whose surreal, ominous, emotional landscape helped shape the overall feel of this music. The music ebbs and flows, surging to thunderous swells of foreboding doom before tempering to quiet reflection, finding a deep space where brutal aggression meets ghostly venerability.  
Starebaby was funded by The Shifting and Copeland Foundation and debuted its eponymous record in April 2018 on the Pi Record label to critical praise. It ended up on many year-end critic lists including
#11
on Nate Chinen's NPR poll,
#8
on Rolling Stone's 20 best albums of 2018, and
#25
on NPR's Music Jazz Critics Poll amongst others. STAREBABY had a successful year touring and performing at prestigious events such as The North Sea, Gent, Copenhagen, Toronto, Vancouver, and Brescia Jazz Festivals. In 2019 the band performed at the renowned Cheltenham, Brno, and Lublin Jazz Festivals.  
DAN WEISS STAREBABY:
Matt Mitchell - piano, Prophet-6
Craig Taborn- piano, Fender Rhodes, synthesizers
Ben Monder - guitars
Trevor Dunn - electric bass
Dan Weiss - drums, tabla, piano