New Music: Satan's Host - Archidoxes of Evil + Bonus (Official Release) Moribund Records Release: 30 October 2020
America's #1 and longest-running True Heavy Metal Band!!!
SATAN'S HOST require no introduction; an American Metal Institution and one of the original Pioneers of both Thrash and Power Metal. Through the decades SATAN'S HOST have continually re-invented themselves, always remaining fresh, leading the pack of True US Heavy Metal!
   Formed in 1985, throughout the course of their 33+ year career (of evil!) SATAN'S HOST have recorded and released 13 studio albums, several video's and live albums, have extensively toured the world, headlined every major metal festival on earth, permanently etching their pentagram-sealed mark at the very top of the Heavy Metal echelon! US Heavy Metal Titans and Power Metal legends SATAN'S HOST have unquestionably earned their deserved place in Heavy Metal History!
   After the departure of original vocalist Harry "Leviathan Thirisen" Conklin, SATAN'S HOST recruited new vocalist Eli L.C.F. Elixir and embarked on the bands second era. Exemplified by a revamped and modernized sound, SATAN'S HOST reached beyond the realm of basic Heavy and Power Metal. Incorporating modern Death Metal and Black Metal, they formulated a new style which suited new vocalist L.C.F. perfectly and heralded them to the top of the 2000's burgeoning Black Death Metal scene.
   This second era of SATAN'S HOST recorded 5 legendary albums – 2000's "Archidoxes of Evil", 2004's "Burning the Born Again...", 2006's "Satanic Grimoire: A Greater Black Magick", 2008's "Great American Scapegoat 666" (still considered by many to be their best album) and finally 2009's "Power ~ Purity ~ Perfection...999". Each album an epic mix of Death, Black, Thrash and classic Heavy Metal anthems filled with catchy sing-along choruses, shredding lead guitars, catchy rhythms and over-the-top blasting drums.
   While "Archidoxes of Evil" was recorded in 2000, it was never officially released except for CDr's sold by the band themselves at shows and online. Moribund Records is proud to finally make this cult classic album officially available, completely remastered from the original source tapes and with brand new cover art! As an added bonus, we have included a newly re-recorded version of the fan favorite, "Nightside of Eden"!
The foundation of the classic "2nd" era of American Heavy Metal Royalty SATAN'S HOST - One of the MOST IMPORTANT bands in Heavy Metal History!
* The extremely rare & unreleased 3rd album by SATAN'S HOST officially available for the 1st time!
* Completely remastered from the original source tapes!
* Features killer new cover artwork!
* Features a newly re-recorded version of the fan favorite "Nightside of Eden" bonus track!
* One of the most bootlegged albums in Heavy Metal history!
* Recorded at the legendary Flatline Audio (Cattle Decapitation Cephalic Carnage, Job for a Cowboy)!
* Features scorching guitar work by world renowned master axe-man Patrick Evil.
* Mandatory for fans of Behemoth, Slayer, Mercyful Fate, Morbid Angel, Exodus and Nile.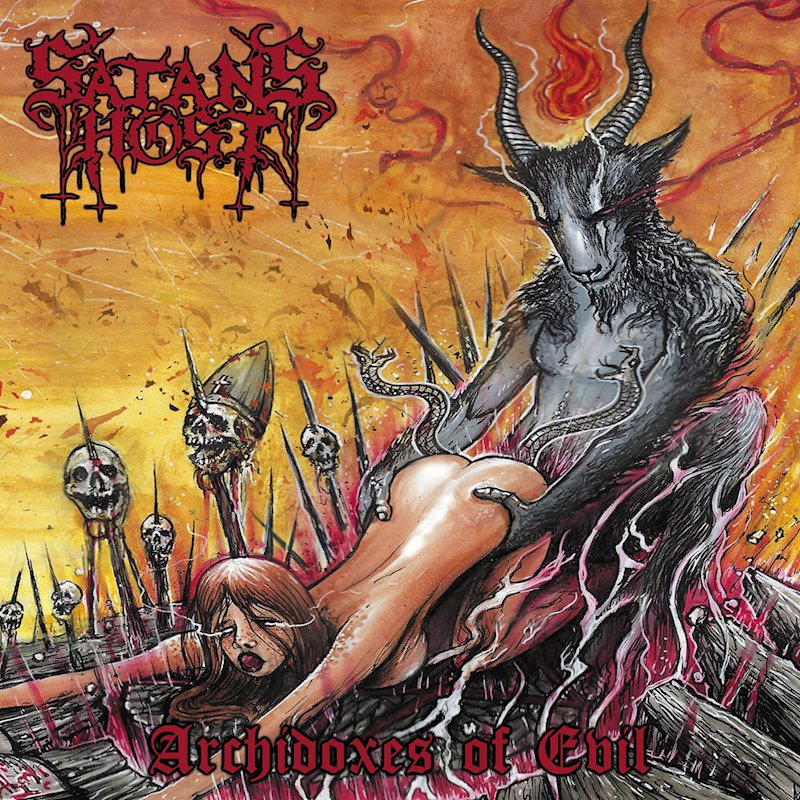 Track Listing:
Chapter 1 (The Balance of Necromantic Nature)
1. Lilith, Consorting Lucifer (1:57)
2. Devil's Orison (4:40)
3. Spheric Destiny (5:50)
4. Nightside of Eden (4:18)
Chapter 2 (Black Brothers Behind the Tree of Evil)
5. Plight of the Magus (5:28)
6. Circle of Chaos (4:51)
7. Melektaus (1:52)
8. Purified in Pain (2:54)
Chapter 3 (Infernal Legions by Conjuring 666)
9. Clan of the Hellions (3:39)
10. Shamanic Spectra (2:43)
11. Demons from Nazarene ~ Ode to Lucifer (6:38)
Bonus Track:
12. Nightside of Eden (5:19) <2011 version>
Total Play Time: 34:34
Follow Satan's Host on  Facebook,   Twitter,   YouTube ,  Instagram  and  MySpace  or visit the  Official Satan's Host Website !