Turborock band Grillijono K.O. released a new single and music video from their upcoming debut album!
Finnish turborock band Grillijono K.O. released a first single and music video from their upcoming debut album which is released later this year by Secret Entertainment.
Watch music video here: https://youtu.be/W6tfzn98jBo 
 
Mä oon sun koira single takes the band's sound even heavier direction with its Slayer nuances. The lyrics deals with unbalanced relationship in a twisted tone which is familiar to the band. 
"Sometimes relationship is like two parties, a dog and an owner. A dog tries to please it's owner even at the risk of having to stifle his/her own identity. The end result is not always beautiful to look at," says singer-guitarist Lobo-Tommi. 
A video was also shot for the song, which was influenced not only by the lyrics of the song, but also by old horror and comedy movies.
 
"The music video was inspired by Monty Python's Holy Grail, among other things. We packed the beers and acoustic guitars and went to the cottage to¨shoot B-class horror video. The video was made with the idea of "the dumb the better". We think we did a hell of a job! ", Lobo-Tommi continues.
Listen to the single:
Youtube: https://youtu.be/W6tfzn98jBo 
Spotify: https://spoti.fi/2B7ovbi 
Bandcamp: https://grillijono-ko.bandcamp.com 
Deezer: https://www.deezer.com/us/album/155533492 
Tidal: https://listen.tidal.com/album/145615362 
Apple Music: https://apple.co/3fzqYdh 
Grillijono K.O. is a four-piece turborock group from Vaasa, Finland. Their sound is a combination of different elements from fast punk rock to black metal and even melodic pop, defined by harsh and powerful vocals by frontman Lobo-Tommi.
The bands first publication, "Nyrkkipyykki EP", was released in December 2015. The single "Ei oo sun oma vika että oot niin vitun tyhmä" became a small-scale punk rock hit and was noted by Soundi, the biggest music publication in Finland. The song has reached over 350000 hits on Spotify alone and rose to the "Finland Viral 50" playlist.
Nyrkkipyykki EP was soon followed by single "Kaljaa pimeässä", which expanded their sound to a more aggressive and darker territory. Bands such as Kvelertak, The Hellacopters, Gluecifer and Slayer have all had an impact on Grillijono K.O.'s sound as it is today.
Despite the band being only a few years old, they´ve at played at various venues all over Finland, and have gained a reputation as an energetic live band. The band is currently finalizing their debut album, which will be released later in 2020.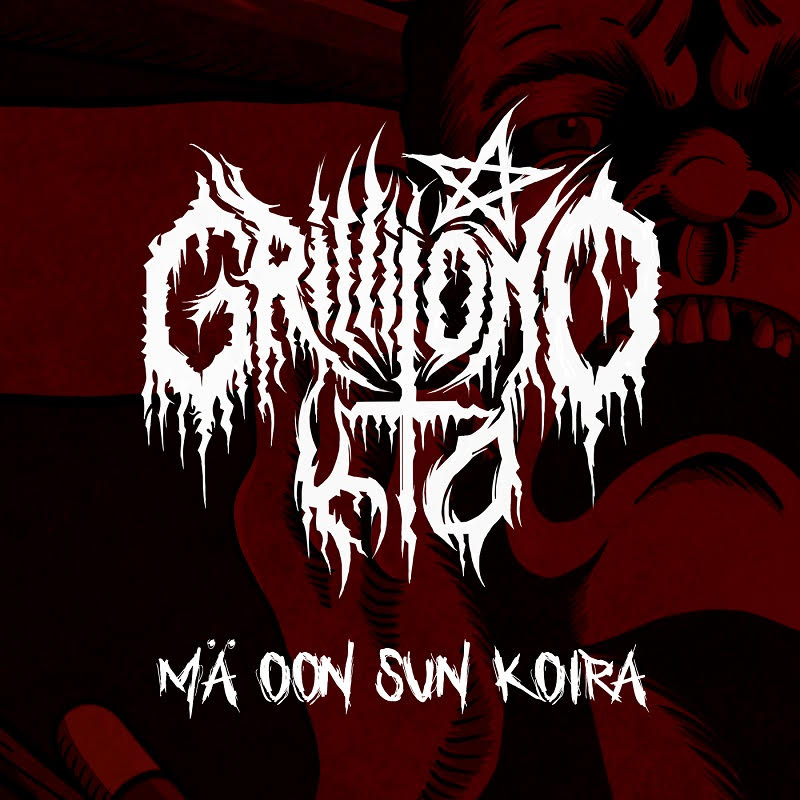 Track list:
01. Mä oon sun koira
Cover art by:  Toni Storås 
 
 
 
 
Line-up:
Lobo-Tommi (throat & guitar)
Rahina-Rautiainen (guitar & backing vocals)
Lars von Clier (bass & backing vocals)
Bräd Wursti (drums)
 
Links:
https://www.facebook.com/grillijonoko 
https://instagram.com/grillijonoko
https://spoti.fi/2CCXDQA 
https://grillijono-ko.bandcamp.com