Lisa Mann from White Crone joins us on the show to talk about the new record, her past, future and present! We also take questions from the live chat! This episode features brand new music from White Crone, SÖLICITÖR, From The Ruins, KATAKLYSM, ENSLAVED, PALLBEARER, Smoulder, Lamb Of God, Zakk Sabbath, Eternal Rot, Burn The Mankind, Darkened (International), Deadlight Sanctuary, Manticora, Merlock, MOSH-PIT JUSTICE, SpellBook, Temple Nightside, TYGERS OF PAN TANG, Vassafor, WRITHING, XYTHLIA, Graves of Giants (Battle of the Bands Winners), and we also play some classics from Mercyful fate, Iron Maiden, and Black Sabbath!
Track List
1 - Blood Revelations/Betrayer/The Red Queen - SÖLICITÖR
2 - The Zach Moonshine Intro
3 - We Fight - From The Ruins
4 - The Killshot - KATAKLYSM
5 - Jettegryta - ENSLAVED
6 - Forgotten Days - PALLBEARER
7 - Warrior Witch Of Hell/The Sword Woman - Smoulder
8 - White Crone interview featuring The Poisoner/The Seven Gates of Hell/Under Hag Stones
9 - Black Funeral - Mercyful Fate
10 - Children of the Damned - Iron Maiden
11 - Computer God/After All (The Dead) - Black Sabbath
12 - Resurrection Man/Memento Mori/On The Hook - Lamb Of God
13 - Black Sabbath [Black Sabbath Cover]/Live In Detroit Sabbath Medley - Zakk Sabbath
14 - Downward Among the Departed - Eternal Rot
15 - Sulfur - Burn The Mankind
16 - Dead Body Divination - Darkened (International)
17 - Trance of Doom - Deadlight Sanctuary
18 - Slaughter In The Desert Room - Manticora
19 - Condemnation - Merlock
20 - Voices Below - MOSH-PIT JUSTICE
21 - NOT LONG FOR THIS WORLD - SpellBook
22 - Contagion of Heresy - Temple Nightside
23 - Keeping Me Alive - TYGERS OF PAN TANG
24 - To the Death - Vassafor
25 - Void of Derision - WRITHING
26 - Ablation of Subconscious - XYTHLIA
27 - Murder In The House Of Hornets - Graves of Giants
Listen to the full show here and follow us on Mixcloud!
Or listen to just the interview on YouTube!
White Crone   's The Poisoner delivers   Traditional Heavy Metal   , with traces of prog, proto & doom. Featuring soaring   Dickinsonian   female vocals, epic dual guitars, thunderous drums & (most especially) iron fisted bass guitar, The Poisoner will take you "back to the day."
Lisa Mann made a career as an award winning blues artist, but never lost her love of metal music. Growing up in the mosh pits of the 1980's, she was inspired by bands such as   Iron Maiden   ,   Mercyful Fate   , Black Sabbath, Manowar, Dio and more. A mostly one-woman project, White Crone is a love letter to this grand era of metal, and a lyrical homage to mystical storytelling traditions of yore.
After two years of hard work and sweat, my metal recording project White Crone is being unleashed! I wrote all the songs except one (a cover of Venom's "Seven Gates of Hell" ) and played all the bass and almost all the guitars. This new project is a love letter to traditional metal music, the likes of Iron Maiden, Dio, Judas Priest, and Mercyful Fate . These bands were a daily part of my life as a youth, and playing along with their records was how I learned to play bass and sing.
Don't get me wrong, I LOVE blues music and will never stop playing and singing the blues! Blues had a baby and they named it rock and roll, that's something I will never forget. Coming to blues felt like coming home. But playing metal feels like running away from home! That don't mean I'm walking away from blues – I'll be releasing a blues/Americana album soon. Hope y'all don't mind me having a little rowdy fun… I know a lot of you are secret headbangers anyway!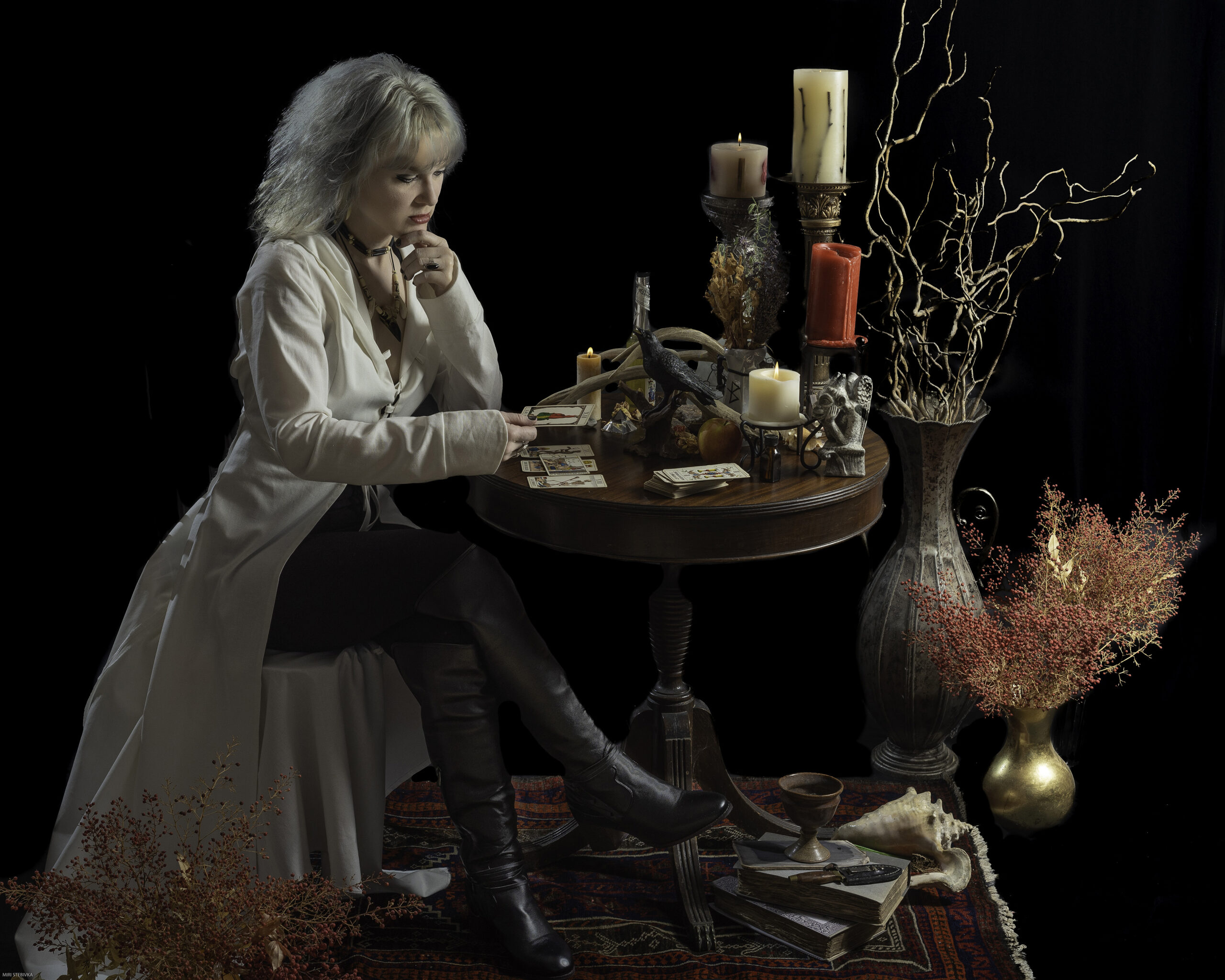 I did pre-production at home on Samplitude, on which my husband Allen was kind enough to tutor me. I bought a Roland V-drum kit and a seven string Schecter guitar and tracked all the parts in my spare time. The songs came to me in waves- while I was driving, or taking a walk or even in the shower. Sometimes a melody would strike me in the middle of the night, and I'd have to sing parts into a phone app so I wouldn't forget. I taught myself how to play guitar well enough by watching YouTube tutorials on Maiden and Priest songs, and I knew how to play drums enough to get the scratch drum parts tracked (however badly performed).
Once songs were ready to record, master drummer and instructor Larry London set tracks down at Kevin Hahn's Opal Studio. He played the parts I had written, yet expanding on and improving them in ways I could never have imagined. I also asked former Glacier guitar guru Mehdi Farjami to play guitar on a couple of tracks; he laid down some blistering solos and tasty rhythms on The Dream of Tiamat and The Seven Gates of Hell. I frankly thought my guitar playing wouldn't be good enough, but through hard work and some split fingernails, I felt confident enough to do the rest of the guitars myself.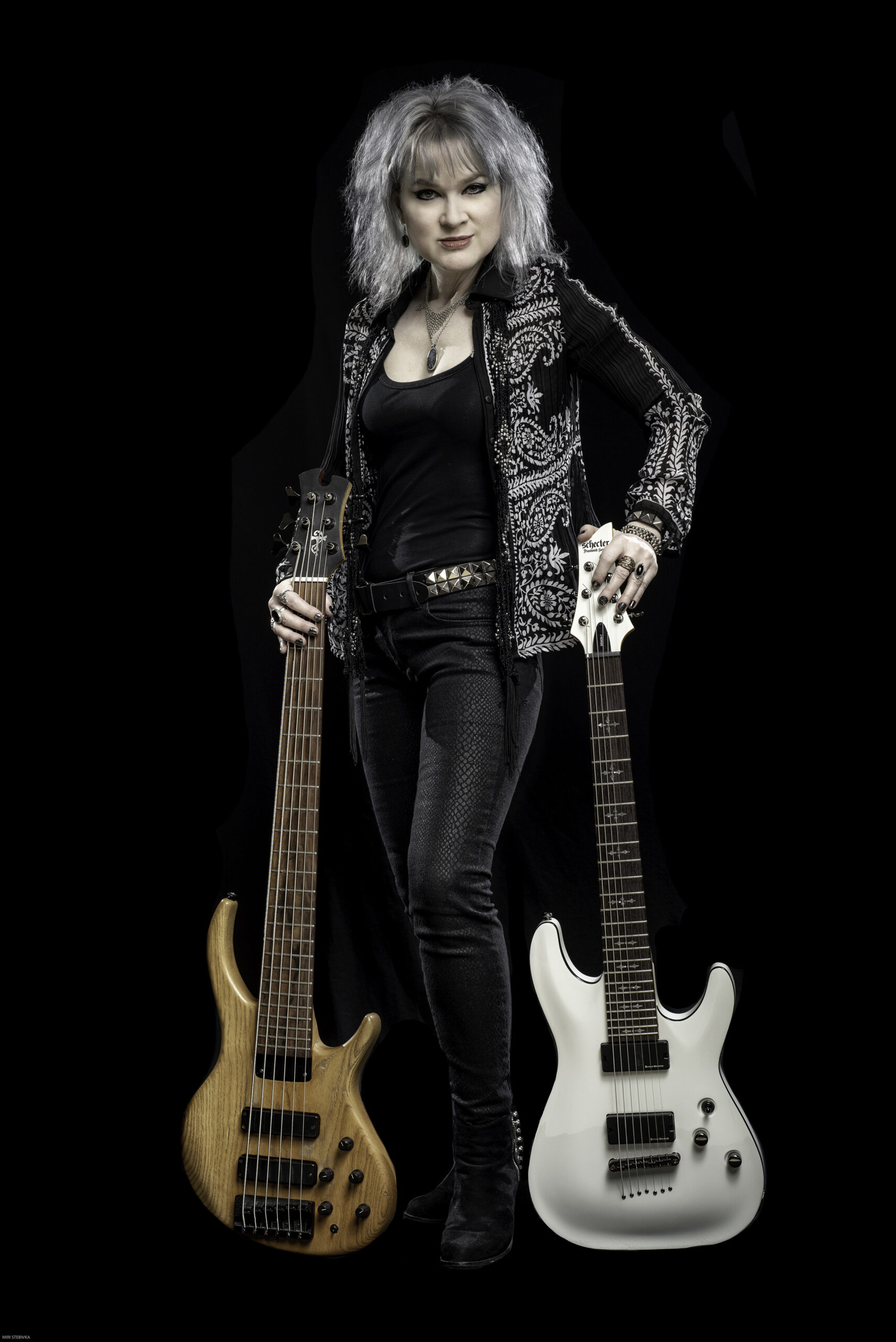 I invited a couple of special guests to perform on the album, including drummer Vinny Appice (Dio, Black Sabbath, Rick Derringer) . He appeared on my last blues album on a prison-blues stomp which also featured Ben Rice. The White Crone song (Under Hag Stones) is mostly at 58bpm, and NOBODY can deliver a slow heavy groove like Appice. Also featured is percussionist Caton Lyles . He worked on my blues music projects in the past, and brought a taste of the Middle East to the White Crone song "Broken."
All this was mixed and mastered by Kevin at Opal, whose fine work on my past three blues CDs have garnered awards and recognition. Photos for the project were masterfully taken by Miri Stebivka–he and his partner Darka Dusty are more folks who I've worked with in the blues milieu, and album graphics were done by the ever talented Jen Taylor, who did my past three blues releases as well.
With the help of friends and family (and a Buddhist priest), we shot a killer video for the title track with director and videographer Cypress Jones. Filmed on three locations with actors, props and all. I am over the moon as to how kickass (and humorous) it turned out!
I can't underscore enough how this dream has only come to fruition through the joyful efforts of others. Now it's YOUR turn to add some joyful effort, if you would be so kind… take a listen to the project, share the project, review it, download it, tell your friends about it! I can't do this without you!
Most sincerely,
Lisa Mann
WHITE CRONE   has already been receiving rave reviews!
"Lisa has indeed a great voice, rich and powerful she dominates the compositions with ease.... This indeed sounds like a bow before the classics and the masters that did perform them in the days of old." 
Dennis Eikenkötter, Reflections of Darkness
++
"...a high quality sound that can easily compete with major releases... strongly influenced by mercyful fate, Judas Priest and Iron Maiden... The bass on this one is incredible"-
Nik Cameron, Glacially Musical    
++
"juicy, high-energy riffage... I can't get enough of the whole album."  (Lisa Mann is) "unapologetically badass"
Jessie May, Alternative Control
++
"epic vocals, roaring riffage and tasty bass lines."
Luke Parsons, Abrasive Noise
++
"I love this record and I love Lisa Mann... a musical monster... heavy metal with all the needless bullshit stripped away."
Dark Juan, Ever Metal    
++
"reminding me of Seventh Son by Maiden at some points... music to raise swords to"
CarcassBomb, NoobHeavy "Microdose"
++
"It is very very good. Check this album. Well worth it."
Blessed Altar Zine
++
"Mann's rich timbre and tone draws parallels to Ronnie James Dio... White Crone have delivered an album that is thoroughly enjoyable..."
Eric McCann, Metal Heads Forever
"Lisa undoubtedly understands the genre and its purest roots... a brutal and powerful honesty that is transmitted to the listener... Ronnie James Dio... I dare say that our protagonist is the female version..."
Daniel Vazquez Lobato, Subterraneo Webzine (Spain)
++
"Lisa's voice is incredibly strong... the bass is what dominates the spotlight, almost a tribute to bassists like Steve Harris and Geddy Lee... a high level album... first class production..."
Mauro Antunes, Radio Rock Nation (Brazil)
++
BAND LINKS
http://whitecrone.com/epk/
https://www.youtube.com/channel/UCVcf2to4a_Wx-ELQW8hKSkw
https://whitecrone.bandcamp.com/album/the-poisoner
https://www.facebook.com/whitecrone/
https://www.instagram.com/whitecrone/
https://twitter.com/whitecrone