Austin, TX-based Extreme Metal quintet 
HeadCrusher 
have released a lyric video for new single "Eternal Butchery" just in time to hit the road for dates in Texas and their native Colombia. Get butchered at 
this location
.
Dates for the "Death Comes with Silence Tour 2017" are as follows:
July 12

   San Antonio, TX @ The Limelight
July 14

   Bryan, TX @ Grand Stafford Theater
July 15

   San Angelo, TX @ Deadhorse
July 19

   Bogota, COL @ Salas De Eventos Subte
July 21

   Pereira, COL @ Ozbar
July 22

   Medellin, COL @ Barnaby Jones
July 23

   Armenia, COL @ Bolera Las Palmas
July 28

   Austin, TX @Come and Take It Live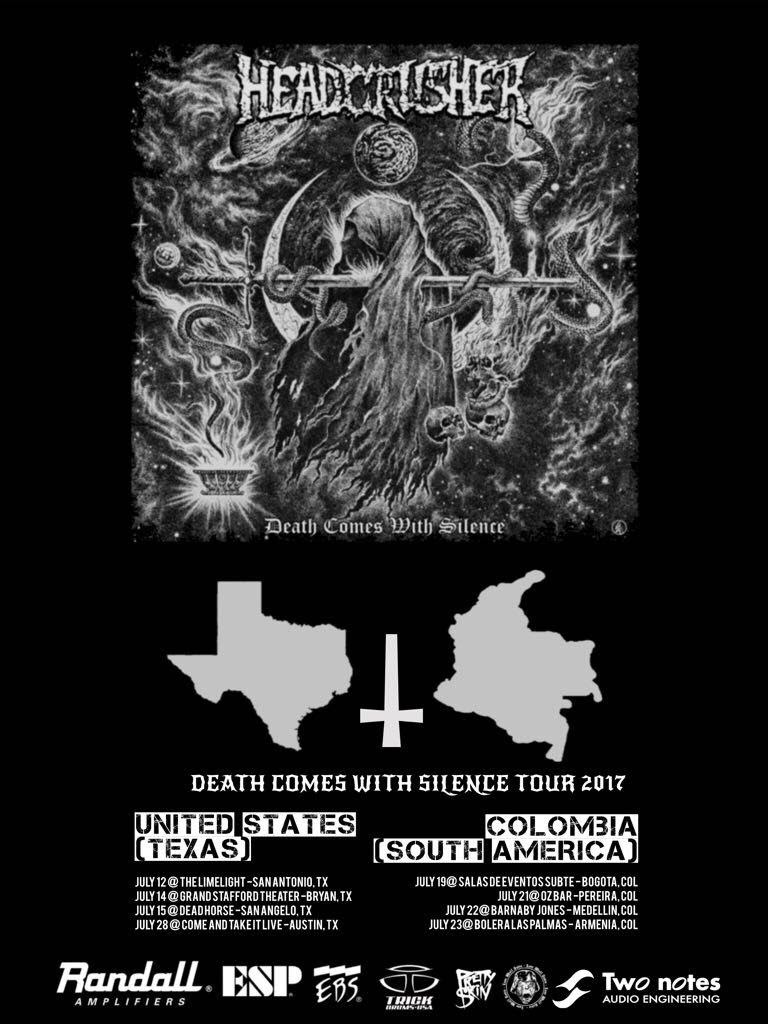 HeadCrusher  will release  Death Comes with Silence  on 

July 28

. A limited edition (50 copies)  Death Comes with Silence  pre-order bundle is available now! In addition to the digital and CD versions of the forthcoming album, you''ll also get a bag of  "Death Comes with Silence" Coffee Blend; the double-vinyl version of  Let The Blood Run / Black Burning Skies  EP; and a free track download of "Trails of Devastation." 
<a href="http://r20.rs6.net/tn.jsp?f=001aCYhbMY6NzxPPZfiVSW2eDCCcd9q8JfRWZjYEe6YVYGxi_9EIjfO1pS1YB49KLm20IfBLJTdFJL2XtXyZV3yRcjWg7e5x8dTZlcOEFceekez7QZPFNSaTTtYZbT9PFyxS5GAIaO0n50E53mgPU66cDHQEaKWWySDwsyunhk6Zks2UrrLRatZ7UjWdWi6Yi6ri-VJy9XjP3a56uXnLYXbyz1PZK6669ZopM7QZZPZMntbffZUuNAv00ku6LngEBmD&c=6Dvif5YeuydH8wloOcW-1-rfnySMk400a45iP7SgeyPtY5zH9246OA==&ch=R1hPK-xvfMZ6H1W0p_XycTxmdMTDkrVkObPP3UvIuy3Xf7TLv8TDsg==" shape="rect" alt="https://headcrusher.bandcamp.com/merch/death-comes-with-silence-pre-order-bundle" target="_blank" data-saferedirecturl="https://www.google.com/url?hl=en&q=http://r20.rs6.net/tn.jsp?f%3D001aCYhbMY6NzxPPZfiVSW2eDCCcd9q8JfRWZjYEe6YVYGxi_9EIjfO1pS1YB49KLm20IfBLJTdFJL2XtXyZV3yRcjWg7e5x8dTZlcOEFceekez7QZPFNSaTTtYZbT9PFyxS5GAIaO0n50E53mgPU66cDHQEaKWWySDwsyunhk6Zks2UrrLRatZ7UjWdWi6Yi6ri-VJy9XjP3a56uXnLYXbyz1PZK6669ZopM7QZZPZMntbffZUuNAv00ku6LngEBmD%26c%3D6Dvif5YeuydH8wloOcW-1-rfnySMk400a45iP7SgeyPtY5zH9246OA%3D%3D%26ch%3DR1hPK-xvfMZ6H1W0p_XycTxmdMTDkrVkObPP3UvIuy3Xf7TLv8TDsg%3D%3D&source=gmail&ust=1499544874485000&usg=AFQjCNEvrziKX4FxXk3rRJXeOiGGZG886g" rel="noopener"> https://headcrusher.bandcamp. com/merch/death-comes-with- silence-pre-order-bundle
HeadCrusher previously released a play-through video for new single "Trails of Devastation," featuring David Coloma tracking rhythm guitars in the studio with co-producer/mixer Jesse Gander during the recording of forthcoming album 
Death Comes With Silence
. Check it out
Death Comes with Silence
offers fans and newcomers alike a new level of dense, unfettered brutality! The music will grab you and will not let go. After relocating to Austin from Colombia in 2008,
HeadCrusher
 have carved their place in the growing Texas scene. Their fast execution and ferocious delivery has taken their music to international stages in support of some of the best metal acts in the world. 
"An Austin, Texas/Colombian band with killer riffs and moxie to spare are set to release a gathering of ballsy tracks."
- Blood Rock Media
"Furious. Intense. Complex. Groovy. Aggressive. Brutal. A high speed attack on your senses."
- Lords of Metal
"Death Comes With Silence speaks of the warrior spirit forged after 15 years on the road."
- Rolling Stone (Colombia)
Track Listing
1. Ignis Fatuus (Intro)*
2. Seismal
3. A Plague Upon Us
4. Black Hearted Demons
5. Trails of Devastation
6. Intermission
7. Fatal Error
8. Eternal Butchery
9. Death Comes With Silence
10. I am Death (Outro)**
11. Gritos Del Sur (Bonus Track)***
*Intro written and recorded by Rolando Ramos Torres
** Outro written and recorded by David Coloma
***Special Guests Vocals on Gritos Del Sur by:
-Fabio Marin (Internal Suffering)
-Diego Rojas (Colapso)
-Hooseman Adame (Kilcrops)
-Alex Okendo (Masacre)

All songs written and recorded by HeadCrusher
Produced by: HeadCrusher and Jesse Gander
Assistant Engineer & Additional Production: Gustavo Adolfo Valderrama
Mixed by: Jesse Gander
Mastered by: Stuart Mckillop
Recorded in October 2016 at the following studios: The Noiz Faktory (Georgetown, Texas)/ La Casa Del Mal (Austin, Texas)/ Buziraco's Lair.
Mixed and Mastered January 2017 at: Rain City Recorders (Vancouver, Canada)
Art by: Waguna Wiryawan
HeadCrusher is:

Alejandro Ospina: Drums
Carlos Ramirez: Guitar
David Coloma: Guitar
Gustavo Calderon: Bass
Kike Valderrama: Vocals

http://headcrusher.bandcamp.com/
https://twitter.com/headcrusherband
www.facebook.com/headcrusherheavymusic
HeadCrusher Youtube