Guitarist JASON AARON WOOD Rips 'Em a New One With New Tech-Death Single "Sycophant"
After a few years of silence following "Emanations," the latest in his rapid-fire series of solo albums, guitarist & one-man band JASON AARON WOOD (Ol Sonuf, Todesbonden) has recently released a new single, now exploring the genre of technical death metal with his new song "Sycophant."
"Sycophant" has obvious appeal for fans of bands like Necrophagist, Obscura, and Arsis, while still retaining his signature melodic riffing and soloing style throughout. Jason has briefly hinted at working on following it up with a potential EP or album release in the same vein some time in the near future.
Listen to "Sycophant" at
https://jasonaaronwood.bandcamp.com/
[ABOUT THIS TRACK:]
"Sycophant" — a brand new technical death metal track by Jason Aaron Wood (Ol Sonuf, Todesbonden).
The first release since his 2017 album "Emanations," which featured 8-string guitars exclusively, this song, in contrast, is written entirely on a 6-string, specifically for the challenge of making my heaviest recording yet on a 6-string that's not severely down-tuned. (The tuning is E-flat standard.)
While the form this song ultimately took came to be over the course of about 1 month, the concept for a song called "Sycophant" is something I've been taking notes and mentally toying with for over 7 years.
Suddenly in April 2020, something clicked in my mind and I realized that Technical Death Metal was the perfect vehicle for delivering this idea. Plus, it was a chance to expand my musical palette and get a feel for writing and playing on a level of technicality that I haven't yet explored.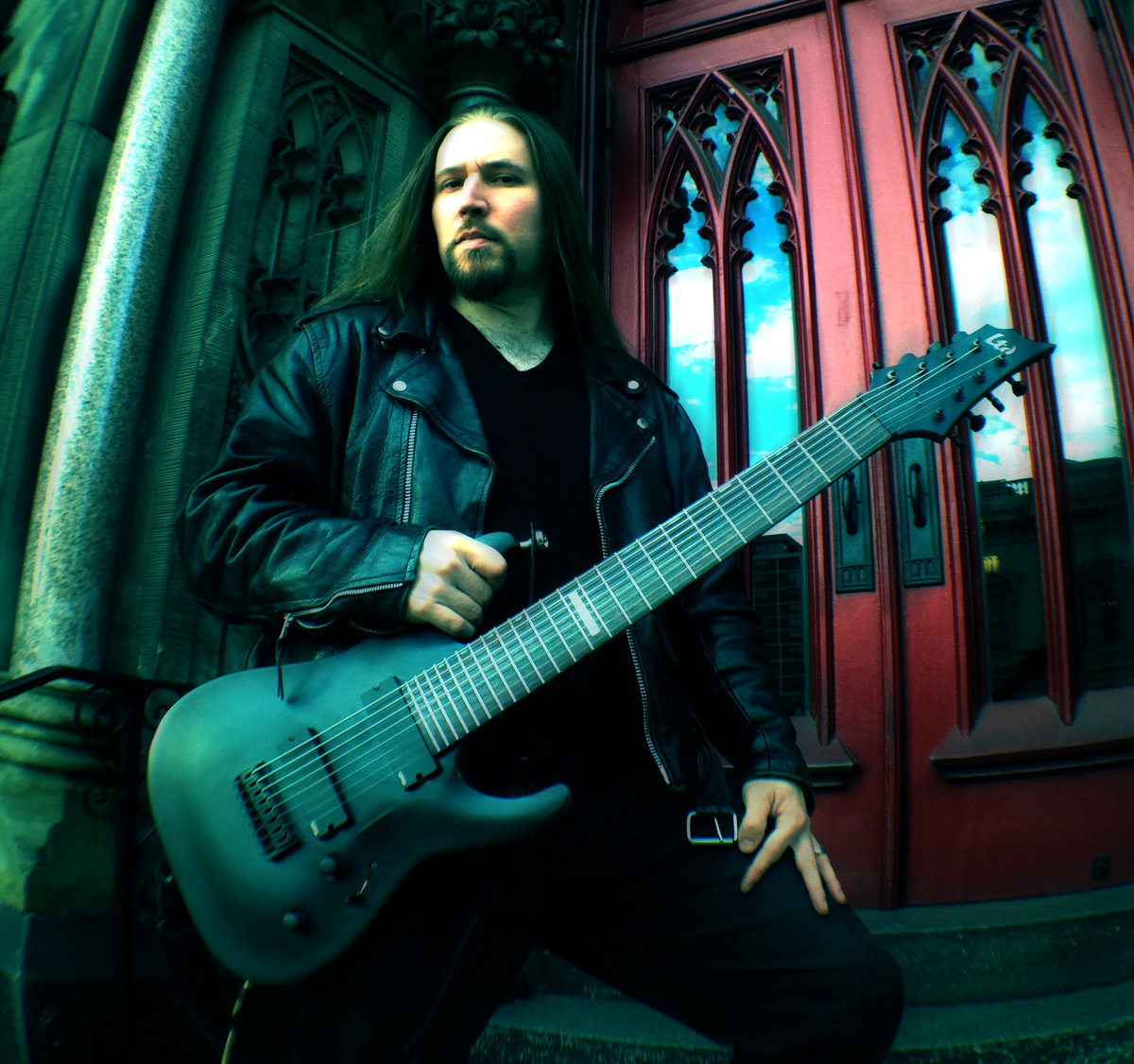 With the release of his 6th self-produced solo album,  Emanations , guitarist & composer   Jason Aaron Wood  ( Todesbonden ,   Ol Sonuf ) has proven himself to be an incredibly versatile artist with an undeniable talent & lasting appeal.
Based in Washington, DC, this determined & enthusiastic guitarist, songwriter, & one-man band is a prolific recording artist who has amassed a devoted fan base, due in large part to his immersive soundscapes, captivating dark melodies & virtuosic playing style.
Fluent in a range of styles, his discography spans the gamut from classic metal to thrash to blackened death metal to melodic doom, with a noticeably progressive current running throughout it all.
Yet his styles are not limited only to metal subgenres, as his first album Reflections consists entirely of instrumental acoustic work, while an example of his 80's-era rock playing appeared in scenes from   National Lampoon's   The Legend of Awesomest Maximus .
Jason's vocal style captures a range of emotions, from tortured & anguished to aggressive & dominating, ranging from soft & whispering to ripping highs to brutal death growls, with a dark, neoclassical musical style hinting at several metal & non-metal genres alike, while
simultaneously establishing a distinctive & unique style of his own.
This new album,   Emanations , was self-recorded & self-produced in Jason's home studio in Washington, DC, & mastered by   Evan Sarli   at   Not So Bad Studios .   Emanations   is Jason's first release to feature 8-string guitar for all guitars throughout the album, & features some of his
best playing & songwriting yet.
Emanations , along with Jason's other 5 solo albums – including 2 LPs from his other solo project   Ol Sonuf   – can be found on his Bandcamp page at  https://jasonaaronwood.bandcamp.com/
Jason also founded his own music school,   ShredMentor Rock Guitar Academy , & continues work on follow-up albums for his bands Todesbonden, Ol Sonuf, as well as under his own name, for all of which he proudly uses & endorses   INTEX cables .
Check Jason out when he is shredding on his ShredMentor YouTube Channel!
Links
http://www.jasonaaronwood.com/
https://www.facebook.com/OlSonuf
https://www.facebook.com/jasonaaronwood