The release date of the album "Clarity" by the US-Metal/Hard Rock Band MY HEAVY MEMORY as self-release on CD via PURE STEEL PROMOTION is July 17th, 2020. The pre-order phase will start on July 3rd, 2020 in our webshop.
The US Metal/Hard Rock band MY HEAVY MEMORY from the Bay Area, California has signed a worldwide deal with PURE STEEL PROMOTION. My Heavy Memory's new album "CLARITY" will be self released via PURE STEEL PROMOTION, as a follow up to their 2013 self titled EP, "My Heavy Memory".
MY HEAVY MEMORY. Maybe you haven't heard about this band so far, but their new album "CLARITY" will change all of that.
Well produced songs with melodic vocals will bring scandinavian 80s melodic Metal with some parts of the classic 70s/80s bands in your mind and that's the musical direction we have here. Each song shows us the big songwriting ability of the band and their will to reach the top.
I am sure you will feel like being in the 80s and the songs transports this feeling perfectly. Some of the established bands would be very happy if they could have this musical standard today. Some parts of RAINBOW, a little bit of more modern DEEP PURPLE, some hints of EUROPE. MY HEAVY MEMORY are fresh, young, surprising....and nevertheless the feeling is still in the 80s. My personal favourite: "Council fire"!
TRACKLIST:
1. Truth In Lies
2. Keep Coming Back
3. Bleed The Way
4. Council Fire
5. Clarity
6. This Might Be
7. Made Of Thorns
8. Hanging By A Thread
Total Playing Time: 33:18 min

LINE-UP:
David Hechim – vocals
Todd Galland – guitars
Rich Haley – bass
Eddie Koeller – guitars
Paul Monteiro – drums
Special guest:
Abigail Hechim (on Song 7, 8) – vocals
Eric Johnson, Craig Barrett and Steve Kelley, Cristy Barrett, Luis Bettencourt, Mark Kremer, Victor Raygoza, Tiyo Karenga (on Song 1, 5, 8) – vocals

Coverartwork:
Jeph Moring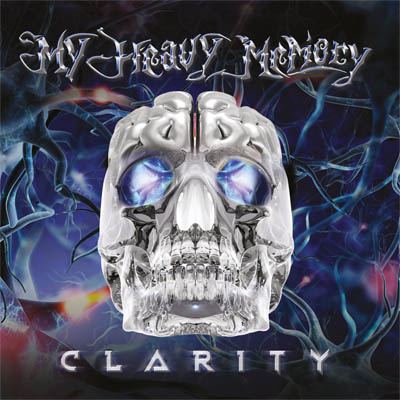 Link
https://myheavymemory.com/
https://www.facebook.com/MyHeavyMemory/
https://myspace.com/my.heavy.memory/music/songs
https://www.instagram.com/explore/tags/myheavymemory/