With tours taking a major hit during the Covid-19 pandemic, the Greek metal veterans of ROTTING CHRIST have some good news! The band is still set to headline the Devastation on the Nation tour, which was originally scheduled to kick off today. While the tour has been postponed, we are pleased to announce that it has been rescheduled for early 2021!

If you already purchased a ticket for the tour, it will be honored at the rescheduled date. Fans who can no longer attend can look into refunds at their point of purchase.

ROTTING CHRIST will be supported by BORKNAGAR, WOLFHEART, ABIGAIL WILLIAMS, and more. The full run of dates can be found below while all ticket links will be made available at MetalFestivalTours.com at THIS LOCATION .

ROTTING CHRIST will be touring in support of 2019's critically acclaimed release, 'The Heretics,' which so far has been named one of the best albums of the year by Loudwire , A&P Reacts (#10), and Heaviest of Art (#5).

'The Heretics' can be purchased HERE .

To further support ROTTING CHRIST, fans can buy merch via the band's BANDCAMP and Season of Mist E-Shop.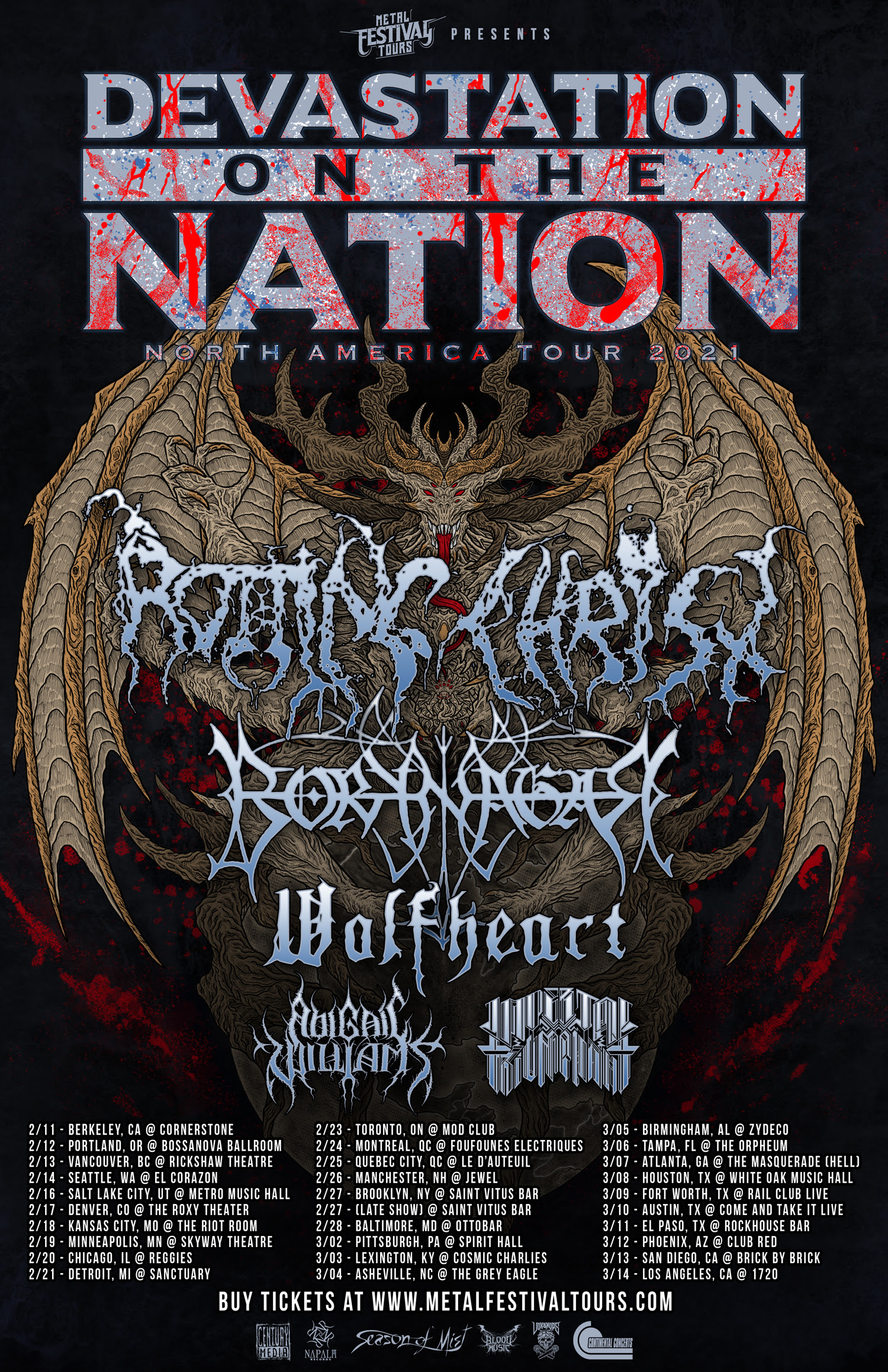 ROTTING CHRIST (Devastation on the Nation tour) Rescheduled Dates:
02/11: Berkeley, CA @ Cornerstone
02/12: Portland, OR @ Bossanova Ballroom
02/13: Vancouver, BC @ Rickshaw Theatre
02/14: Seattle, WA @ El Corazon
02/16: Salt Lake City, UT @ Metro Music Hall
02/17: Denver, CO @ The Roxy Theater
02/18: Kansas City, MO @ The Riot Room
02/19: Minneapolis, MN @ Skyway Theatre
02/20: Chicago, IL  @ Reggies
02/21: Detroit, MI @ Sanctuary
02/23: Toronto, ON @ Mod Club
02/24: Montreal, QC @ Foufounes Electriques
02/25: Quebec City, QC @ Le D'Auteuil
02/26: Manchester, NH @ Jewel
02/27: Brooklyn, NY @ Saint Vitus Bar
02/28: Baltimore, MD @ Ottobar
03/02: Pittsburgh, PA @ Spirit Hall
03/03: Lexington, KY @ Cosmic Charlies
03/04: Asheville, NC @ The Grey Eagle
03/05: Birmingham, AL @ Zydeco
03/06: Tampa, FL @ The Orpheum
03/07: Atlanta, GA @ The Masquerade (Hell)
03/08: Houston, TX @ White Oak Music Hall
03/09: Fort Worth, TX @ Rail Club Live
03/10: Austin, TX @ Come and Take It Live
03/11: El Paso, TX @ Rockhouse Bar
03/12: Phoenix, AZ @ Club Red
03/13: San Diego, CA @ Brick By Brick
03/14: Los Angeles, CA @ 1720
Here is what the press has to say to about 'The Hererics':
"The band's present incarnation is as a melodic tour-de-force, proficient in writing devastating earworms with gradated arrangements without a trace of insidiousness. Their sound is richly sumptuous, smoothly opulent and, most importantly, unmistakably Rotting Christ." – Metal Injection
"On lucky-number-13, 'The Heretics,' Rotting Christ have delivered an true ace—the culmination of the Greeks' successes, in fact. The record is dark, heavy, mystical, memorable and fucking awesome all the way through." – Decibel Magazine
"'The Heretics' is the proverbial middle finger to all their doubters and is in contention for best metal album of the year for this writer." – Metal Underground
"'The Heretics' is probably the most hook-laden Rotting Christ album since 'Aealo.' Tracks such as 'The Time Has Come' and 'Vetry Zlye' put this album over the top of their Mount Zeus altitude of releases." – Metal Underground
"For these 10 songs, Rotting Christ not only troll the world of religion at large, but also impugn its implications—war and woe in the name of any god, "neo-messiahs" who invoke religion to commandeer power, the persecution that follows." – Bandcamp Daily
"To say that they've found a sound would be putting it politely; Rotting Christ not only found a sound, but they also basically defined it and then later let it define them." – No Clean Singing
"The band have mastered the art of "guitar riff as weapon" by this point, and, as mentioned before, have absolutely zero issue heading back to that well across The Heretics' ten songs." – No Clean Singing
"Holy Satan's Hellfire can we discuss this new album 'The Heretics' (out now, Season of Mist)? You wanna talk about a grand slam fucking home run, well here it is!! Not since 'The Satanist' from BEHEMOTH has something grabbed me simultaneously by the throat and by the balls the way this album has." – Amps & Green Screens
ROTTING CHRIST have reached another peak in their long career that now spans over more than three decades. The Greeks have literally stood the test of time. With a steady core line-up and their well-honed live delivery, ROTTING CHRIST are filling concert halls and reap enthusiastic crowd reactions wherever they go. This demonstration of love from their followers is not just driven by nostalgia as the band has managed to evolve and grow, while staying relevant beyond the classics with their highly acclaimed latest albums such as 'Aealo' (2010), 'Κατά τον δαίμονα εαυτού' (2013), and 'Rituals' (2016).
Now, with the new offering 'The Heretics', ROTTING CHRIST are opening a brand new chapter. With confidence and skills derived from experience, each song represents its own sonic universe. Guitarist and vocalist Sakis Tolis in collaboration with his brother Themis on drums achieve a perfect balance of amalgamating their classic and unique style of riffing and rhythm with exciting new elements sprinkled in to keep their material exciting and fresh. The experienced is enhanced by Jens Bogren's equally clear and transparent yet also massive as well as sombre mix and mastering at his widely renowned Fascination Street Studios (AMORPHIS, BORKNAGAR, MOONSPELL, DEVIN TOWNSEND, and many more).
ROTTING CHRIST were founded by Sakis Tolis and his brother Themis in the year 1987. Starting out on a basis of death and grind, the Greeks had already embarked on a darker musical journey by the time their debut full-length 'Thy Mighty Contract' (1993) was revealed. On the following seven albums covering a ten-year period from 'Non Serviam' (1994) to 'Sanctus Diavolos' (2004), ROTTING CHRIST steadily defined their own distinct style by experimenting with elements from death, heavy, and gothic metal without betraying their black roots. At the same time, the band went from underground heroes to headliner status. With the highly acclaimed ninth album, 'Theogonia' (2007), the Greek stalwarts added an unmistakable native element to their sound, which has remained with them as a signature trademark ever since. Exploring the mythical legacy of cultures around the globe led to ROTTING CHRIST's massively successful latest release, 'Rituals' (2016). With more than 30 years, 13 studio albums, a dozen EPs, singles and split releases, as well as more than 1.250 shows under their belt, 2018 marked the year of 'Their Greatest Spells' (2018), where they musically revisited their exciting legacy to connect their past with the present. 
'The Heretics' marks another step in the evolution of the Greek masters. Buckle up for a fascinating musical ride through the woes of religious wars, Zoroastrianism and the eternal war between good and evil. Metal at its best!
For more on ROTTING CHRIST, follow their official WEBSITE , BANDCAMP ,  FACEBOOK , TWITTER , and INSTAGRAM .

For more on SEASON OF MIST artists, visit our official WEBSITE , FACEBOOK , INSTAGRAM , YOUTUBE , and TWITTER .