Gia G - Interview & Reviewed At - PETE'S ROCK NEWS AND VIEWS.COM! Check it out here at these links: http://petesrocknewsandviews.com/gia-g-interview/ and http://petesrocknewsandviews.com/gia-g-cosmic-wave/
Gia Federico is a guitarist out of Boston, USA, that released her second EP with her solo instrumental project, Gia G. The EP has the title "Cosmic Wave" and explores and combines in its sound many different musical styles.
Always in the service of the music and the track, Gia G shows her skills while staying in context. There is shredding and the whole production is built around her guitar, but you soon realize that every note that is performed is destined to compliment the overall structure of the song.
The first track is the introduction to the EP. She unveils her musical arsenal and shows a teaser of what will follow. Elegant shredding enriched with melodic lines so that won't become tedious and repeatitive, a few jazz elements and carefully constructed melodies conclude the "Cosmic Wave" EP. Also, the tight bass lines are another key element that makes the EP stand out.
While this is the general musical structure of the EP, every song has one unique ingredient that adds diversity and an element of surprise in the EP.
In the second track, "Reminiscing", Gia plays around with the blues, coloring them with pitch harmonics while in the first track, "Cosmic Wave", the shredding is complimented by some tremolo bar phrases that offer a unique sounding element in the song.
Gia G's second EP is with no doubt her best to date. In just 3 songs, she manages to unveil her creative spark and her incredible musicianship through compositions that get you hooked instantly. The "Cosmic Wave" is one instrumental EP that you should definitely check out.
Review by Mr Athens '79 - PETE'S ROCK NEWS AND VIEWS.COM
Release Date: January 25th, 2022
FFO: Jason Becker, Steve Vai, Joe Satriani 
Location: Boston, USA
Gia Federico is an instrumental guitarist out of Boston, USA, she is signed with Sliptrick Records with both GIA G and Devil In The Mist . The ' Cosmic Wave EP ' is the latest release for Gia Federico's solo instrumental project Gia G and the first since 2019's The Ladder. The new EP is her best to date and takes her music in a different direction and higher level.  Showcasing her diverse prowess on the frets, with jazz modal and scalar legato featuring in Intricate Fusion and Cosmic Wave , to the acoustic slap song, Reminiscing, which shows another side of her style with a great feel, bluesy runs and phrases. Cosmic Wave takes the listener on a journey of musical knowledge, intricate writing, great for listening when you're in your car breezing down the highway.   
Check out this video:
Check her out on Spotify and add her to your playlists!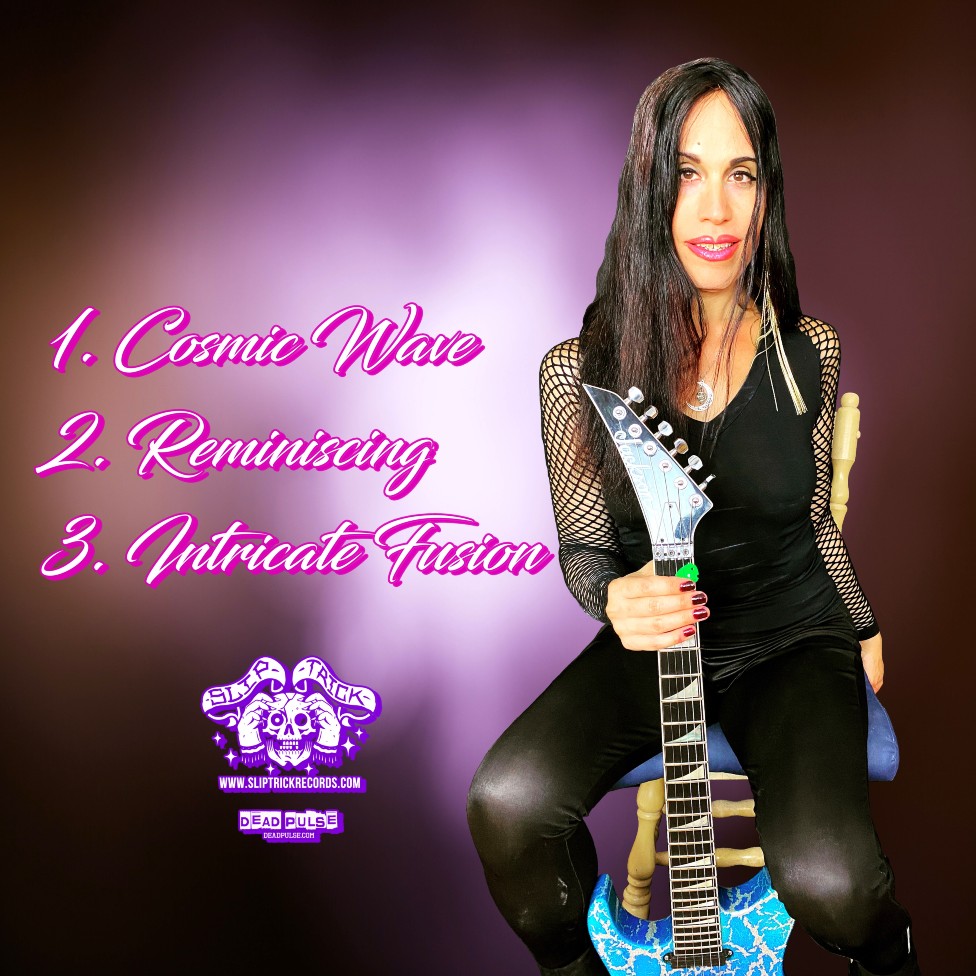 Follow the band at these links:
https://sliptrickrecords.com/gia-g-rides-the-frets-on-her-cosmic-wave-out-jan-25th/
https://sliptrickrecords.com/gia-/
https://www.facebook.com/SalinaFederico/
https://www.youtube.com/channel/UCqYHa39KWMkVjLzTeiU2tYA
https://www.instagram.com/gia_federico/
https://twitter.com/SALIN606
https://www.facebook.com/salina606
https://www.facebook.com/gia.federico.12
https://www.facebook.com/groups/169610116754891
https://www.reverbnation.com/giafederico
https://www.linkedin.com/in/gia-federico-52978b3/
https://myspace.com/gia606
https://open.spotify.com/artist/6eDztqZa2Z6c5fACxvariw
https://music.amazon.com/albums/B09NP97ZJ9     
https://music.apple.com/us/artist/gia-g/1541444525