AUROCH: 20 Buck Spin To Release Stolen Angelic Tongues MLP In April; "Coffin Nails" Now Streaming
Vancouver's AUROCH returns with new music for the first time in nearly four years. This April, 20 Buck Spin will unveil the band's new Stolen Angelic Tongues MLP - the band's first new release since 2016's Mute Books LP - and its extended/renamed CD counterpart, All The Names Of The Night. The bestial new track "Coffin Nails," is now streaming.
AUROCH's mini-album Stolen Angelic Tongues comes pressed as a one-sided 12"with a B-side etching, the five tracks drawing upon the magical and spiritual traditions of South America and the Caribbean as their histories, past and present, represent a microcosm of the great spiritual rebellion that has been the band's inspiration throughout its singular discography. An ever-evolving beast of the deep, here AUROCH conjures vicious black/death spells of occult necromancy and technical sorcery, making manifest a dark vision of obscure magic. Returning to the fold is original vocalist Culain who here summons spirits of the abyssic fire with savage equanimity. Joining with their Covenant Circle brethren in Night Profound and Aos Si, eerie ambient recordings bookend the concept piece to dramatic effect.
A CD version, retitled All The Names Of Night, includes the new Stolen Angelic Tongues mini-album with three additional tracks from the earlier age of AUROCH, previously released only on vinyl. The material includes the band's Seven Veils EP tracks, as well as their contribution to the split with Mitochondrion, representing an evolutionary document of the band's trajectory through its first phase.
All guitars and drums recorded by Cam Mesmer, and the Stolen Angelic Tongues MLP tracks mixed and mastered by Arthur Rizk (Tomb Mold, Scorched, Eternal Champion). The Stolen Angelic Tongues MLP artwork was created by Lupe Vasconcelos, and the alternate artwork and layout for the CD handled by Cold Poison.
20 Buck Spin will release the MLP and its CD counterpart on April 24th. Stand by for preorder options and additional audio previews to post in the weeks ahead. Fans of Nile, Immolation, Teitanblood, Akercoke, Weapon, and Sulphur Aeon stay tuned.
Track Listing:
1. Seven Veils*
2. Coronation*
3. Leaden Words Sewn*
4. Shattering The Axis Mundi
5. Hideous New Gods
6. Carving The Axis Mundi
7. Coffin Nails
8. Erecting The Axis Mundi
(*CD only track)
AUROCH:
Sebastian Montesi - vocals, six string, seven string, acoustic guitars
Zack Chandler - drums
Shawn Hache - vocals, bass guitar
Philip Fiess - six string guitar, vocals
Culain - vocals, ritual percussion
Additional Credits:
Scythe Bearer - bone kangling
Crooked Mouth - additional vocals
Paul Duzounov - additional guitar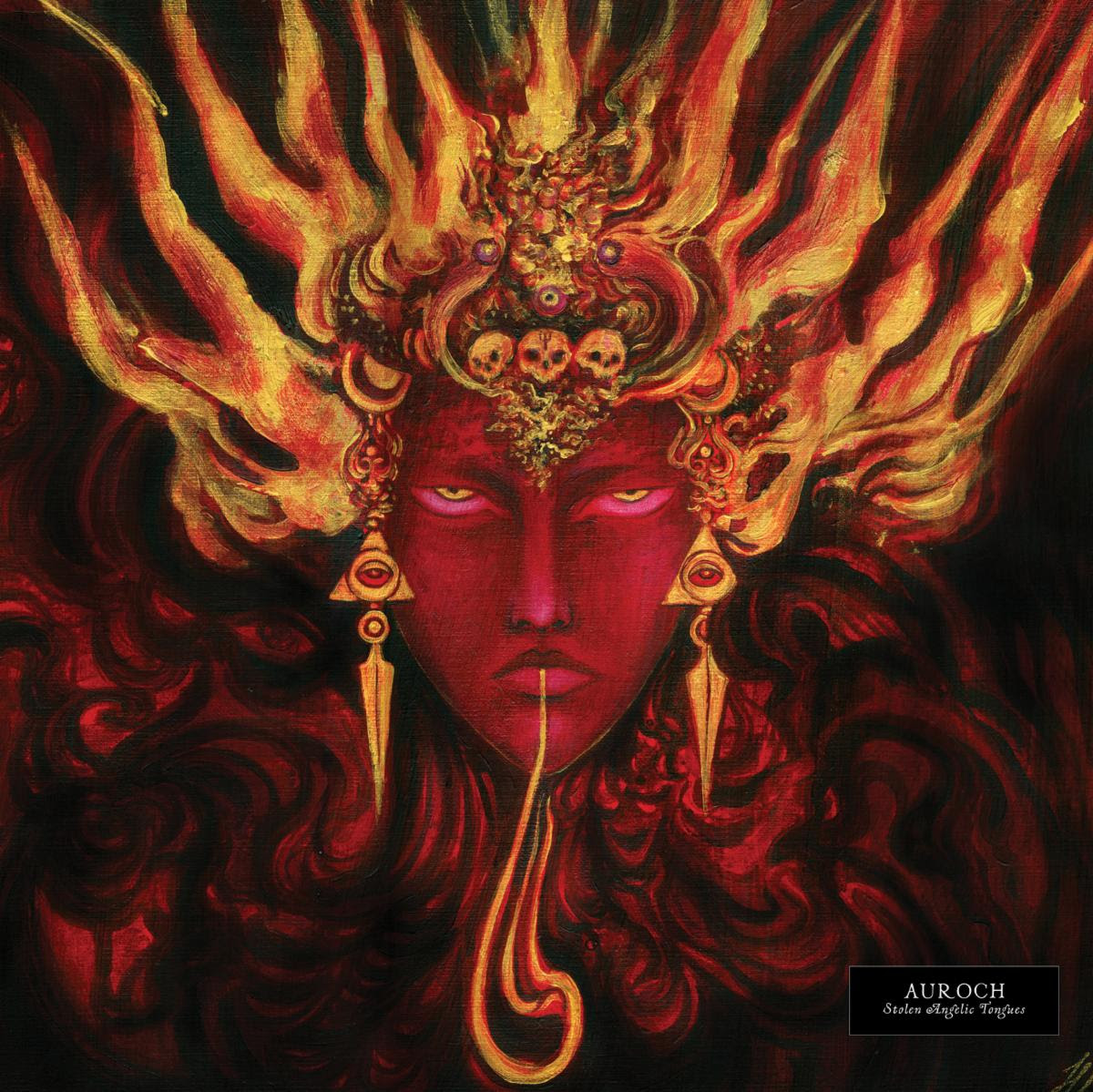 [CD artwork]