Michigan Metal Fest 2020 Lineup Revealed!
Saturday March 7 2020, 8:22 PM
Michigan Metal Fest is going into it's 4th year strong and we couldn't be any happier about how last year went!!! We had over 3000 people come to support our METAL COMMUNITY!! Because we are super excited about year 4, we wanted to announce part of the 2020 Line Up EARLY!! We also want to give our supporters the opportunity to get EARLY BIRD TICKETS while we await to announce the rest of our the 2020 line up!!
Saturday August 29th in Battle Creek, Michigan!! Ardent Entertainment & Next Level Entertainment presents; Michigan METAL FEST 2020!! Michigan's METAL & HARDCORE Festival RETURNS to Leila Arboretum!!! Early Bird Tickets go on sale NEXT WEEK for ONLY $25!!! ALL AGES SHOW - (under 18 must be accompanied with adult)
JUST ANNOUNCED!!! The OFFICIAL 2020 MMF Pre-announcement!! This is a little taste of what is coming in AUGUST!!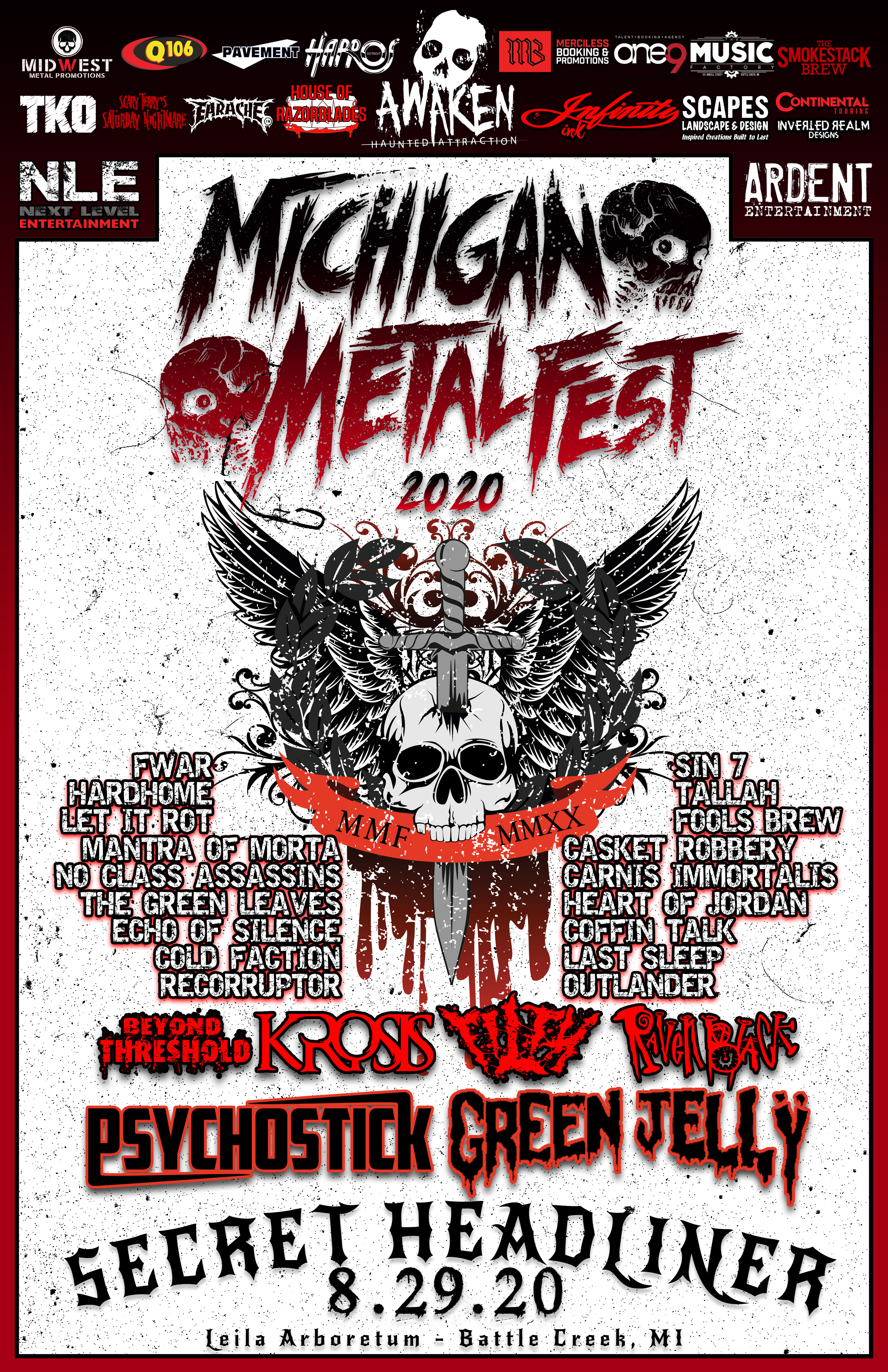 2020 Line Up:
Mystery Headliners TBA
Green Jelly
Psychostick
Raven Black
Krosis
Beyond Threshold
Recorruptor
Tallah
No Class Assassins
The Green Leaves
Carnis Immortalis
Cold Faction
LAST SLEEP
Coffin Talk
Filth
Sin7
Outlander
Let it Rot
Echo of Silence
Casket Robbery
Mantra Of Morta
Fools' Brew
HARDHOME
Fwar
SPONSORS:
Next Level Entertainment
Ardent Entertainment
Q106 WJXQ
Awaken Haunted Attraction
Infinity Ink Tattoo
TKO
Scary Terry's Saturday Nightmare
Midwest Metal Promotions
Harpos Concert Theater
Merciless Booking And Promotions
Earache
Continental
Pavement Entertainment
One 9
Scapes Landscape & Design
The Music Factory
Inverted realm designs
Smokestack Brew
House of razorblades