Muadiir joins The Zach Moonshine Show to talk about the new E.P. 'Le Temps Peste'. This episode features new premiers from Blasphamagoatachrist, WARBRINGER, Body Count, Banisher, Plague Years, Cult Burial, Igorrr, Ocultum, Hazzerd, Kurnugia (U.S.), Devangelic, Svavelh, Reism, THE TRUE WERWOLF, and battle of the bands winners Run The Asylum! We also feature classics from Metal Church and fan favorites from Brutal Death Fuck!
Track List
1 - Intro/Bastardizing the Purity/Black Nuclear Shadows - Blasphamagoatachrist
2 - The Zach Moonshine Intro
3 - Firepower_Kills - WARBRINGER
4 - Point the Finger (feat. Riley Gale)/Bum-Rush/Another Level (feat. Jamey Jasta) - Body Count
5 - Actors Accomplices/Devil in ISO 5/Extradition - Banisher
6 - The Devils Whiskey - Brutal Death Fuck
7 - Play The Victim - Plague Years
8 - Sorrow - Cult Burial
9 - Maudiir Interview featuring Product/Abuse the Used/Wasteland
10 - Downgrade Desert/Nervous Waltz/Very Noise - Igorrr
11 - The acid Road/Residue/ - Ocultum
12 - Sacrifice Them (In the Name of God)/A Tormented Reality/Sanctuary For The Mad - Hazzerd
13 - To the Cursed Depths/Crown of Suffer/Shroud of Damnation - Kurnugia (U.S.)
14 - In Mourning/In Harm's Way/Watch The Children Pray - Metal Church
15 - Swarm Of Serpents/Upon The Wrath Of Divinities/Eyes Of Abzu - Devangelic
16 - Ingenting - Svavelh
17 - Dark Passenger - Run The Asylum
18 - This Reality - Reism
19 - Spellbound - THE TRUE WERWOLF
Listen to the full episode and follow my show on Mixcloud!
Listen to the interview alone on Youtube!
Maudiir, coming from the underbelly of Montreal, Quebec, Canada is an outlet for observations on obedience and industrialization riddled with man-made waste. With 80s heavy metal influences alongside black metal and punk, Maudiir is unique in sound; hauntingly dark while being corrosive and galloping.
Maudiir is a one-man black/thrash metal project that formed to be musically independent. Starting with guitar, F. works his way through each sullen track, adding drums, recording all the colorations and textures of the guitars, adding bass, and finally writing the words, very often at the same time they are being recorded.
The pessimistic aura of the music combines with lyrics about consumer society, religion, science going awry, addiction to technology, and environmental decay.
The debut EP "Le Temps Peste" released on February 7, 2020 is intense dark music. Another release is currently in the works.
F. (ex-Deeply Confused, Tears for the Dead Gods) is also currently leading prog/thrash metal outfit Trinity Blast.
Maudiir is F.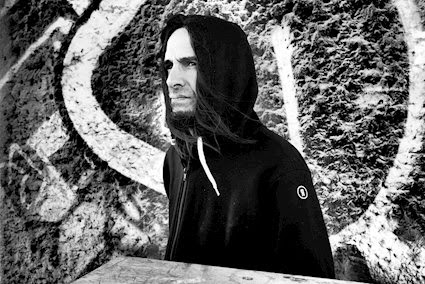 Follow Maudiir Facebook | Youtube | Maudiir.bandcamp.com | Apple Music | Spotify | Google Play