MASS DESTRUCTION METAL FEST IV: Atlanta Extreme Metal Festival Unveils First Wave Of Bands Including Repulsion, Nuclear Assault, Monstrosity, Massacre, Cenotaph, And More; Early Bird Tickets On Sale Christmas Day
Roaring into its fourth year, MASS DESTRUCTION METAL FEST has unveiled their plans to infiltrate Atlanta, Georgia in 2020. Carrying on the two-day, single-stage, all-ages format, the festivities will take place November 6th and 7th at The Loft at Center Stage and features a host of metal luminaries including Repulsion, Nuclear Assault, Monstrosity, Massacre (FL), Cenotaph (MEX), Malignancy, Thornspawn, Estuary, and Vimur with more to be announced in the weeks ahead.  
Early Bird weekend passes go on sale December 25th at 10:00am EST. Claim yours at the MASS DESTRUCTION METAL FEST website at
THIS LOCATION
.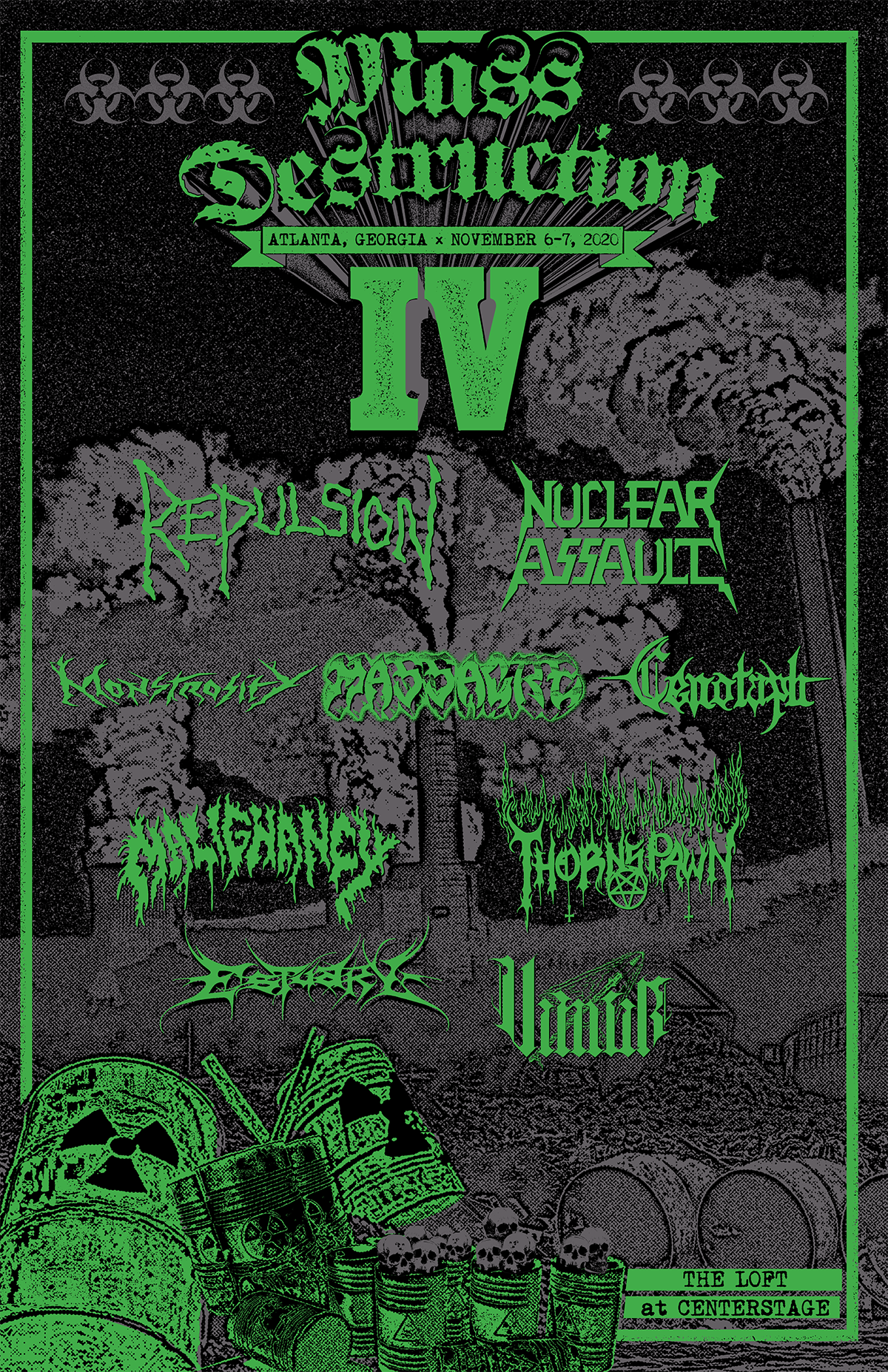 Launched by Atlanta metalhead Cody Martin in 2016 and established in 2017 with the help of local Atlanta promoter Amos Rifkin of A Rippin Production, MASS DESTRUCTION METAL FEST is a festival created for fans by fans, its previous lineups featuring some of the underground's most coveted acts including Sigh, Demoncy, Demolition Hammer, Nile, Terrorizer, Macabre, Sadistic Intent, The Chasm, The Accused AD, and countless others.
Notes Martin of the event, "The growth of MASS DESTRUCTION is ever more apparent when you get to see the depth of our lineup this year, as we have several bands that headline shows in their own right on the same bill. Just watching the new promo video got us all excited to share everything with the world. November 2020 cannot come soon enough!"  
View the MASS DESTRUCTION METAL FEST trailer below.
The Loft at Center Stage in midtown Atlanta, is a seven-hundred capacity venue conveniently located near lodging and public transportation. In addition to a crushing lineup, the fest includes access to multiple distro and merch vendors. Interested in vending at the event? Email:
massdestructionproduction@ gmail.com
.
MASS DESTRUCTION METAL FEST IV
When: November 6th-7th, 2020
Where: The Loft at Center Stage - Atlanta, Georgia
Lineup (More TBA):
Repulsion
Nuclear Assault
Monstrosity
Massacre (FL)
Cenotaph (Mex)
Malignancy
Thornspawn
Estuary
Vimur