Guru Of Darkness joins The Zach Moonshine Show to talk about the new album "Ararat"! We talked about evp, touring with Mayhem and much more! This episode features new music from Proscrito, Coffin Curse, Deathgrave, Fen, Ugly God Bastards, Scour, Guru Of Darkness, Boyce, Isenordal, Ball, Glorification, Me And That Man, Skullcrush, Xantam, Sijjin, Superchief, and more!
Track List
1 - Persistiendo/Tronos de Oprobio/Exequias - Proscrito
2 - The Zach Moonshine Intro
3 - Gathered unto Death/Chopped Clean Off/Grave Offender - Coffin Curse
4 - Not Your Average Liquor Store/So Real It's Now/Seeping Through The Shoebox - Deathgrave
5 - Nebula - Fen
6 - Little Red Riding Flood - Ugly God Bastards
7 - Massacre - Scour
8 - Guru Of Darkness Interview featuring Nocturnal Seed/The Foreshadower/Slaves of godmaker
9 - Back from the Dead/Lights In The Shadows - Boyce
10 - Of Winged Fire And Crawling Shadow - Isenordal
11 - Dee/Suicide Solution/Mr. Crowley - Ozzy Osbourne
12 - Horny Highlights from 'Debauched' - Ball
13 - Poder ancestral descendiente de los abismos/Spreading the Vomit of Misery and Scorn/Of a Mysterious Enlightment Behind the Dimensions of Pentagram Magic - Glorification
14 - Run With The Devil/My Church Is Black - Me And That Man
15 - Monumental Tomb - Skullcrush
16 - Altered State - Xantam
17 - Vorago of Adullam - Sijjin
18 - Beer Me Motherf##cker - Superchief
Listen to the full episode now on Mixcloud!
Listen to the interview alone on YouTube!
The GURU OF DARKNESS project started during the winter of 2004/2005. Tsade was vocalist in countless underground bands. He comes from first chaotic black era in sicily, with bands like: OPUS IN FLAMES (1997-2001), SECRET DREAM (1999-2002) NAILS OF FAITH (2004-2006) He started a solo keyboards project in 2001 and he is involved in movies soundtrack since 2005 too. In 2011 he started a black metal project named KROWOS. Baron Cimetiere and Davmass were guitar and bass players in the brutal death band HUMANITY ECLIPSE. Enlil was guitar player, keys & sequencer in bands like QUARTERER (1987/1990) & SCHIZO (1990/2005). GURU OF DARKNESS released a promo in autumn 2005 (20 copies only). In 2006 the band released a self-produced demo-CD titled "JOURNEY TO DESTINY" limited in 100 copies only for sale. A promo for labels titled "GOD Promo" was released in January 2007. In early 2007 the drummer Asmodeo joined GoD. The band shot in 2008 "MOLOCH EYES" video-clip. In 2009 the band released via Haures Records/Masterpiece the first full length "Mater Meretrix" including "MOLOCH EYES" video-clip. In the meantime, some special guests such as Steve Sylvester (DEATH SS), Giuseppe Orlando (NOVEMBRE) &Culto Prietsu (Ex MAYHEM-SHADOW DANCERS) appear in the album. In the same year video-clip "MOLOCH EYES" was broadcasted thru the national Italian TV "All Music" and "MTV". In 2010 GURU OF DARKNESS supported MAYHEM band during the 25th anniversary tour in Europe! In October 2010 "Mater Meretrix", after an encouraging success in Europe, come out in USA/Canada distributed by MVD Entertainment Group. GURU OF DARKNESS is granted in 2011 by remarkable featuring in "Inferno Rock" Compilation with the smashing classic "Moloch Eyes". The new album "Ararat" comes in 2019. The rest of the (expecially about Tsade's) tale, is absurd.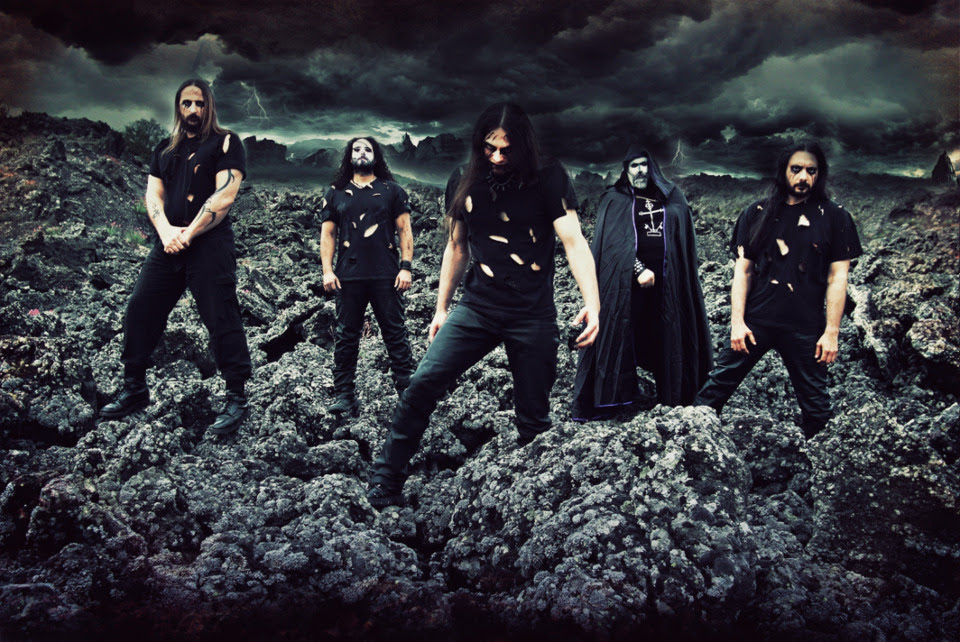 GURU OF DARKNESS line-up:
Tsade - Voice
Enlil - Guitar, Keyboards
Baron Cimetière - Guitar
Davmass - Bass
Asmodeo - Drums
Watch/Stream:
Nocturnal seed [OFFICIAL AUDIO] -
God is Random [OFFICIAL LYRIC VIDEO] -
More information at:
BAND:
https://www.facebook.com/guruofdarkness
LABEL:
http://www.volcanopromotion.com
This weeks featured Vinyl is one from my collection, a classic signed by the madman himself.. Ozzy Osbourne.