Paul from Novembers Doom joins The Zach Moonshine Show to talk about the new album "Nephilim Grove"!
This episode features new music from Asagraum, Nile, Dismemberment, Micawber, Plague Pit, Fvneral Fvkk, Infidel Reich, Witchbones, Unaussprechlichen Kulten, Cybernetic Witch Cult, Grouch & The Brainstorm, CELL, Cleric, Maeskyyrn, MNRVA, Sentient Horror, VESSEL OF LIGHT, Sorcery, Strike Master, and much more!
Track list
1 - They Crawl from the Broken Circle/Beyond the Black Vortex/Hate of Satan's Hammer - Asagraum
2 - The Zach Moonshine Intro
3 - Vile Nilotic Rites/Long Shadows of Dread - NILE
4 - Once Forsaken - Dismemberment
5 - Welcome Home - MICAWBER
6 - The Gift Of Unknowing - Plague Pit
7 - Chapel Of Abuse - Fvneral Fvkk
8 - GUNZILLA'S STAND - INFIDEL REICH
9 - The Candle Burns Alone ( Dead Sailors ) - Witchbones
10 - Novembers Doom interview featuring Nephilim Grove/Petrichor
11 - Flapping Membraneous Wings - Unaussprechlichen Kulten
12 - The Myth of Sisyphus - Cybernetic Witch Cult
13 - Malfeitor/They Rode On/Stellavore - Watain
14 - Alcohol/Drinking The Blood Of Gods/Elizabeth...Death Camp 13 - Brutal Death Fuck
15 - In The Unknown - Grouch & The Brainstorm
16 - The Wailing Sea of Emptiness - CELL
17 - Possessed In Congress - Cleric
18 - These Battlefields, Where None Walk Twice - Maeskyyrn
19 - No Solution - MNRVA
20 - Sworn to the Dead - Sentient Horror
21 - Meet and Bone - VESSEL OF LIGHT
22 - I'll Be Gone in the Dark - Sorcery
23 - A Corpseless Soul - Death Based Illusions EP - Strike Master
Listen to the full show below on Mixcloud!
Listen to the interview alone on YouTube!
With Nephilim Grove, Novembers Doom celebrate their 30th anniversary in style, building upon the grandiose vision Paul Kuhr has developed throughout the years. As an entity existing in his singular musical universe of doom, death and progressive metal, the band by now dodges all endeavors of categorization.
Kuhr expands on 2017's Hamartia in the most daring yet root-conscious way, offering "new colors, new sounds, the same bad-assery. We never set out with a vision other than to just write what makes sense and feels right. It always shows our mood at a given point in time while while I am striving for lyrical and emotional consistency."
From the rolling thunder that is 'Petrichor' across the goth-tinged title track and 'Black Light,' which marries thrashing outbursts with melodic finesse, to the dramatic finale 'The Obelus,' the record marks nothing less than a stately upgrade of genre.
The tracks were mixed and mastered at Unisound by Dan Swanö (Edge Of Sanity, Dissection, Opeth), who plainly declares, "I know I say this all the time, but it is their best so far" - a statement that rings true with regards to the songwriting prowess on display, something only true veterans such as these achieve. Crowned by empathic ruminations on the human condition's underbelly, Novembers Doom's eleventh studio album exudes timelessness right away.
Nephilim Grove is available as as Digipak CD, 2CD artbook with two bonus tracks, 2LP (400 black, 200 red) and box set, containing the artbook and double vinyl (exclusive color) alongside several posters.
Please use this pre-order link in your media coverage:
prophecy . lnk . to / novembers - doom - nephilim - grove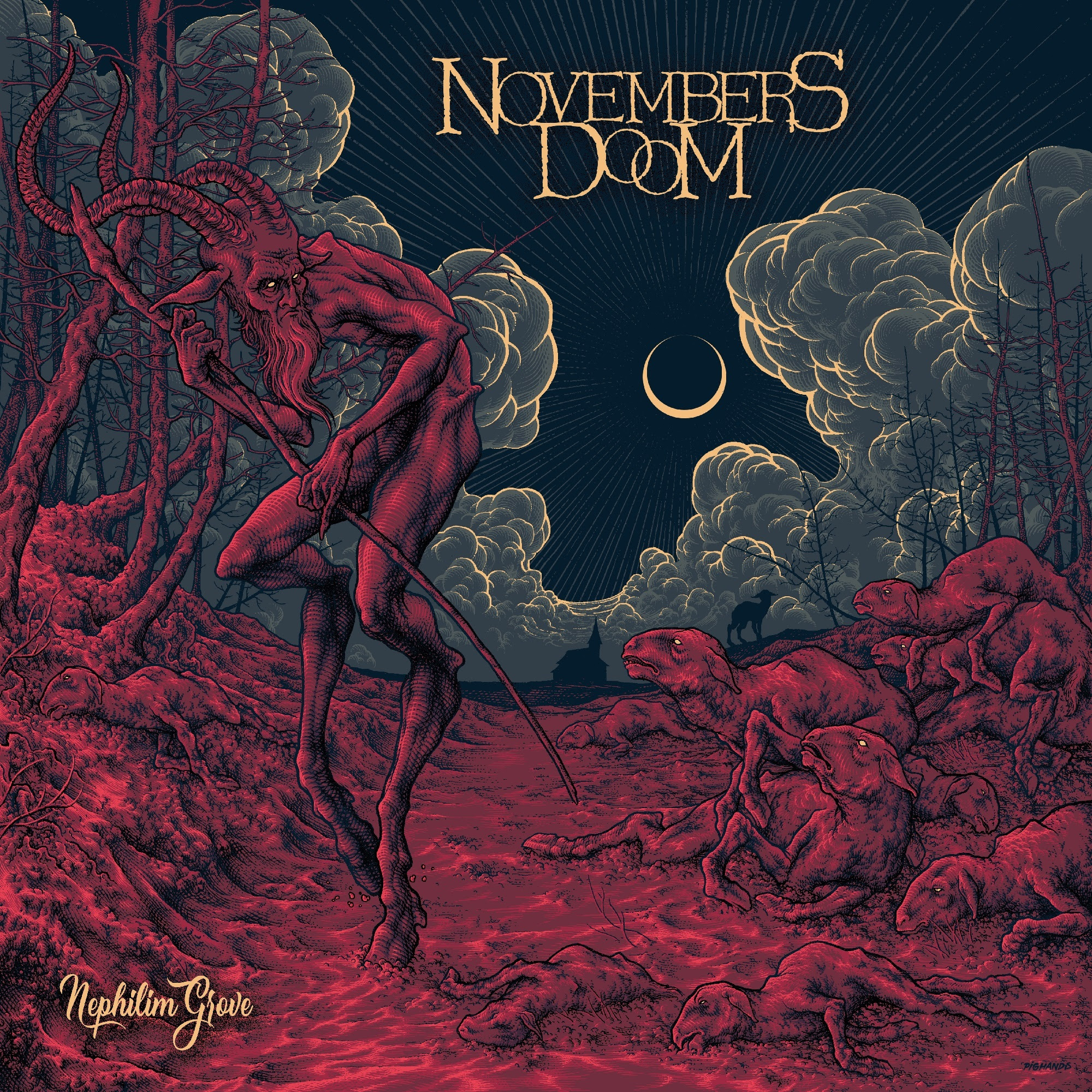 This episode features a live track from Watain's Opus Diaboli box set!