OCULUM DEI Announce Show Dates w/ Aborted, Cryptopsy, Archspire, Virvum and more!
L-R = Zebulv (guitars and vocals), Camalus (guitars), Tenebris – (bass, drum and key programming)
Photo By Kenny Kivett
Hailing from the ashes of Charlotte, USA's darker side comes forth the blackened death trio, Oculum Dei. Mixing different elements and influences of black metal, the band is set to bring forth a horde of darkness and engage listeners into a realm of deep, chaotic experiences.
Recently unleashing their debut full length "Dreams of Desire and Torment" this past February 22nd, the band announces they will be slaying dates this spring and summer that includes support slots with Aborted, Cryptopsy, Benighted, Hideous Divinity, Archspire and more.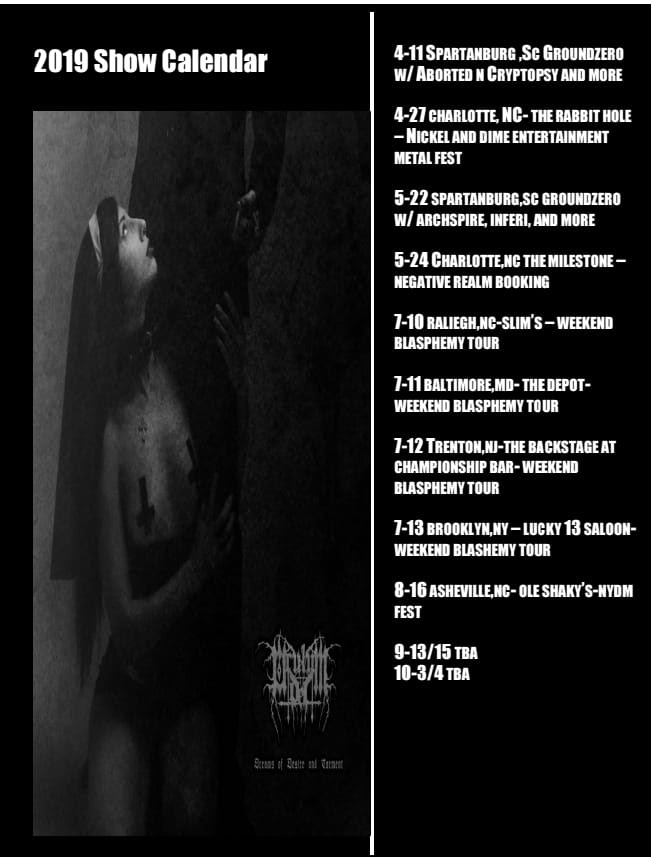 Show Dates:
April 11 - Spartanburg, NC - Ground Zero w/ Aborted, Cryptopsy, Benighted, Hideous Divinity
April 27 - Charlotte, NC - The Rabbit Hole
May 22 - Spartanburg, NC - Ground Zero - w/Archspire, Wormhole, Virvum, Inferi 
May 24 - Charlotte, NC - The Milestone w/ Mysteriarch, Misanthropic Aggression, Valle Crucis
July 10 - Raleigh, NC - Slim's
July 11 - Baltimore, MD - The Depot
July 12 - Trenton, NJ - The Backstage Championship Bar
July 13 - Brooklyn, NY - Lucky 13 Saloon
August 16 - Asheville, NC - Ole Shaky's - NYDM Fest -  info

Oculum Dei 's  "Dreams of Desire and Torment"  is available for stream and download  on  Bandcamp ,  Spotify ,   iTunes ,  Amazon .

First forming as a studio project in 2016 by  Tenebris (bass/drum and keys programming), Camalus (guitar) and Zebulv (vocals/guitar),  Oculum Dei has taken their influences of Emperor, Behemoth and Dark Funeral and push an eclectic unholy blasphemy as far as it will go in the Southern USA's Bible Belt.

The band adds:

"The album as a whole is an eclectic mix of slow dark black metal jumping into extreme black riffs sometimes slowed down with a death metal riff and into acoustic guitars. There is no set template for this one, just a groove and feel that each of us has brought to the table."

Lyric Video  "Blinded By Gods"  -  https://youtu.be/ pErRCs6_mbM  

Music Video  "Dreams of Desire and Torment" -   

Music Video "Involuntary Pandemic" -    
Oculum Dei is:
Tenebris (Bass, Drum And Key Programming)
Camalus (Guitars)
Zebulv (Guitars And Vocals)
For more info:
https://www.facebook.com/oculumdei
https://twitter.com/OculumO
http://www.instagram.com/oculum_dei_official
Online Store - https://oculumdei.bigcartel.com
EPK - https://wp.me/pciNW-cQg