The Metalitalia.com Festival team – Metalitalia.com , Vertigo and Eagle Booking Live Promotion  – is proud to present you the final line-up for this year's Metalitalia.com Festival !
 
As previously announced, the festival will take place at the Live Music Club  in Trezzo sull'Adda (Milan) , Italy , on Saturday 1st June  and  Sunday 2nd June .
 
DAY 1 – Saturday, 1st June
 
Alongside ARCH ENEMY , FLESHGOD APOCALYPSE , THE CROWN ,  DARKANE ( "Rusted Angel"  special set) and GENUS ORDINIS DEI , we are happy to announce the addition of long running Italian melodic death-black metal institution GRAVEWORM and of Roman epic extreme metallers STORMLORD . Both acts haven't played high profile gigs in their home country in a long while! We are also glad to wrap the bill up with another gem from the Italian extreme metal scene: let's welcome THE MODERN AGE SLAVERY  and their modern and furious death metal!
 
DAY 2 – Sunday, 2nd June
 
For the hard rock day, in addition to big names such as GOTTHARD , HARDCORE SUPERSTAR , PHIL CAMPBELL AND THE BASTARD SONS , CRAZY LIXX and SPEED STROKE , we will host the adrenaline-fueled HELL IN THE CLUB , one of the most active Italian hard rock bands of the last few years.
We also welcome the Italian hard & heavy institution RAIN , who are now boasting a 40 year long career in the scene, and up-and-coming rockers  BAD BONES , who will be promoting their new album "High Rollers".
 
As usual, meet & greet sessions with all bands will take place in a special area. The sessions will be free and open to everyone in the crowd. Times and additional details will be revealed in due time.
 
A rich and efficient catering service, more spacious than ever outdoor areas, a beer garden and the metal market will also be there as always.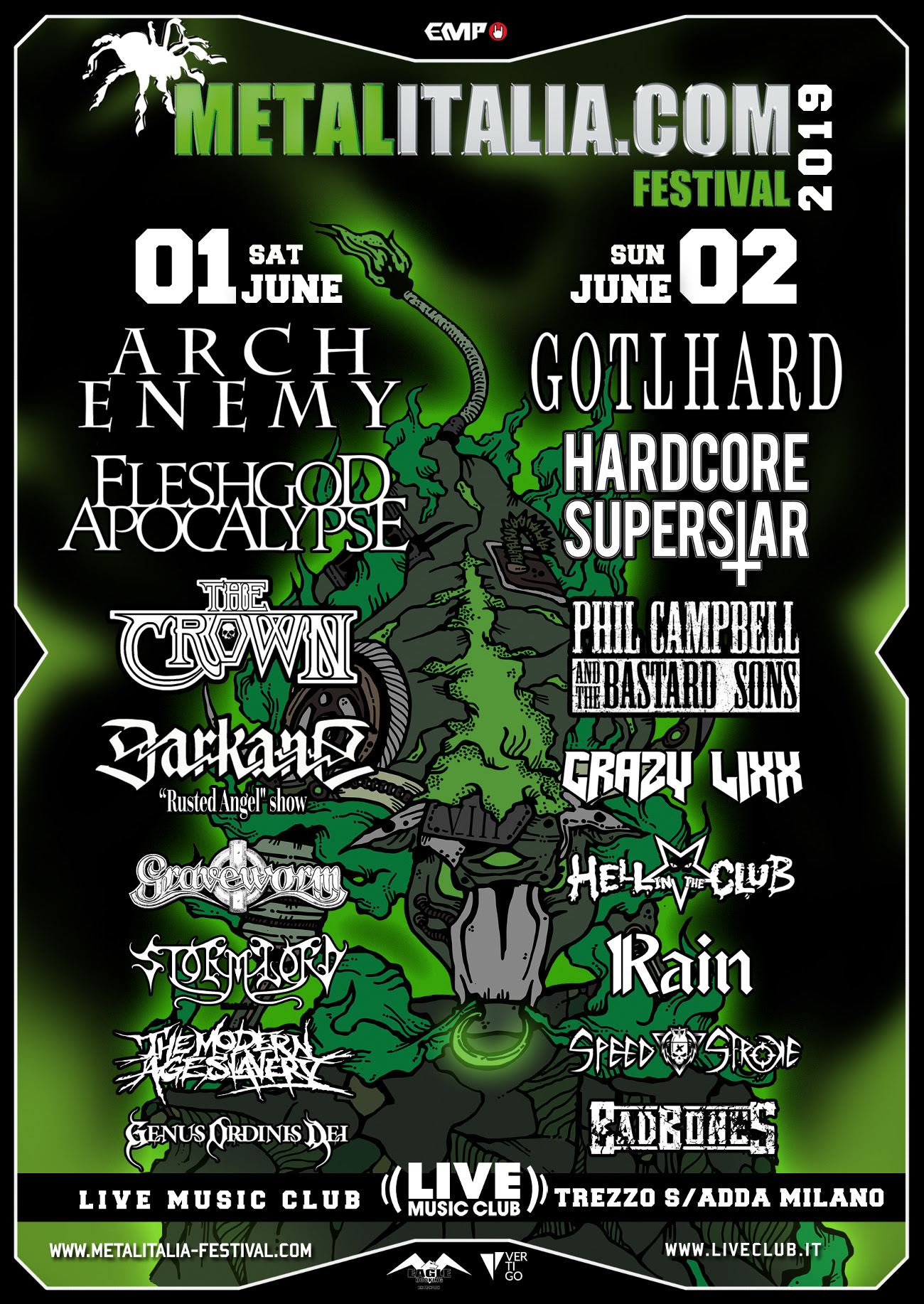 METALITALIA.COM  FESTIVAL 2019
Live Music Club – Trezzo sull'Adda (MI)

Saturday, 1st June  2019
ARCH ENEMY
FLESHGOD APOCALYPSE
THE CROWN
DARKANE – special "Rusted Angel" show
GRAVEWORM
STORMLORD
THE MODERN AGE SLAVERY
GENUS ORDINIS DEI

Sunday, 2nd June  2019
GOTTHARD
HARDCORE SUPERSTAR
PHIL CAMPBELL AND THE BASTARD SONS
CRAZY LIXX
HELL IN THE CLUB
RAIN
SPEED STROKE
BAD BONES

Facebook event  HERE .

TICKETS :
 
Single day: €35.00 + fees
Single day at the door: €40.00
Weekend ticket: €60 + fees
Weekend ticket at the door: €70

Tickets are already available on Ticketone and via any other authorized retail.

METALITALIA.COM
www.metalitalia-festival.com
www.facebook.com/Metalitalia. comFestival
www.metalitalia.com

EAGLE BOOKING LIVE PROMOTION
www.eaglebooking.com
www.facebook.com/eaglebooking. livepromotion

VERTIGO
www.vertigo.co.it
www.facebook.com/ VertigoHardSounds
www.facebook.com/vertigo.co.it

LIVE CLUB
www.liveclub.it

SUPPORTED BY:
EMP Mailorder