PALACE IN THUNDERLAND Partners with FUZZDOOM RECORDS & CURSED TONGUE RECORDS, Launching New 'THE KING OF THE EMPTY AEON' Album Feb. 22nd
After nearly four years since we've last heard from Palace In Thunderland, the band surprises us all with a new full-length album in 2019. 'The King Of The Empty Aeon' is the brainchild of Andy Beresky (guitars, vocals), Adam Abrams (bass, keyboards, vocals), and Monte Newman (guitar, vocals). The result is a nine-song concept album, the creation being heavily inspired by Pink Floyd's 'Animals', Husker Du's 'Zen Arcade", and Rush's '2112'.
While the musical interpretation may be heard as a single song divided into distinct parts or a diverse set of songs joined to make a whole, 'The King Of The Empty Aeon' is by far the most focused and complex release from the band to date. The story line...
The King of the Empty Aeon, the Maitreya, is the future Buddha referenced by pioneering Japanese Soto Zen Monk, poet, and thinker Eihei Dogen. The historic Buddha, Siddhartha Gautama, sought enlightenment after his father's deceptive attempts to shield his son from suffering and mask reality in a false world of pleasure were unveiled. It was foretold by the hermit sage Asita that the boy would become either a legendary king or an enlightened Sadhu - or Holy Man. But in an age of technological advancement, social media, and 24-hour news cycles, such a scenario would be an impossibility.
What causes and conditions would drive one living in this modern age to seek enlightenment, to become a fully actualized human being? This is the story of 'The King Of The Empty Aeon', told as only the sonic prophets Palace In Thunderland can tell. You have just witnessed the witnessing of the witnessor..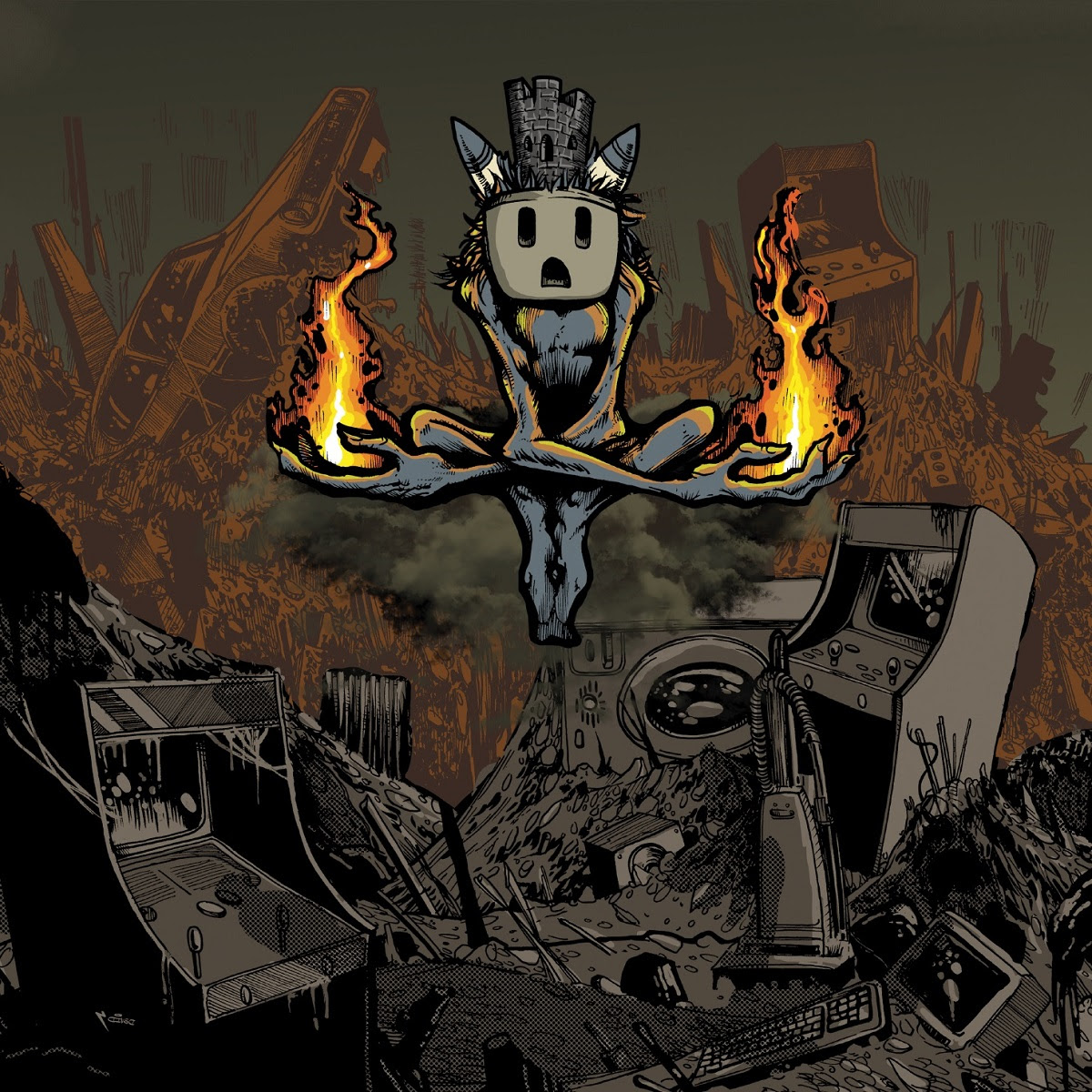 'The King Of The Empty Aeon' - Track List:
1) The King Of The Empty Aeon
2) Float Away
3) Vicarious
4) What Is Human?
5) This Illusion's Come Alive
6) What Is Sanity?
7) Fragments
8) What Is Reality?
9) The Word Unspoken

'The King Of The Empty Aeon' was produced by Palace In Thunderland and Dan Whitlock, with all songs by Palace In Thunderland. Drums for the record were performed by Matt Netto, with recording by Justin Pizzoferrato at Sonelab in Easthampton, MA. Guitars and bass were recorded by Dan Whitlock at Thunderland Compound in Ludlow MA. Vocals recorded by Dan Whitlock in Andy's Kitchen, Northampton, MA. The album was mixed by Justin Pizzoferrato and mastered by Mark Alan Miller at Sonelab. The cover artwork is by David Paul Seymour.
'The King Of The Empty Aeon' will be available on February 22nd in Compact Disc, Cassette, and Digital Download/Streaming via Fuzzdoom Records. Vinyl pressing will be available through Cursed Tongue Records in April 2019. Both labels shared their excitement about the new album:
"Palace In Thunderland skillfully combine heavy riffs with sweet melodies. Immediately after we heard 'The King Of The Empty Aeon' we knew we wanted to work with this band." - Fuzzdoom Records
"Cursed Tongue Records is over the moon ecstatic to announce the signing of Northampton, Massachusetts, US post-stoner metalgaze masters Palace In Thunderland for a vinyl release of their new full length album 'The King Of The Empty Aeon' in April 2019. We have been fans of this subtle ensemble for over a decade and have several times been impressed on a grand scale by their effort and ability to constantly push the boundaries of contemporary psychedelic music. Needless to say we where humbled and happy to be given the chance to work with them on giving their new album the best possible presentation on premium heavy weight vinyl. A special thanks to Andy of Palace In Thunderland and Steven of Fuzzdoom Records for inviting us into their exclusive club." - Cursed Tongue Records
Fuzzdoom Records: https://fuzzdoomrecords.bandcamp.com/
CD and Cassette Info:
- 500 limited, laser printed compact disc with two-panel wallet case
- 100 limited, black analog cassette tape, double-printed cover
Cursed Tongue Records: https://cursedtonguerecords.bigcartel.com/
Vinyl pressing info:
- 20 "Empty Aeon" Edition, Test Press hand-assembled and numbered with unique black/white art insert by Feeleash
- 100 "Gold King" Label Exclusive Edition, 180gram gold vinyl with hand-numbered poster and woven patch
- 300 "Black Fragments" Edition, 180gram black vinyl standard
All vinyl variants come with double-sided insert and two stickers.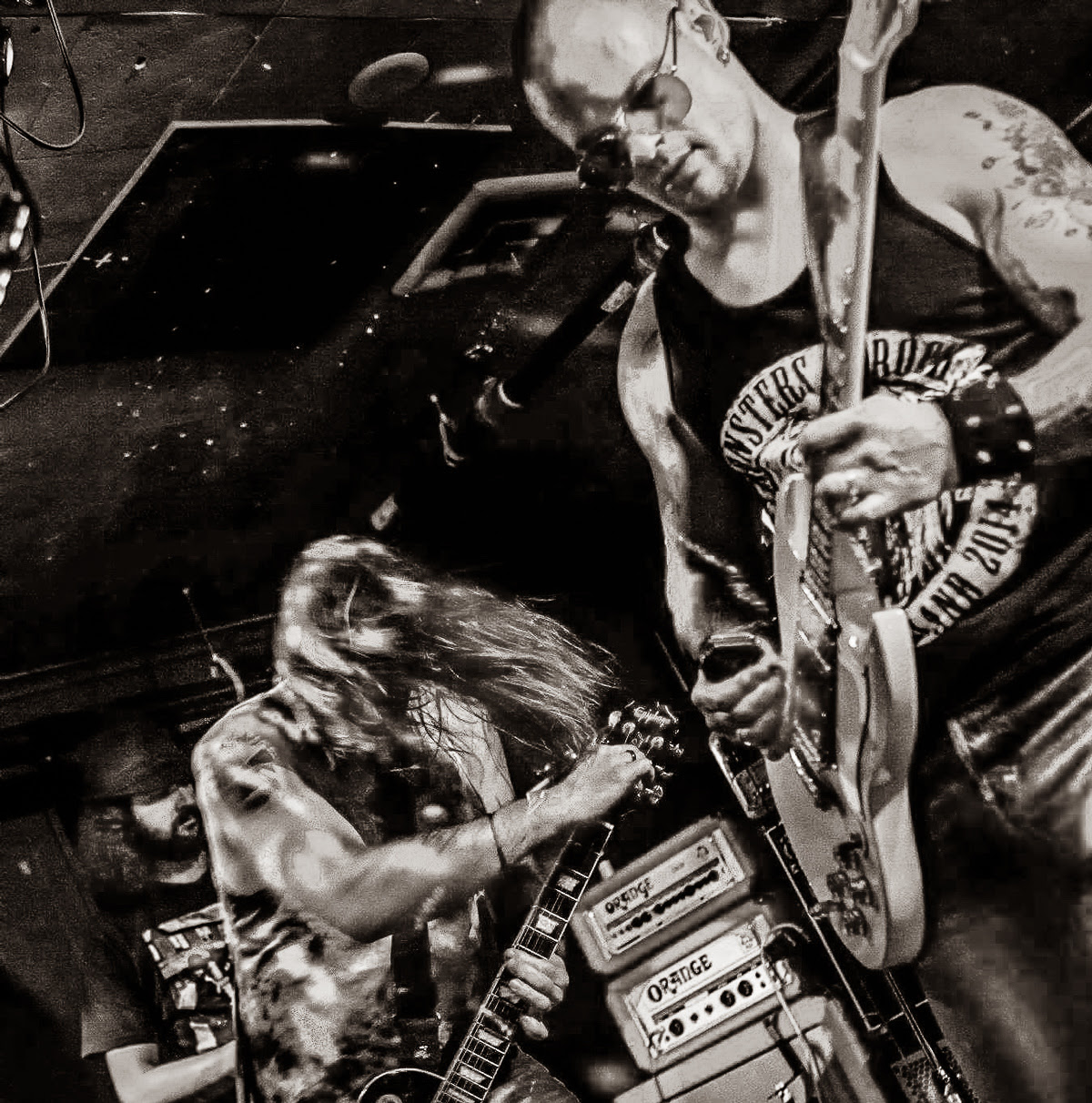 Palace In Thunderland:

Andy Beresky - Guitar, Vocals
Monte Newman - Guitar, Vocals
Adam Abrams - Bass, Keyboards, Vocals
The band shared some insight into their new 'The King Of The Empty Aeon' album:
Adam Abrams (bass) "The guitarists would spend hours recording with Dan (engineer) and every time I heard a playback my jaw would drop from the amazement of the guitar layer and the tones they used. I asked who played the synthesizers and they chuckled and said that 'these are only guitars'!"
Andy Beresky (guitar/vocals) "With 'The King Of The Empty Aeon', I believe that we really hit a high water mark in terms of artistic freedom. We didn't overthink things or let our ambition exceed our execution, as we've done in the past. We just jammed, wrote and then recorded. We didn't get too caught up in expectations or trying to make a certain sort of record. We just did what came naturally, and there was a certain magic in that, it's amazing that we were able to truly capture it."
Monte Newman (guitar/vocals) "I feel like we put a lot of heart and fire into this album. At times it was emotionally exhausting, though quite enjoyable to make. We got to experiment with a lot of different guitars, amps, and effects to create some pretty amazing soundscapes. It was also quite a blessing to have a recording rig setup and ready to go in The Thunderland Compound, with Dan at the controls. That allowed us to take our time and do what we had to to capture sonically what was in our heads. I'm quite proud of this album."


MORE:
Prior Releases:
Into The Maelstrom (2007)
Stars, Dreams, Seas (2012)
The Apostles Of Silence (2014)
In The Afterglow Of Unity (2015)
Bandcamp: https://palaceinthunderland.bandcamp.com/
Facebook: https://www.facebook.com/PalaceInThunderland/
Spotify: https://open.spotify.com/artist/7tqcRpfQFzOeUK6gWPhQuv
YouTube: https://www.youtube.com/channel/UCctqpYhL-eoZQIBMfUnXiKg