New York's GEEZER Reveals 'SPIRAL FIRES' EP Coming Feb. 8th
New Yorks's heavy psych/stoner rock trio GEEZER debuts a new video for the single "Spiral Fires Part 1" from their new EP 'Spiral Fires' at The Obelisk. Listen to the new song here:

http://theobelisk.net/obelisk/2019/01/17/geezer-spiral-fires-premiere-announce/
"Spiral Fires continues to expand Geezer's reach in its two-part title-track and in "Darkworld" and "Charley Reefer," showcasing a shift in dynamic... these songs give a righteous glimpse of where Geezer are at nearly a decade after getting together and where they might be headed from here. Uncharted space brought to earth with anchored, locked-in groove." ~ The Obelisk
After recruiting Steve Markota as Geezer's new drummer in summer of 2017, the band knew it was now the peak time to refocus and start afresh. With gigs as their inspired motivation, over the following year or so the Kingston, New York heavy blues triad set about performing at multiple regional festivals in the U.S.. From the Doomed & Stoned Festival to the New England Stoner and Doom Festival, from The Maryland Doom Fest to the Descendants of Crom. Throw in a supporting slot for Acid King in Brooklyn and many other righteous shows, and a full year did bloom indeed.
All the while, a revitalized Geezer was writing and road-testing new songs. During that process, it became clear that one album was not enough to fully capture what was happening. An EP would be the foundation to set the stage for the upcoming full-length LP. Drawing inspiration from the vinyl version of the most recent Child EP, Geezer hooked up with Kozmik Artifactz to release their own EP in the same vein. Limited Edition, one color cover, black vinyl, no bells and whistles… just rock and roll.
The result is the mind-altering new EP, 'Spiral Fires'. A three-song collection edifying the embodiment of Geezer's quest for all things heavy, trippy, and groovy. 'Spiral Fires' is the first passage in Geezer's new journey.
'Spiral Fires' - Track List:
1. Spiral Fires Part 1
2. Spiral Fires Part 2
3. Darkworld
4. Charley Reefer

Guitarist and vocalist Pat Harrington on the new EP:
"Hooking up with Steve changed the band. For the first time in a long while, we had the ability to really take our time and see where the music would take us. Changes were taking place, we were traveling to new musical landscapes. Along the way, a flash of light would appear over the horizon, these songs are those moments… lightning in a bottle."

'Spiral Fires' will be available on vinyl through Kozmik Artifactz in the very near future. The band is releasing the EP for digital download and streaming through Bandcamp on February 8, 2019.
Kozmik Artifactz Webstore: http://shop.bilocationrecords.com/
Geezer Bandcamp: https://geezertown.bandcamp.com/
The Spiral Fires EP was produced by Pat Harrington. Recorded at Darkworld Studio in Kingston, NY, by Matthew Cullen and assistant engineers David Daw and Robert Kelly. Mixing was done by Matthew Cullen at The Cat Haus in Catskill, NY, with mastering by Scott Craggs at Old Colony Mastering in Boston, MA. The Spiral Fires cover art is by Lee Fenyves, with design layout by Steve Markota.

UPCOMING LIVE DATES:
Jan. 25 – Kingston, NY @ BSP Kingston (w/ Sun Voyager, Shadow Witch)
https://www.facebook.com/events/295547331302289/
Feb. 23 – Baltimore, MD @ Oliver Brewing (w/ Backwoods Payback, Cavern, Dana Ortt)
https://www.facebook.com/events/275935323074808/
Mar. 20 – New York, NY @ ODE TO DOOM (w/Thunderbird Divine, Ancient Stone)
https://www.facebook.com/events/253278718707961/
Apr. 20 – Kingston, NY @ The Anchor (w/ River Cult, Eternal Black)
https://www.facebook.com/events/2329157044035387/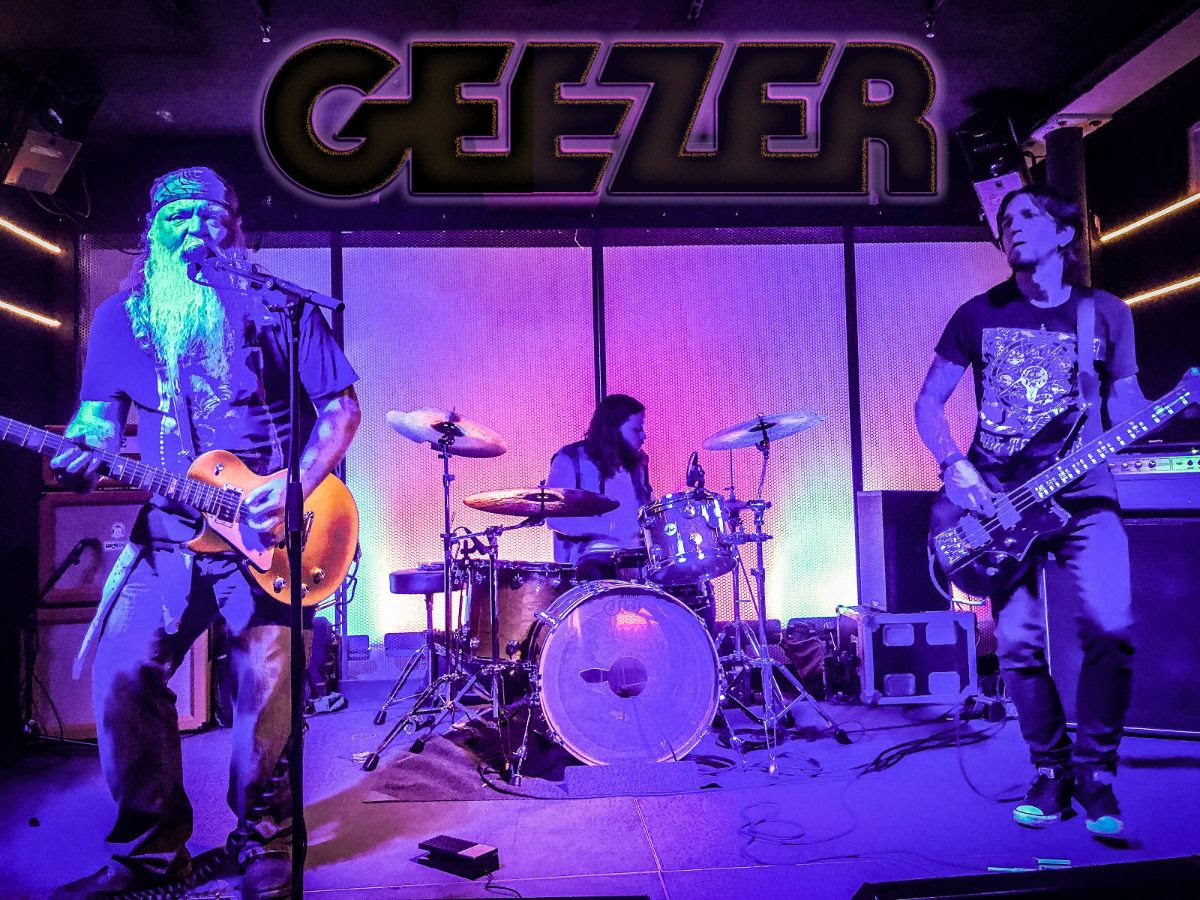 GEEZER:
Pat Harrington - Guitar/Vocals
Richie Touseull - Bass
Steve Markota - Drums
BIO:

In 2014, a dark corner of an old dusty metal shop, alongside the menacing blasts of industrial age freight trains, that's where the sound was forged. Where the rusted steel of a bygone era meets the ancient spirits of legendary mountains, that's where the reckoning came to be.
As a whole greater than its parts, a beacon arose from the valley below and brought forth a new sense of old ways and a re-calibration of doctrine. In other words…
Geezer lay down thick heavy grooves rooted in the tradition of pre-war slide guitar blues, while simultaneously breaking boundaries through sonic experimentation and improvisation.
Releases:
Electrically Recorded Handmade Heavy Blues (Sept. 2013)
Geezer LiVE! FULL Tilt Boogie (May 2014)
Gage (Sept. 2014)
Long Dull Knife (single, May 2015)
Psychoriffadelia (May 2017)
A Flagrant Disregard For Happiness (June 2017)
Spiral Fires (Feb. 2019)


MORE:
Bandcamp: https://geezertown.bandcamp.com/
Facebook: https://www.facebook.com/geezerNY/
Instagram: https://www.instagram.com/geezertown/
Spotify: https://open.spotify.com/artist/7wEkdwpx7bSDhRexrs94er
YouTube: https://www.youtube.com/channel/UCMOyOPXF9o9bCyALBZlP8UA