Rich Hervey from Day Of Doom joins us for a Q&A with fans and listeners. This episode features new music from Day Of Doom, Goblinsmoker, Deceased, Voodus, Bloodbath, Oddko, Metal Church, BillyBio, Aenimus, and Snipers Of Babel!
Join us every week on metaldevastationradio.com Friday nights at 9pm est to be a part of the show! If you are a label or a band and want to get in touch please email me at zach@metaldevastationradio.com
Track list
1 TOAD KING - Goblinsmoker
2 The Zach Moonshine Show Intro: The good and the bad, Deceased Drummer Dave Castillo RIP Tribute!
3 To Serve the Insane, Thoughts of a Leaking Brain - DECEASED
4 Bury the Hatchet - OCTOBER 31
5 Zach Moonshine Bullshitting On Air: Talking about how bad ass the new Deceased album is and whats coming next from Sweden with Voodus!
6 The Awakening and the Ascension, The Golden, Dreams From An Ancient Mind Pt I - VOODUS (swe)
7 Zach Moonshine Bullshitting On Air: Butchering the the band name and shout out to the battle of the bands winners Inhuman Atrocities!
8 Mother Putridity, Misscariage (the black dahlia murder cover) - Inhuman Atrocities
9 Angel Of Death - Slayer
10 Day Of Doom Interview featuring: THROUGH HORRIBLE DESPAIR, DESCENT OF HUMANITY, BLOOD SOAKED VENGEANCE
11 The End of Your World - Ol Sonuf
12 M.D.M - Necrotion
13 Slave To The Cross, The Gift That Keeps On Giving - Deicide
14 Chapel Of Ghouls, God Of Emptiness - Morbid Angel
15 Reign Forever World - Vader
16 The Philosopher - Death
17 Zach Moonshine Bullshitting On Air: Shout outs to the requests!
18 Only The Dead Survive - Bloodbath
19 Disobey - ODDKO
20 Zach Moonshine Bullshitting On Air: More shout outs to the requests and submissions, listeners and chatters!
21 By The Numbers - Metal Church
22 Freedom's Never Free - BILLYBIO
23 Punishment - BIOHAZARD
24 Davidian - Machine Head
25 Before the Eons - Aenimus
26 Scourge - Snipers Of Babel
27 At Dawn They Sleep, What Do You Do For Money Honey, Sick In The Head - Six Feet Under
28 Zach Moonshine Bullshitting On Air: Chris Barnes rules and lots of trolls hate him and we can't figure it out!
29 No Reason - Crawling Back
30 Black Sabbath- Heaven And Hell, Sign Of The Southern Cross - Live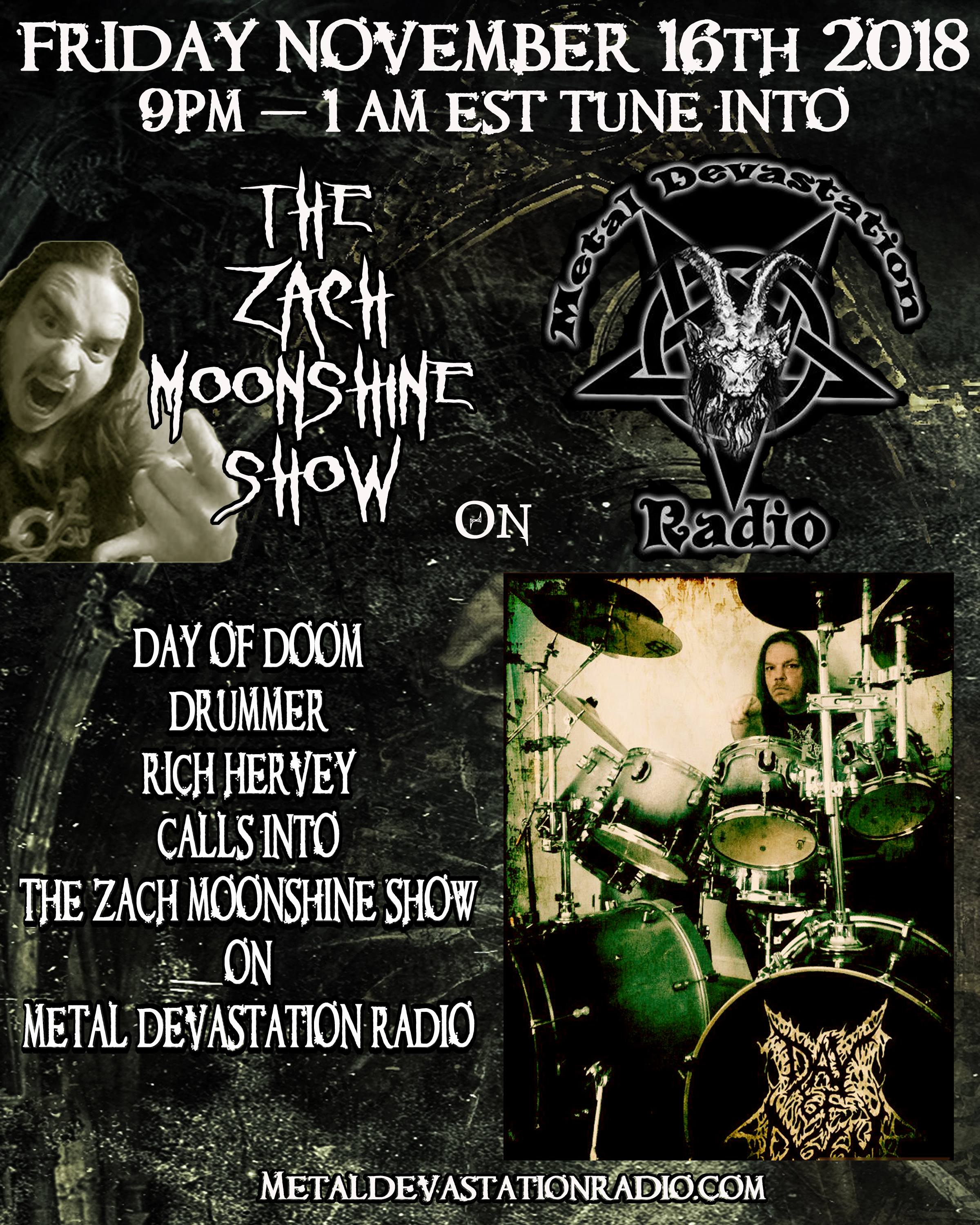 Check em out on Bandcamp!
Check out the interview all by itself if you prefer!