We celebrate 5 years and over 2 million listens on Metal Devastation Radio during this episode as well as, (of course) celebrate our favorite holiday Halloween and we have a special interview with blackened death metal band from India Godless!
Track list below!
1 Corpse Magician - Slasher Dave
2 Scare Tape, Mutilation Mansion, I Hate Halloween - ACID WITCH
3 The Zach Moonshine Show Intro - talking about Halloween, 5 years of MDR, over 2 million listens and shouts out to everyone involved!
4 Black Sabbath, The Wizard - Black Sabbath
5 Frights, Fulzzi - Slasher Dave
6 Zach Moonshine Bullshitting on Air about how bad ass Slasher Dave is!
7 To Walk the Night, Halloween II, Mother of Mercy - Samhain
8 The Candle, Halloween - King Diamond
9 Death Chamber - Slasher Dave
10 Zach Moonshine Bullshitting On Air about all the people tuned in live around the world, and talking about meeting my dad and having a conversation about atheism and about who Gravehuffer is.
11 Diary Of A Dope Fiend, S***y Chicken Gang Bang, Kiddie Grinder - Marilyn Manson
12 Godless Interview featuring Exordium, Infected by the Black, From Beyond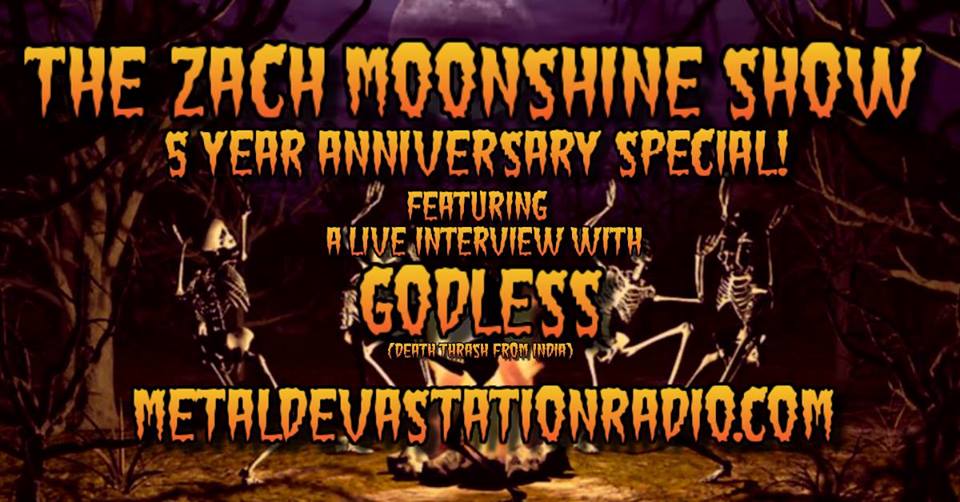 "Tight, technical, fast: three words to describe Godless." - Decibel Magazine
"Has enough energy to raise the dead" - Toilet ov Hell
"Clinical level of precision, Godless come out with a scathing attack on Swarm" - Dead Rhetoric
"Swarm is a glorious testament to the absolutely undeniable power of Indian deathrash metal" - Guitar Sphere
"Heavy, fast, aggressive and malevolently morbid, Godless' Swarm is an EP worth flocking for!" - Worship Metal
"Swarm is a musical feast for the ears and no doubt one of the best death metal releases of this year." - Metal Horizons
"Pushes across the line between early Sepultura's ferocity and Insanity's madness, between Kreator's chaos and Death's bloody, gory, screaming perfection." - Rocking Charts
"Swarm" is a release bred for the die-hard Thrash fanatics in the Death Metal community. - Path to Babylon
"Sepultura, Merciless and early Kreator are the names that come to mind while listening to Swarm" - Prog Sphere
''Swarm'' EP will bring Godless to a higher level." - Lyrical Spell Magazine
"'Swarm' is a relentless, intense, attention-grabbing effort, and high-speed death metal done just right." - Moderate Rock
"A relentless and energetic EP that you absolutely need to get your hands on." - Technical Music Review
credits
released October 27, 2018
Drums recorded at 10.5dB studios
Vocals recorded at Studio Eccentrico
Guitars and bass recorded at Infinity Studios
Mixed & mastered by Hertz Studios - hertzrecording.com
Logo by Christophe Szpajdel - lordofthelogos.com
Art by Khaos Diktator - fb.com/khaosdiktatordesign
Design by Anoop Bhat - anoopkbhat.in
Godless is:
Kaushal LS on vocals
Abbas Razvi on bass
Ravi Nidamarthy on guitars
Aniketh Yadav on drums
Slasher Dave, the formidable frontman of Detroit's Acid Witch, and 20 Buck Spin have united forces to bring a special treat for this year's Halloween loot bag. On 'Frights', his fourth solo record, Dave introduces a heavier side to the instrumental synth album world. Terrifying industrial rhythms pulse through a stark electronic soundscape of analog synthesizers, pounding bass, distorted guitars, warped lo-fi horror samples and sedulous sound design. The entire album is written, recorded, mixed and produced by Dave, and, as with his past solo releases, he handled all artwork and design as well.
Timed for release as All Hallow's Eve approaches, Slasher Dave's 'Frights' is as creepy, as it is entertaining. These twelve nightmares of deranged horror-synth are sure to send chills down the spine on Halloween, but will fulfill any horror fiends lust for the strange and unusual year around...
credits
released October 26, 2018