Coming off their October "Buried Out Back" Ontario tour, Canadian metal messiahs DECATUR are not ones to stop when it's all about performing for a crowd. Featuring a live line up with founding vocalist and guitarist Jay Sarrazin joined by members from Imperion, Caym, Threat Signal, Jungle Rot, DECATUR is proud to announce they will hitting the stage once again in their hometown of Toronto for Indie Week, one of the country's biggest music showcase and conference for independent artists. DECATUR is scheduled to perform on Wednesday, November 7th at the Bovine alongside Kill No Albatross (Burlington, ON), Our Father Star (Toronto, ON), CRNKSHFT (Vancouver, BC) / DRAFT (Toronto, ON), The Ocean Cure (Toronto, ON), Bad Communicators (Edmonton, AB). Full show details can be found here. More info on Indie Week can be found at http://canada.indieweek.com.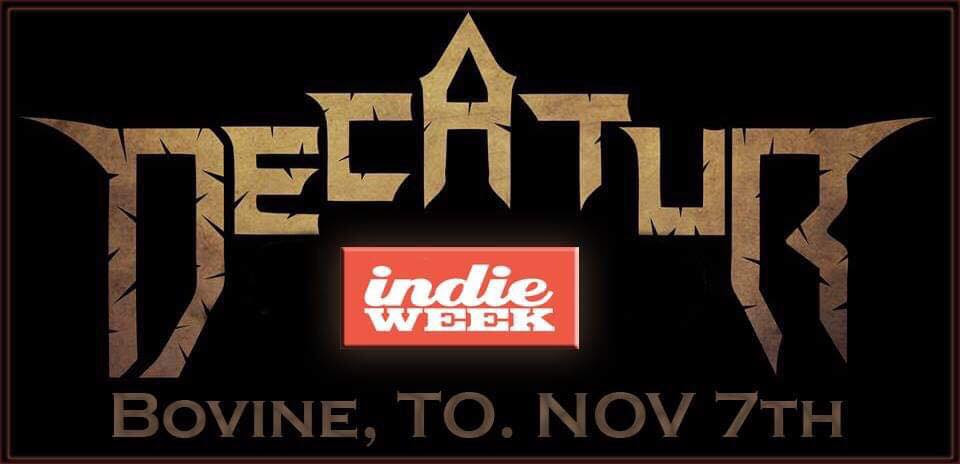 "We are really excited to be playing Indie Week at the Bovine Sex Club on Wednesday November 7th. Indie Week has been a great contribution and alleyway for Indie artists to get great exposure and they work hard at showcasing all the talent they work with. We couldn't be more excited to play Indie week this year. This show I'll have a great lineup of musicians playing with me including Aiden Keenan of Imperion, Anthony Zhura of Caym and Joey Muha of Threat Signal/Jungle Rot. This was the lineup from our recently completed "Buried Out Back" Tour. Don't miss this killer lineup for this great event" says Sarrazin.
Watch touring drummer Joey Muha "Tear You" a new one in his latest slaying drum video:
DECATUR's debut album "Badder Than Brooklyn" released last year during October 2017 was produced by Joe Duplantier of Gojira and is all-killer, no filler! It doesn't hide behind its production; it compliments it. All the songs on the album are truly about power and empowerment, a clarion call for strength in life's battles…healing through headbanging. From the power shredding of "Into The Night" and the storytelling of the album's title track "Badder Than Brooklyn" to the brutal beat down of songs like "Bottled Inside" and "Internal War" to "Worst Enemy" about the fight against depression, DECATUR feel modern metal has lost its way and they're here to provide the road map forward to the future! Make no mistake, DECATUR are a band that puts the grit into integrity, as guitarist/vocalist Jay 'Beard' Sarrazin says, DECATUR make "real metal for real metalheads."
Music Video "Worst Enemy" -
Album Stream - "Badder Than Brooklyn" -
Album available on CD, digital download and streaming on Bandcamp, Sunrise Records, iTunes, Spotify, Amazon.
For more info:
http://www.decaturmetal.com
http://www.facebook.com/decaturmetal
http://www.twitter.com/decaturmetal
http://www.instagram.com/decaturmetal
EPK - http://wp.me/pciNW-aE6
(bio written by Steve Earles)
- 30 -
"Badder Than Brooklyn is one of those wonderful albums that will give you little to complain about...one of the best heavy metal releases this year. Shatterproof & Internal War Pt. 2 confirm this with the former a very traditional & groove-layered slab while the latter goes for a more melodic approach." Games, Brrrains & A Head-Banging Life
"Badder Than Brooklyn is a solid debut album of modern metal that's worth seeking out." - Heavy Metal HQ
"Great for a pounding run or a body-wrecking workout, Badder Than Brooklyn will satisfy fans of metal, hard rock, or good old-fashioned rock and roll." - Shockwave Mag
"The energy in the room was electrifying, and it was impossible not to mosh and head bang with intense vigour. The band's connection on stage was infectious, as it was obvious that these guys loved what they were doing and loved doing it together." - The Phoenix News - Live Review - Kelowna, BC
"Badder Than Brooklyn is a formidable effort by these talented newcomers. Considering​ the fact that this is their debut album, I most certainly think that they have nailed it. With memorable and we'll crafted songwriting, if these guys keep up their work I see a bright future ahead if them. Undoubtedly an album that I will recommend for all Thrash/Groove Metal enthusiasts. That being said I hope they will come back even stronger in their sophomore effort for which I'll be keeping my eyes peeled." - Metal Centre
"Toronto-based Decatur, with their debut release Badder Than Brooklyn, has created a metal album for metal's sake, a traditionally fast, heavy riffing, drivingly intense set of tunes to be included on an FM radio station in the next installment of Grand Theft Auto playing between Megadeth's "Holy War…The Punishment Due", Metallica's "Battery", and right after Pantera's "Walk"." - Canadian Beats