Metal icons SOULFLY are set to unleash their devastating new album Ritual, on October 19 via Nuclear Blast. To celebrate on the day of release, fans are invited to listen to the new​ record with Max Cavalera and Zyon Cavalera at the AFFLICTION​ studios in Seal Beach, CA (1799 Apollo Court, Seal Beach, CA 90740). The event will be hosted by Jose Mangin​ and will have Borracho Tacos​ outside for purchase. $10 cash/card at door gets you entry + Ritual CD, poster, event laminate + your chance to win a LTD signature series Max Cavalera guitar from ESP Guitars​. Doors are at 7 pm.
Ritual was produced, recorded and mixed by Josh Wilbur (KILLER BE KILLED, LAMB OF GOD, GOJIRA). Cover artwork was painted by artist Eliran Kantor (TESTAMENT, ICED EARTH, SODOM). Additional booklet art was handled by Marcelo Vasco (SLAYER, HATEBREED, KREATOR), who also handled the package design. The album features multiple guests including Randy Blythe (LAMB OF GOD) and Ross Dolan (IMMOLATION).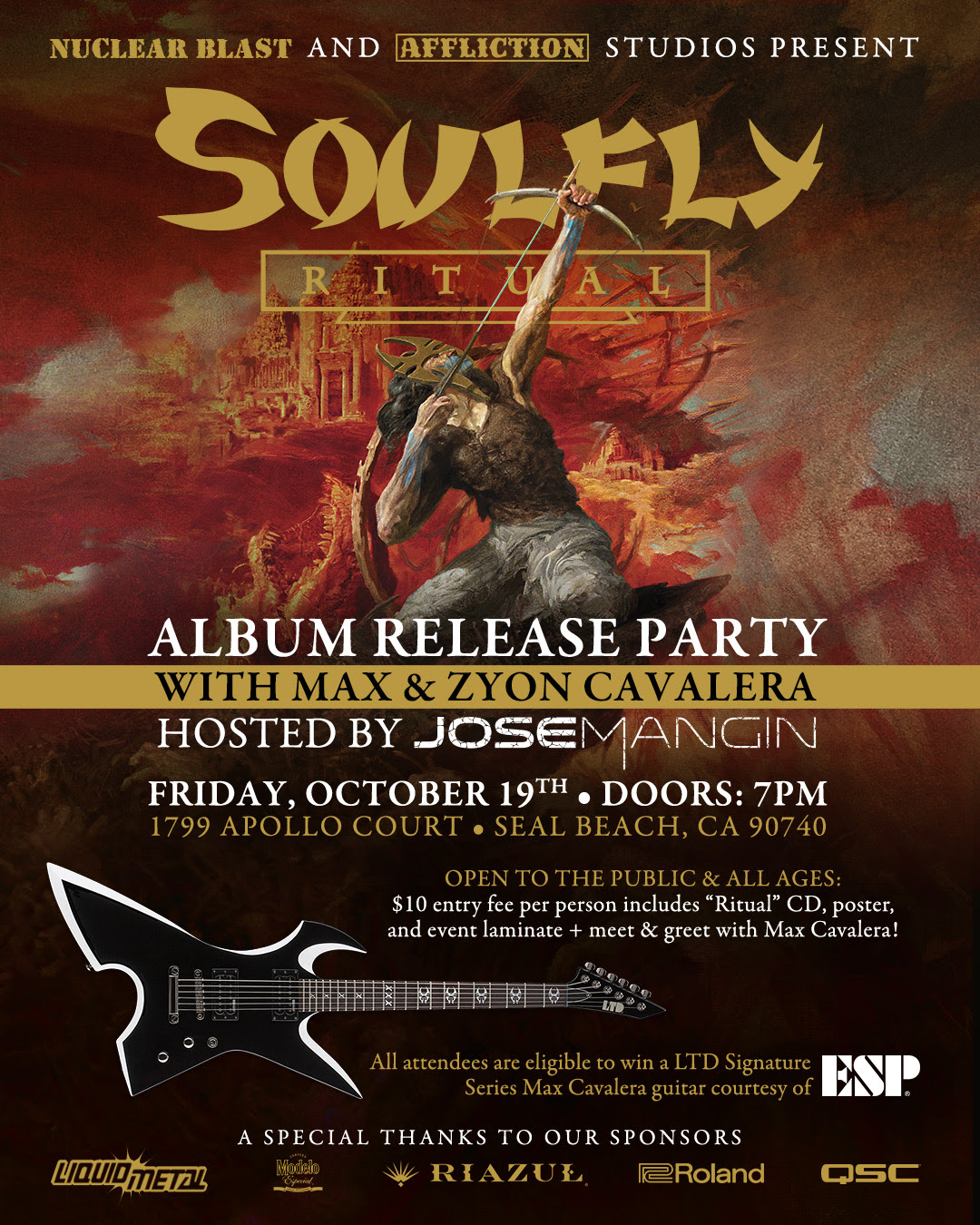 Pre-order SOULFLY's eleventh studio album Ritual, in various physical and digital formats, here: (www.nuclearblast.com/soulfly-ritual).
Ritual track listing:
1. Ritual
2. Dead Behind The Eyes (feat. Randy Blythe)
3. The Summoning
4. Evil Empowered
5. Under Rapture (feat. Ross Dolan)
6. Demonized
7. Blood On The Street
8. Bite The Bullet
9. Feedback!
10. Soulfly XI
Confirmed upcoming tour dates:
SOULFLY, INCITE
1/25/2019 Albuquerque, NM - Sunshine Theater
1/26/2019 Dallas, TX - Gas Monkey
1/27/2019 Austin, TX - Come & Take It Live
1/28/2019 New Orleans, LA - Santos
1/31/2019 - 2/4/2019 - 70000 TONS OF METAL CRUISE (SOULFLY only)
SOULFLY, KATAKLYSM, INCITE, CHAOSEUM (Feb 5-11), ALUKAH (Feb 12 - 18), SKINFLINT (Feb 19-26)
2/05/2019 Orlando, FL - Soundbar
2/06/2019 Atlanta, GA - Masquerade
2/07/2019 Frederick, MD - Cafe 611
2/08/2019 Clifton, NJ - Dingbatz
2/09/2019 Reading, PA - Reverb / Tsunami Fest
2/10/2019 Boston, MA - Brighton Music Hall
2/11/2019 New York, NY - Gramercy Theatre
2/12/2019 Toronto, ON - Mod Club
2/13/2019 Flint, MI - Buick City Events Center
2/14/2019 Joliet, IL - The Forge
2/15/2019 Ft Wayne, IN - Piere's
2/16/2019 Dayton, OH - Oddbodys
2/17/2019 Lexington, KY - Manchester Music Hall
2/18/2019 Kansas City, MO - Riot Room
2/19/2019 Colorado Springs, CO - Sunshine Studios Live
2/20/2019 Grand Junction, CO - Mesa Theater
2/22/2019 Spokane, WA - The Pin
2/23/2019 Seattle, WA - Club Sur Rocks
2/24/2019 Portland, OR - BossaNova
2/25/2019 Petaluma, CA - Phoenix Theatre
2/26/2019 Los Angeles, CA - 1720 Club
More on Ritual:
"Evil Empowered" track video
"Ritual" 360º track video
"Dead Behind The Eyes" visualizer
Trailer
#1
(album artwork)
Trailer
#2
(working w/ Josh Wilbur)
Trailer
#3
(album title)
Trail
#4
(return of tribal elements)
Trailer
#5
(working with the Navajo tribe)