For over a decade at the world's largest outdoor metal festival  Wacken Open Air , independent metal bands from around the globe have been performing in front of thousands and competing against one another for one to be crowned champion of the world along with winning multiple prizes ( prizes info ). For the third year,  Wacken   Metal Battle USA  is returning to America and will be hosting qualifying rounds in select cities across the nation. The national champion of those battles will perform at 30th edition of the festival taking place from August 1st – 3rd, 2019 in Wacken , Germany. The 2019 line up for Wacken Open Air includes Sabaton, Parkway Drive, Demons & Wizards, Powerwolf, Airbourne, Rose Tattoo, Within Temptation, Meshuggah and many more. Details here .
Unsigned bands interested in participating for 2019 battles, can apply at the following link beginning October 6th at 6AM PST:  https://metalbattleusa. com/apply/  
(Applications end December 2, 2018 at 11:59PM PST)

How it works:
Participating cities will host qualifying rounds plus a city final organized by a local city concert promoter where one band will move forward to the American national final in Los Angeles on May 25th, 2019. The winner of the national final will move on to perform at the 30th edition of Wacken Open Air, and compete against the winners of 29 other countries in a final global battle .  All bands will be judged during battle rounds by respected local music industry representatives.

Rules:
https://metalbattleusa.com/ rules/

Battles will be held in Los Angeles, San Diego, Phoenix, Dallas, Houston, Austin, Corpus Christi, Atlanta, Tampa Bay, Orlando, New York City, and Chicago with more to be announced.

Promo Trailer:

Youtube -   
Facebook -  https://www.facebook.com/ metalbattleusa/videos/ 210507646036564/  

Last year's battles saw the best from over 50 competing bands from the Philadelphia, Tampa Bay, Orlando, San Diego and Los Angeles areas. Crowned champions were Anaheim's  VOICES OF RUIN  (pictured below) whom performed a beast of a set at the 2018 Wacken Open Air.


2018 – WMBU Winner
VOICES OF RUIN (Anaheim, CA) -  http://www.voicesofruin.com

2017 – WMBU Winner
CORPSE HOARDER (Philadelphia, PA) -  https://www.facebook.com/ CorpseHoarder/
Live at Wacken 2017 -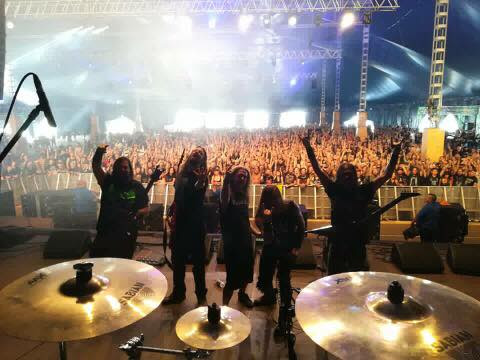 For more info on Wacken Metal Battle USA , please visit these links:
Official Website:  http://www. metalbattlusa.com
For more info on international battle , please visit:  http://www. metal - battle .com
For more info on Wacken Open Air, please visit  http://www. wacken .com

About:
Wacken Metal Battle USA  is part of an international competition that sees bands from across the country battle each other for the chance of winning their spot among 29 other countries' champions, and representing the USA in an international battle of the bands at the world's largest outdoor  metal festival:  Wacken Open Air, which has been taking place in Wacken , Germany for the last 29 years. The winner of Wacken Metal Battle USA will perform at the 2019 festival taking place from August 1st-3rd.

Sponsors / Partners:
MetalAssault.com
MetalDevastationRadio.com
MetalMasterKingdom.com
MetalNationRadio.com
Metal -Rules.com
MetalUnderground.com
PureGrainAudio.com
PureRockRadio.net
Dungeon Works Productions
Asher Media Relations
Fatal Illness Management
Valkyrie Management
Come And Take It Productions
Mosh Pit Army
Masquerade Atlanta
Saint Vitus
LoudTrax.com
Last year, i interviewed the winning band Voices Of Ruin on my show and they talked about the battle and how it went. Check it out here!