Empire De Mu - Featured & Interviewed By ondeschocs ! Check it out here https://ondeschocs.com/entrevue-avec-arianne-fleury-empire-de-mu/
Hello Arianne, I hope you are well.
In this interview we are going to focus on your musical journey as well as your group Empire De Mu and your new single La Traversia .
———– Arianne ————–
As an artist, at what age did you start singing?
I took Classical singing lessons at a music school in Alma in Lac St-Jean when I was a teenager.
What made you want to become a singer?
As a child, I listened to 94.5 FM radio day and night. I sang and knew the words to everything that was on the radio. I dreamed of being on stage very early in my childhood.
What is your academic background?
In primary school I had a lot of learning difficulties and in secondary school I was in a continuous supplementary special pathway program (Secondary 1 and 2 in 4 years) but at least in secondary school that's where I started singing in groups and organizing shows and getting involved in everything that was social and cultural. I had a lot of energy and I was not very focused on academics.
I left Lac St-Jean hitchhiking on the go. Being very young, I don't recommend doing this today, with only two small bags of clothes. I was taking flight towards the conquest of my dreams and my destiny. Armed with only my courage and determination.
I quickly made the decision to do a DEP in Nursing as an Auxiliary Nurse when I was singing in Augury.
In your opinion, what are the essential qualities to be a good singer?
Always take singing lessons and train vocally, either with an instrument or with a pianist. Do some cardio!!
Are there any musicians who inspire you? What qualities do you admire in them?
I had the chance to know Mr. Steeve Hurdle, one of the guitarists and composers of Gorguts. He taught me a lot about extreme music. He told me to break away from already pre-established musical codes and to trust all my vocal melodies regardless of the style. Steeve has always encouraged me to create and innovate for the evolution of Metal music here in Quebec. Rest in peace my friend.
———– Empire Of Mu / La Traversia ————–
Where did the idea for Empire Of Mu come from? How was the group formed?
I was inspired by James Churchward's book, The Lost Continent of Mu, from Éditions "J'ai lu" released in 1971. In 2013/2014, I began writing the texts and composing the music for Fated Sorow, U-Luumil , and Submersion . The musicians who have played with Empire de Mu are all talented musicians, musically open and passionate about innovative music. Thank you to everyone who participated directly or indirectly in Empire of Mu. In 2018 the line-up was completed for the first album Spiritual Demise released in the middle of a global pandemic in 2020.
It is with courage, tenacity and iron will that I managed to find a complete line-up to start doing post-Covid-19 concerts again at the end of 2021/2022
How could you describe your music?
Extrem Operatic Brutal Death Metal 280Bpm. Standards B.
Regarding your new piece, La Traversia , how did the creation phase go, why did you write this song?
Playing in different metal radio stations around the world; 10% sing in English and 90% sing in French. First, I tell the story of the natural cataclysm that would have engulfed the Continent of *Mu*. La Traversia is the logical continuation of the explanation of the Volunteers, Muyans who left the Continent, to offer their Spiritual and Scientific knowledge on different continents on the planet and this in a peaceful way. La Traversia speaks of crossing the ocean, of the courage of these towards their missions.
What is your creative process when writing new music as a band, how does it work?
All the musicians add their creations to an already pre-established skeleton. The lyrics relate to the continuity of the Muyens' mission and respect for the planet and its own bioorganic creation.
What musician, artist or instrument would you like to add to your group?
MMmm… Empire de Mu is four musicians, drum, base, guitar and vocals. We want to exploit the introductions and interludes with various instruments to add color and bring the audience into Mu's universe.
What are your musical influences as a band?
Dying Fetus
What's the most interesting thing we don't yet know about the band?
The current line up all comes from Saguenay Lac St-Jean, Mathieu and I went to the same high schools. Our common passions brought us together in 2023.
What's the best advice another musician has ever given you?
To be in competition only with yourself. This allows us to want to improve as human beings and surpass our limits.
Do Empire De Mu, or you Arianne, have a ritual at the start of a show to take away the nervousness?
The musicians from Empire de Mu do stretching exercises and I do vocalizations.
What type of musician would you like to collaborate with in the future?
Marc-André Gingras is currently our live guitarist. The permanent guitarist position is available and we are looking for a Slamming Brutal Death Metal style guitarist, as the writing of the second album The Lotus Legacy at 280BPM/300BPM is finished. I would like to thank Sophokles Theodorus and Rory Kennedy, two members of the musical group Crème Flesh (Slamming Brutal Death Metal from Toronto).
What is the message you would like to convey to your fans?
I encourage all local bands in Quebec to continue to share the stage by doing their own booking with groups of different styles in different regions to increase the musical diversity of our Heavy Metal community and at the same time be proud of our Metal scene. here in Quebec. Come discover, come encourage your local metal scene through the Radio, every Tuesday evening at 8 p.m. at CIBL 101.5 MONTREAL METAL. I am co-host with Pierre Beaubien. YOUR ATTENTION to all Metal groups in Quebec and to the precious artisans of the Metal Scene here in Quebec Write to us to play your music on the Radio!!!
What to expect for Empire De Mu over the next year?
We are already booked until May 2024, in different theaters in Quebec. We would like to expand our professional contacts towards the Metal Scene in other provinces. We have an international tour planned in 2024 and we are awaiting confirmations.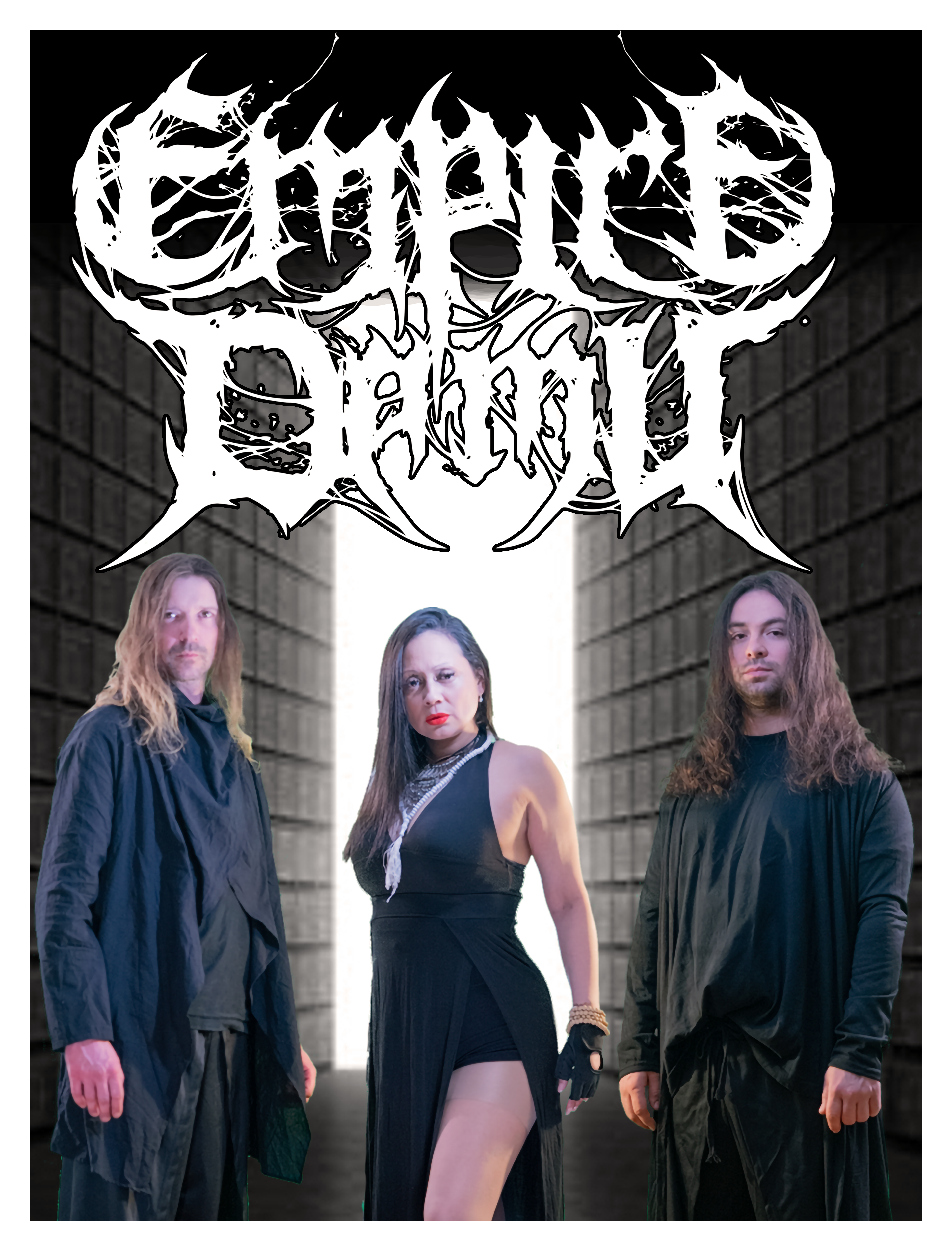 FFO: Nightwish, Therion, Epica

Location: Montréal Canada
Get ready to experience the ultimate musical revolution with Empire de Mu, the latest sensation in the world of Extreme Operatic Brutal Death Metal! Their second album, The Lotus Legacy 280BPM300BPM, is set to blow your mind with its innovative and destructive sound. The first track, La Travesia, is a masterpiece that will leave you craving for more. Empire de Mu is the ambassador of a new era in music, and their legacy is here to stay for many decades to come. Don't miss out on the opportunity to witness the birth of a new musical revolution!
Check out the video and subscribe!
Follow them on Spotify and add them to your playlists!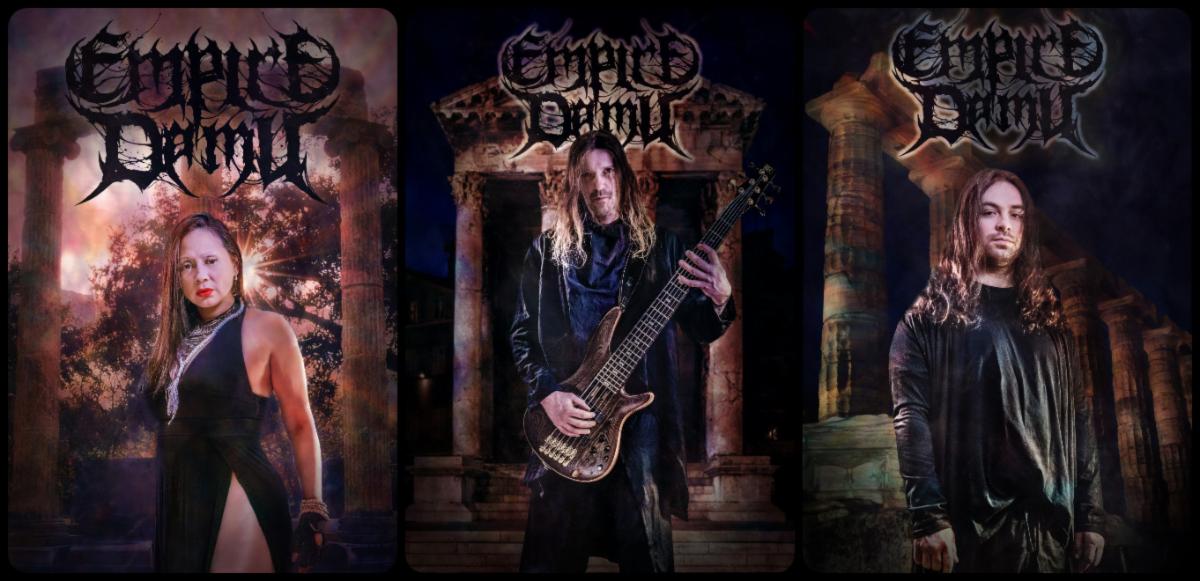 Follow the band at these links:
https://empiredemu.bandcamp.com/album/spiritual-demise-2
https://www.youtube.com/@ariannefleury4494/videos
https://loudtrax.com/empire-de-mu-spiritual-demise-cds-metal-cd-vinyl-48912
https://empiredemu.com/
https://www.facebook.com/empiredemu