We are thrilled to announce that the Tennessee Metal Devastation Music Fest 2023 was an incredible success! The festival boasted a lineup of some of the best metal bands in the underground, and even included a rare solar eclipse. The energy was palpable as over a thousand fans gathered together to rock out and enjoy the beautiful fall weather. From headbanging to moshing, the festival-goers did not disappoint. We want to extend a huge thank you to everyone who attended and helped make this year's festival one to remember. Here's to an even bigger and better Tennessee Metal Devastation Music Fest in 2024!
We would like to extend a heartfelt thanks to the approximate 1,400 metal maniacs who showed up to support the Tennessee Metal Devastation Music Fest on Saturday October 14th at The AMP in downtown Jackson, TN! Your support means everything to us and we couldn't have done it without you. We would also like to thank everyone who purchased tickets and merch, and our stage crew and lights for making everything look and sound amazing!
A special shout out goes to all the bands that played this year, including Casket Robbery, Raven Black, Summoner's Circle, Fires in the Distance, Autumn Lies Buried, Blood Stained Dusk, THE RED MOUNTAIN, Gravehuffer, Tombstone Blue, THE BAND REPENT, Temple of the Fuzz Witch, Crazy Mad Ride, and The Gunpowder Plot! Your electrifying performances were the highlight of the festival.
We are also grateful to all of our sponsors, including Metal Devastation PR, Dragonfly Hemp Company, Lisa Adkins Photography & Marketing, Black Doomba Records, Dark Sails Entertainment, Charlotte's Mystical Web, Sacred Adornments, Reverie Compass, The Herbal Connection, Music City Digital Media Network, Enchanted Inks' Tattoo & Piercing Studio, Dark Ornaments Tattoo, The Downtown Tavern, Lenax, Pete's Rock News And Views, Asher Media Relations, Arrepio Produções, and Metal-O-Mania. Your support and contributions helped make this festival possible and we couldn't be more appreciative.
We would like to extend a special thanks to Hunt the Sound for their excellent work as stage managers, and to Josh Belew and Alexander Wilson for their hard work as stage hands. Personified Productions did an incredible job with the lights, and we couldn't have done it without Richie Brannon, our skilled sound engineer. We also want to thank everyone that helped with security and keeping everyone safe! Last but not least, a big thank you to Melissa Hale, our vendor "mom" who kept all the vendors well taken care of. We appreciate all of your contributions to our event and look forward to working with you again in the future.
Once again, thank you to everyone who made this year's Tennessee Metal Devastation Music Fest a huge success! We can't wait to see you again next year.
Check out the special coverage by WBBJ Eyewitness News HERE !
Special thanks to Lisa Adkins for taking so many pictures! You can view them all here >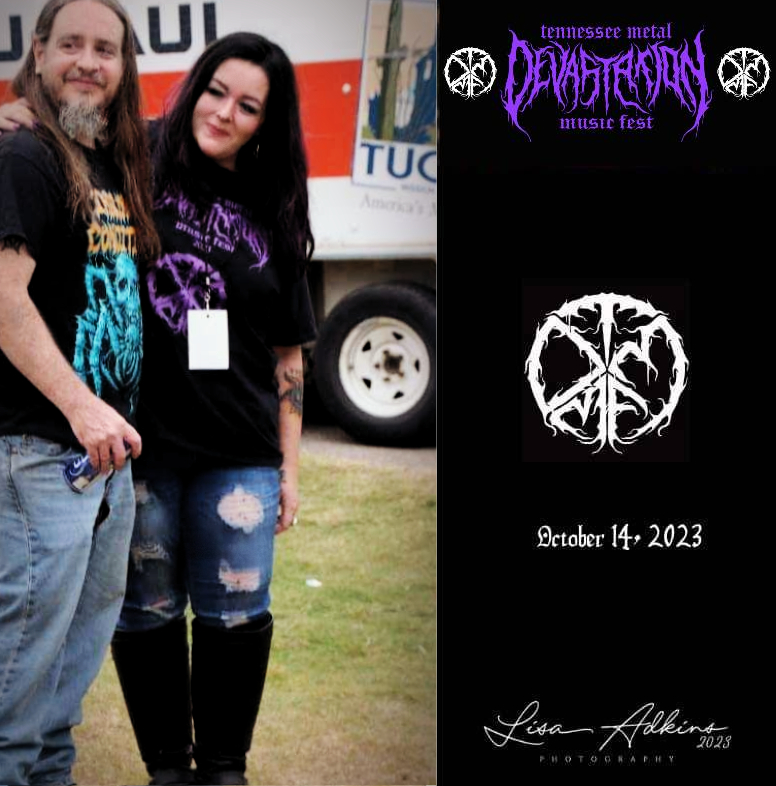 Special thank to Jamar Coach from the Jackson Sun for capturing these photos below! Check out the article here >