Cosmic Jaguar - The Order of the Jaguar Knights - Interviewed By Pete's Rock News and Views!
Cosmic Jaguar - The Order of the Jaguar Knights - Interviewed By Pete's Rock News and Views !
Sergio Lunatico
PD:  How would you describe yourself or your band as an artist?
- Hi! We are Ukrainian band Cosmic Jaguar! Our band is a side-project of Bestial Invasion members. We play technical thrash with elements of avant-garde and death with Aztec themes.
PD: Can you tell us briefly about your background – i.e. where you're from, how you came to make music, etc.
- Cosmic Jaguar was founded in April 2022 by Sergio Lunatico and Denis Tornillo under random circumstances.
 Participants from different cities got together to jam a bit and eventually it turned into a full band.
As there was a very active phase of war in Ukraine at that time, the band rarely got together and didn't know how long it would exist under such conditions.
Initially the goal was to record 1-2 songs if possible, when we recorded them, we decided to try to record 2 more songs to make a mini-album.
 In the end the band was lucky to create and record a full album in 4 months. For the music of the album some ideas of Sergio Lunatico were used, which he did not use on the fourth and fifth albums Bestial Invasion.
 Thanks to the experience of the musicians, the band played quickly and made a quality 40 minute album "The Legacy of the Aztecs". For the theme and concept of the album the band chose Aztec Mythology and Culture, which is something new in thrash metal. The musical direction of Cosmic Jaguar was not chosen by the band, it happened by itself. The band calls its style Avant-Garde / Technical Thrash, because Cosmic Jaguar's music is very versatile. Besides classic thrash metal you can hear elements of latina, funk, jazz, death metal, black metal, world music and much more! Also in the arsenal of the band there are Aztec folk instruments and female vocals! In autumn 2022 the band signed a contract for the release of their debut album with Dutch label Metal Warrior Records (where Bestial Invasion albums were also reissued).
On 30th April 2023 the album "The Legacy of the Aztecs" was released on Dutch label Metal Warrior Records, immediately after the release the band stopped cooperation with the label because of its unprofessionalism and spitting attitude towards the band. Also after the release of the album the band got a new drummer Alejo Bárbaro, with whom the band recorded a new mini album "The Order of the Jaguar Knights". In the middle of September Comic Jaguar released a cover of Cynic - Veil of Maya in honour of the 30th anniversary of the album Focus. On the 13th of October the band releases a new EP "The Order of the Jaguar Knights", which shows the new possibilities and ambitions of the band, as well as the production.  Now the band is recording the second album, which is planned to be released in early 2024!For this album the band is now looking for a decent label!

PD: Who and what inspires you to make music, both in terms of musical and other influences? What do you like to write about in your songs?
- We didn't want to be another primitive and dull thrash band that sings about booze, sex, zombies, partying, social problems and other hackneyed topics. So I decided that our band needed something unusual and deep, as I love the history of the ancient world my choice fell on the culture and mythology of the Aztecs. As far as I remember there are almost no thrash bands that would use this theme, except for a couple of local bands in Mexico. The funny thing is that a lot of people think that we are a Mexican band, because according to them we have done a good job of conveying the spirit and atmosphere of the Aztecs.
PD: What are your aspirations as an artist?
- We don't really have any aspirations, because we play primarily for ourselves to get high! But it would be nice to take over the world with our strange music!
PD: What is the proudest moment in your music career so far?
- I'm proud of the release of our new mini album The Order Of The Jaguar Knights, because there were so many problems and changes in the band and we got through it and got better instead of falling apart!
PD: Promoting one's music is such a challenge these days, especially with so many new artists emerging from bedrooms in the day of the home studio. How is that going?
- Things are bad because the market is overflowing with low grade music, among which your band is more likely to get lost. There's also a big problem with good media portals, because they won't want to write anything about you if the label hasn't made a deal for you or you haven't given money. It's the same with labels, they don't care about your promotion, so it's very sad for bands like us....
PD: And how do you book and promote your live shows and tours? Any performances coming up?
- We're not planning any concerts yet because there's a war in Nairobi and it's a long way off. We have other priorities right now - to survive, and time will tell.
PD: What do you think about downloading music online? What about streaming sites like Spotify?
- It's bad because it affects musicians' finances a lot, but unfortunately it's a modern and digital world that you can't escape from, so you have to live and exist in it. It's only going to get worse)
PD: What song do you wish you'd written and why?
- We've already written it - The Shorn Ones! It's a song about an elite Aztec squad. The Shorn Ones known in classical Nuahtal as the cuauhchicqueh were an elite order of Aztec warriors in the Aztec army. Along with the order of the Otomoies, who were placed just under them in rank, the Shorn Ones were considered the best of the best, the most elite to fight for this military civilization.
PD: Is there anything you don't like about the music industry, which you would change if you could?
- I don't like everything about it, that's why we make music for ourselves first and foremost). What pisses me off are the music lovers who are puffed up and don't support the band by buying an album, merch and a ticket to a concert. I also hate labels who don't care about you and your art and the most offensive thing is that they don't want to make money on it themselves. It was much better 10-15 years ago...
PD: So, what are you working on at the moment?
- We are currently working on the second album, which will be released next year! There will be a lot of big name guests! Stay tuned!
PD: Where can we learn more about you and buy your music/merch online?
-Links to the group:
https://www.metal-archives.com/bands/Cosmic_Jaguar/3540518403
https://www.facebook.com/cosmicjaguarthrash
https://uk.wikipedia.org/wiki/Cosmic_Jaguar
https://cosmicjaguar.bandcamp.com
Release Date: October 13, 2023
FFO: Atheist, Cynic, Death
Location: Zhytomyr (Ukraine)
Cosmic Jaguar is a band that was founded in April 2022 during a time of war in Ukraine. The band was able to come together despite the difficult circumstances and create music. The music explores Aztec mythology and culture and features a unique blend of musical genres including latina, funk, jazz, death metal, black metal, and world music. Cosmic Jaguar also incorporates Aztec folk instruments and female vocals into their music. The band is now releasing a new EP, "The Order of the Jaguar Knights," on October 13th, which promises to showcase their diverse and innovative sound even further. Join us in celebrating Cosmic Jaguar's unique musical journey that transcends boundaries and genres.
Check them out on YouTube and subscribe!
Follow them on Spotify and add them to your playlists!
Support them on Bandcamp!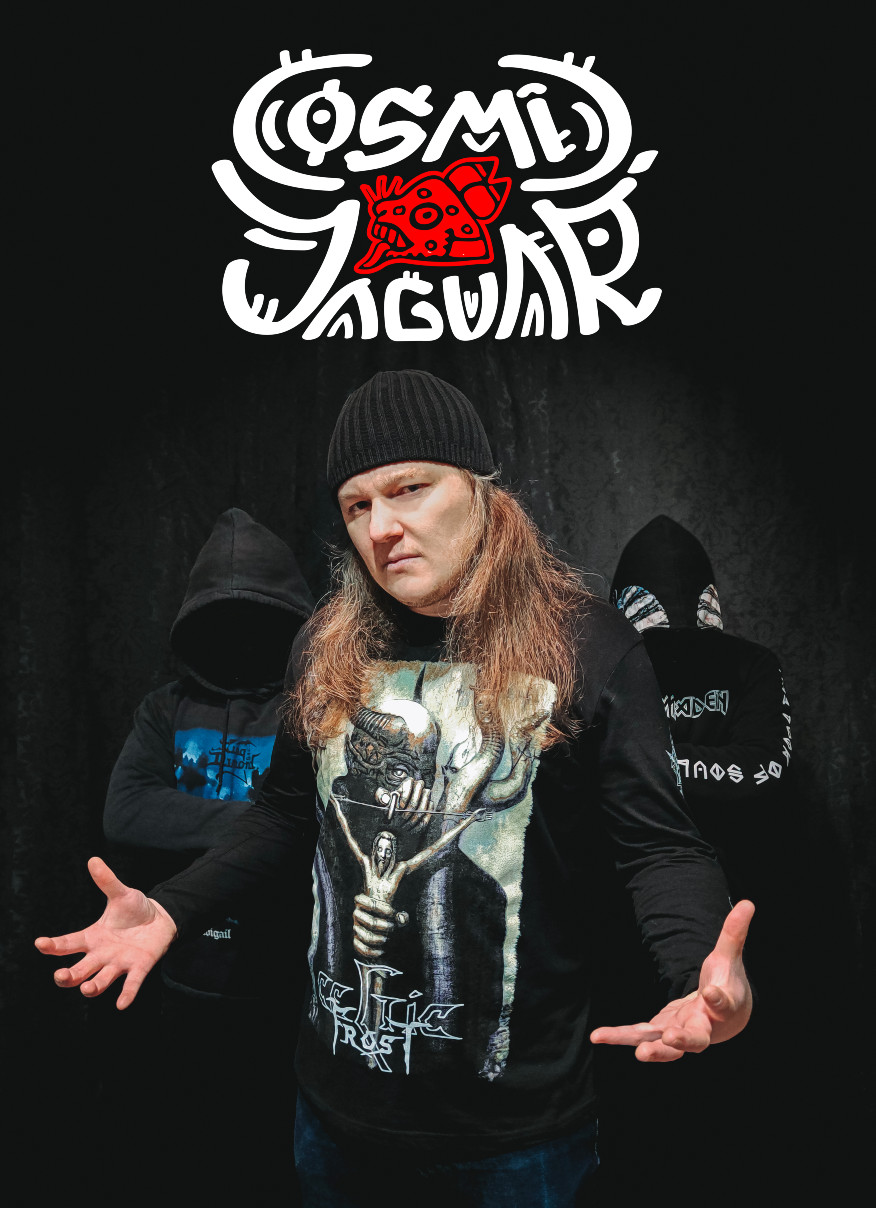 Follow the band at these links:
Contact: omendistro@gmail.com
https://cosmicjaguar.bandcamp.com
https://www.facebook.com/cosmicjaguarthrash
https://www.deezer.com/en/artist/1430013
https://music.apple.com/us/artist/cosmic-jaguar/1649748598
https://open.spotify.com/artist/4r11CVEBxWanTqETUZFGgS