Blood on the Dance Floor's Dahvie Vanity Accused of Sexually Assaulting Underage Girls!
In order to protect their privacy, all of the women in the following story will be identified only by a first name, some of which are aliases. No other details of their stories have been changed.
Tye was in the tenth grade the first time she met Dahvie Vanity, one half of the popular electro/ scenecore/ self-proclaimed "death pop" duo Blood on the Dance Floor. They'd started communicating, first via Facebook and eventually by text, in December of 2011, when she was already a massive fan. "At the time, him getting in contact with me felt like a dream come true," she says today.
So when Dahvie — born Jesus David Torres — announced that he was coming to her hometown of Houston, Texas, she leapt at the opportunity to hang out with him. "It took a lot of convincing, but my mom let me meet up with him at the galleria mall," Tye recalls. She was upfront with him about her age long before they ever met in person, but the disparity didn't seem to bother him; Tye says Dahvie's pet name for her was "My Little School Girl." He was twenty-seven.
They ate at The Cheesecake Factory one Friday after school in January of 2012, and although Tye admits the meeting was initially "really awkward," she thought Dahvie came off as being a nice guy.
That did not last long.
After they were done with their meal, Dahvie led Tye to his car, a black SUV, in the mall's underground parking lot. She thought he was taking them to another location to continue their de facto date. "But instead he shoved my face on his dick," Tye alleges. "He was feeling me up and I just didn't know what to do. I'd never been in this situation. So I just let it happen."
It was not the last time that Dahvie would treat Tye this way. In May of 2012, Dahvie invited Tye, her mother, and her brother to stay with him at his home in Arizona for a week. "It was over spring break," Tye says. "I kind of feel bad about my mom, that she let me hang out with someone who was twelve years older than me who had obvious 'interests' in me. But she didn't know the extent of what was happening." Tye also says her mother "genuinely thought Dahvie was a good guy" because he'd paid to get her towed car out of the impound and promised to help with the cost of traveling to his house. "We'd driven 23 hours straight from Texas to Arizona to get to his house," Tye remembers.
But Dahvie never actually paid Tye's mom the money he'd promised, and the sexual assaults continued.
"He would never ask my permission," Tye tells MetalSucks, "just take me somewhere where we were alone and grab my head and push me down like a dog."
*
Tye's story about Dahvie Vanity exhibiting such abusive behavior is, unfortunately, not a standalone accusation. He was arrested in 2009 for sexual assault (although charges were never filed), and other prominent "scene" members, like the musician and cosmetic artist Jeffree Starr and New Year's Day vocalist Ash Costello, claim to be eyewitnesses to his crimes.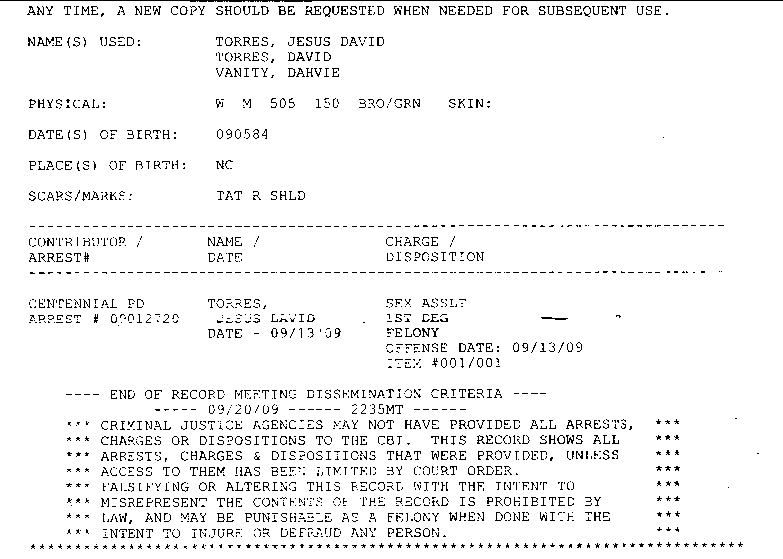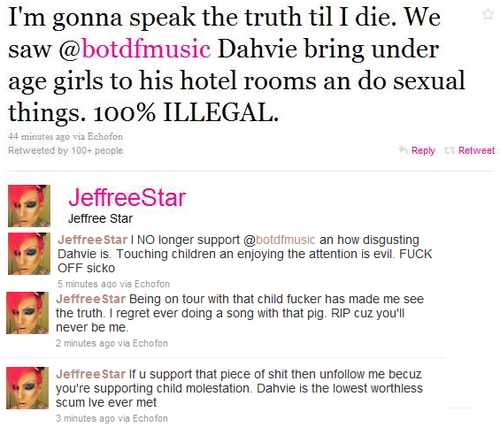 Read more about it at MetalSucks