NECRONOMICON - Constant To Death - Reviewed By Metal Digest ! Check it out here at this link: https://metal-digest.com/2023/05/05/necronomicon-constant-to-death/
        Nearly 40 years in the business is something to be really proud of and one band who this applies to are original German thrashers Necronomicon who are back for the first time in less than two years with their latest release 'Constant to Death'.
                What the listener gets here with 'Constant to Death' is an album which continues to plough the furrow that that thrash band have been doing for the last decade or so. Therefore, 'Constant to Death' isn't exactly the neckwrenching prowess that Necronomicon delivered in the past or even contemporary with their peers. Yes, this album presents a lot of thrash notes, and it does make the head… nod… like a donkey and there is just something a little bit well… generic. Alright, there's some really strong moments here, 'Children Cry Alone', 'They Lie' and 'The Guilty Shepherd' are up there with any of Necronomicon's best stuff, but there are too many wank chorus' here which just present the listener with an everlasting pile of meh.

                There is a huge saving grace and that is through a powerful modern production, it makes the listener overlook a lot of the foibles that would otherwise drag this album into the realms of monotony. Furthermore, the musicianship is top-notch. However, if you're looking for some to whittle away 40 odd minutes, then 'Constant to Death' isn't a bad shout, just don't expect it to blow your face off. Metal Digest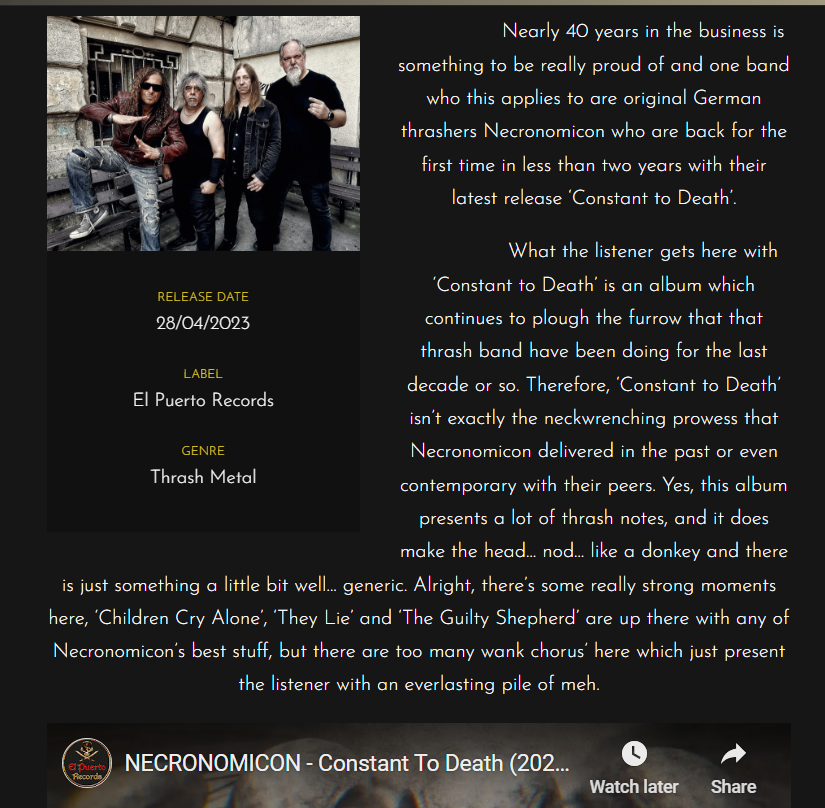 Release Date: 28.04.2023
FFO: Slayer, Megadeth, Overkill
Location: Germany
With Constant to Death, their twelfth studio album, Necronomicon embarks on an explosive tightrope walk between thrash, punk and powermetal. The hard, uncompromising characteristics of the songs have remained. New is the tidy, fat sound and the dominance of the vocals, in which songwriter and front man Freddy shows himself more vocally powerful than ever. Freddy describes 'Constant to death' as his most modern and at the same time most personal album. "There's everything in the 12 songs, from typical Necronomicon to salon-ready powermetal to my musical origins of punk." 
Title track and opener of the new album is 'Constant to death'. Thrash reloaded. Compact, a power song in which soundmaster Achim Köhler has once again done a great job and which will open the door to a wider audience for Necronomicon. Also the second song, 'They lie', a typical punk song, but in the "here and now" so Freddy, clarifies Necronomicon's new course out of the niche German Thrash Metal without however losing recognition value. 'Constant to death' is more than a loose sequence of songs, it is Freddy's journey through music as he loves it. Each track is meant to make you curious about the next one. In the sense...it makes you want to listen through the album....and then... start all over again. Early in spring, Freddy went to work on the songwriting and the album was recorded before the European tour in September / October 2022. This time the members of Necronomicon recorded and produced it in the band's own headquarters to simply have more time. 
The rhythm & melody guitars were played as always by Freddy and then Marco Lohrenz laid down the powerful , well thought out and melodic foundation bass tracks in preparation for the drum tracks to be recorded by Rik. Because the band wanted as much time as possible to record the music tracks, Rik Charron flew to Germany 2 weeks before the start of the tour to record all the drums for the new album. The former Exciter drummer AGAIN hits the skins with the speed of a machine gun and with the power, intricacies and ferocity he is well known for.
The thoughtful and flowing solo guitars were recorded by Glen Shannon at his home base in the USA. The album is being Mixed and Mastered as always by Achim Köhler. He is the only engineer for Necronomicon when it comes to the perfect sound for the band of his production excellence. Due to the worldwide events, the album title "Constant to Death" is also the main theme of the lyrics. The Russian war of aggression on Ukraine, churches and their sexual abuse, child poverty and hunger...They are very serious and socially-critical song lyrics, which turn out accordingly gloomy. Constant to Death, Constant to Thrash !
Check out this video!
Follow them on Spotify and add them to your playlists!
Also available on Apple!
Lineup: 
Freddy: Vocals and Melodie- & Rhythm guitar 
Marco Lohrenz: Bass 
Rik Charron: drums
Glen Shannon: Soli guitar
Track List:
1. Constant To Death 
2. They Lie  
3. Redemption 
4. Stored In Blood
5. The Guilty Shepherd 
6. A Voice For The Voiceless
7. Black Rain
8. Children Cry Alone
9. Bloodrush
10. Down From Above
11. The Blood Runs Red
12. Poverty Show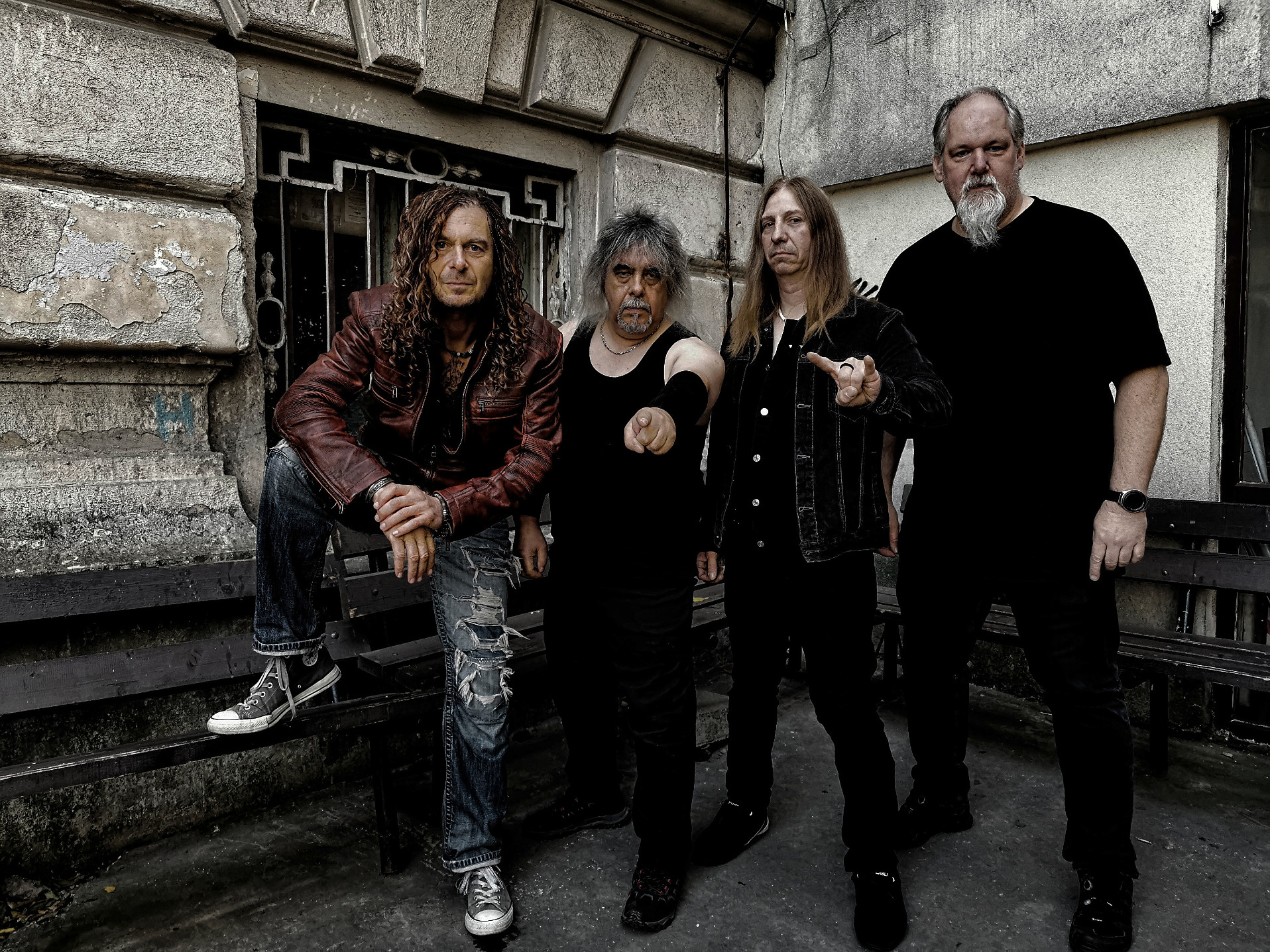 Follow the band here at these links:
https://www.facebook.com/necronomiconofficial
https://necronomicon-germany.de/
https://www.youtube.com/channel/UCiEYPGuTerbs2QmpgC_b0wg