Epic Metal powerhouse Smoulder, in collaboration with Decibel Magazine, has premiered "Victims of Fate," the second single from forthcoming album Violent Creed of Vengeance. Visit the link below to stream!
The album will be released on CD, vinyl, and digital formats on April 21 via Cruz Del Sur Music.
Pre-order Violent Creed of Vengeance at:
Four years removed from the sterling Times of Obscene Evil and Wild Daring, Smoulder is back with Violent Creed of Vengeance, an album featuring seven front-to-back bangers. 
Smoulder frontwoman Sarah Ann spends 20 hours a week hiking in the woods in her new locale just outside Helsinki, Finland. She listens to music and picks mushrooms and blueberries, granting her "rauhassa" — a Finnish phrase for "peace and quiet." The hikes served as a balm for Sarah Ann amidst personal and societal tumult — events that were exasperated as the pandemic raged while Smoulder was hard at work on new music. Through her processing of the pandemic, its impact on social progress and the unending reality of misogyny and rape culture bore the title of Violent Creed of Vengeance, the title of Smoulder's highly-anticipated sophomore full-length.
The unexpected success of 2019's 
Times of Obscene Evil and Wild Daring 
promptly thrust Smoulder — rounded out by guitarists S. Vincent and Collin Wolf, bassist Adam Blake and drummer Kevin Hester — into a whirlwind of rehearsals, shows and parties, but nothing amounting to time well spent as a band doing non-band things. (Sarah Ann notes Smoulder had never spent more than 72 consecutive hours together.) Further complicating the plot was Sarah Ann and Vincent's 2022 move to Finland from their native Canada. But not wanting to leave anything to chance, Smoulder ensured the album was entirely written and meticulously rehearsed before joining the production team of Valtteri Kallio and Jani Snellmain in July 2022 in Espoo, Finland.
Violent Creed of Vengeance espouses an "all killer, no filler" ethos. The band followed the roadmap of Omen, Blind Guardian, Chastain, Rainbow and Tales of Medusa — acts renowned for writing albums with front-to-end bangers. Smoulder applied this approach, hauling out seven songs that capably merge the fist-bumping bangers of Hester and the arcane and obscure numbers from Vincent. The songs are more nuanced but still enmeshed in Smoulder's now-patented blend of speed, power and doom metal, capped off by Sarah Ann's captivating vocals.
The legendary Michael Whelan (Cirith Ungol, Obituary, Sepultura) once again handled the cover art. Whelan's artwork helped shape the album's theme of vengeance, particularly Sarah Ann's very pointed lyrics about taking revenge on misogynists and rapists, their enablers and the indifference of those who excuse such behavior. The red tones of Whelan's painting have a tremendous impact since red is historically associated with strong feelings: anger, violence, lust, sex, love, courage, vigor, danger, power and passion. There is also an infusion of sword, sorcery literature and films that inspired Times of Obscene Evil, including a very special guest appearance from The Eternal Champion author, Michael Moorcock.
Whatever circuitous route Smoulder took to write and record Violent Creed of Vengeance, there is little dispute that the album is the next logical progression after Times of Obscene Evil. And, according to Sarah Ann, the results speak for themselves. "I used to loathe when bands used the word 'mature,'" she says. "The same goes for when bands say 'This is our best album,' but.... this album is mature and better than the debut."
Track Listing:
1. Violent Creed of Vengeance
3. Midnight in the Mirror World
4. Path Of Witchery
6. Spellforger
7. Dragonslayer's Doom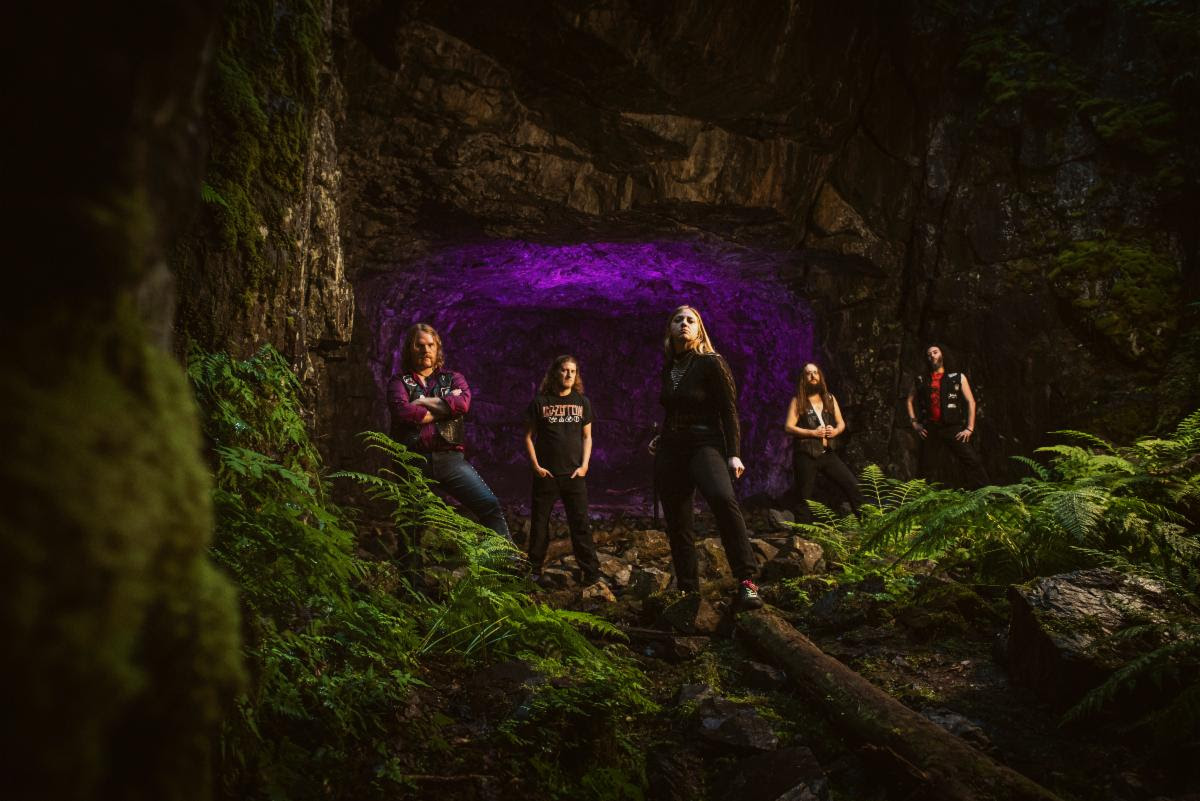 Photo Credit: Emma Grönqvist
Line-up:
Sarah Ann – Vocals
S. Vincent – Guitar
Collin Wolf – Guitar
Adam Blake – Bass
Kevin Hester - Drums
facebook.com/SmoulderDoom
instagram.com/smoulder_doom
smoulder.bandcamp.com/merch
Smoulder on Spotify
facebook.com/cruzdelsurmusic
instagram.com/cruzdelsurmusic
cruzdelsurmusic.com

cruzdelsurmusic.bandcamp.com