Pyramid (USA) - Rage - Featured & Interviewed In Metal Hammer Magazine ! Check it out here at this link: http://www.metalhammer.it/interviste/2023/03/15/pyramid-rage-and-hope/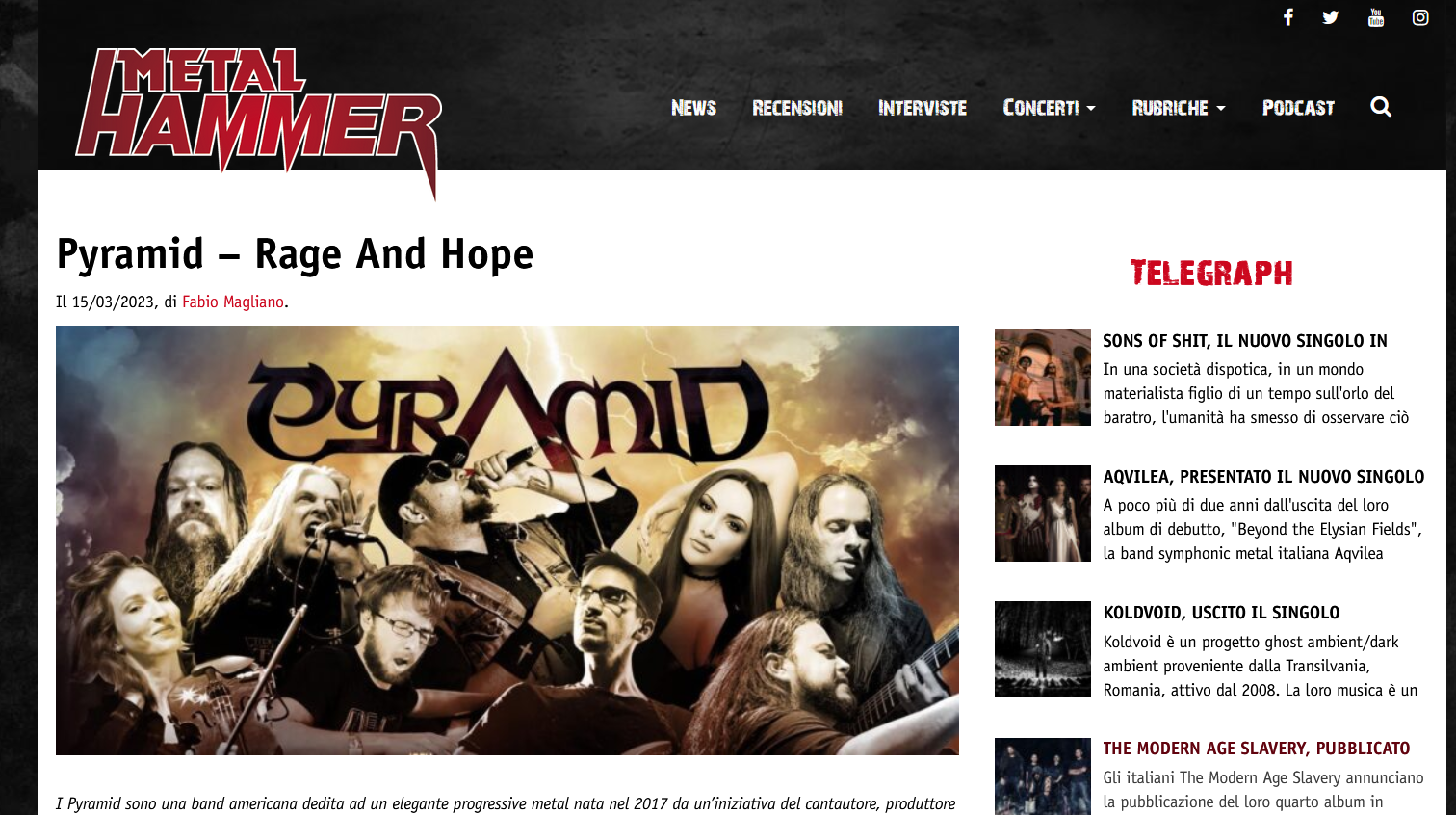 Pyramid is an American band dedicated to an elegant progressive metal born in 2017 from an initiative of the singer-songwriter, producer and bassist Lance Sawyer and author of five albums so far, the last of which, 'Rage' has recently seen the light. A peculiarity of this work, as well as for the previous 'Validity', is the large group of guests involved in the project. To this tour have contributed to the Pyramid names of the caliber of Tim Ripper Owens (ex Judas Priest, ex Iced Earth, among others), Andry Lagiou (The Harps), Harry Conklin "The Tyrant" (Jag Panzer) on vocals , Mike Abdow (Fates Warning) on ​​guitars and Chris Quirarte (Redemption) on drums, Adam Bentley (Arch Echo) on guitars and mixing, Joey Izzo (Arch Echo) on keyboards and Perrine Missemer on violin. Impressed by this incredible team but above all,
'Rage' is Pyramid's fifth album, an impressive record that required hard work and enormous sacrifices. How do you feel today that the album is finally out?
"(Lance Sawyer) The album came out stellar and the prog community seems to really appreciate the music and its diversity. At its heart is old school crossed with a New Age music that is very hybrid, something totally original".

What emotions are you feeling now that your "creature" has finally seen the light?
"It's not one person or situation that affects your life; it is the meaning you give to that person or situation, which influences your emotions and your actions. Your choice is to change the meaning you gave it, or to change your answer, in order to create the outcome you desire."

What was the most difficult yet challenging challenge you faced this time?
"The entire process of creating and developing a concept album like Pyramid took a lot of effort and dedication. As you can guess, it is very detailed to bring so many brilliant minds together to merge and create a work of art like 'Rage' As challenging as it sounds, it was very inspiring to work independently with each artist and singer to make a positive impact. and an album of such success and flexibility."

What are, in your opinion, the main differences between your previous work and this 'Rage'?
"The differences that have built Pyramid's music from album to album are the vocalists and guitarists and for a reason. It was absolutely fun to work with such talented artists and such a dynamic. Each song needed a certain element and a certain vibe to reach the maximum potential for each song".

Also this time you have involved a large number of guests, do you want to tell us about it?
"Pyramid is a collaboration of extraordinary artists who have achieved success for who they are and who they are. The blend of creative talents that I have brought together have achieved great results and success as a whole, with an impact and a positive response from fans of modern and contemporary music".
Is there an artist you are particularly proud to have on board?
"I am proud of every single person who adds their presence and professionalism to the music. Like an overall picture, and this is what Pyramid is perfection and strength as a unit and structure that will last over time".

And is there a musician you would have liked to work with but couldn't?
"To be honest, at this point every artist and singer I had in mind came on board the Pyramid project. So far no one has told me they don't want to participate in the production. It's positive and gives you good energy."

How long did it take you to conceive such a work and how long did it take from the moment it was conceived to the moment it saw the light?
"Pyramid is the result of years and years of writing and putting together his wonderful technique. I write the whole structure of every single piece of music. The reason it works so well is that it's done systematically with each artist and singer. Very thoughtful and creative, very detailed."

From a musical point of view, what are the references for this work?
"I grew up very early learning to play bass and building a technique for playing and writing music. There are many bands from the 70s, 80s and 90s that built the foundations of my skills as an artist and music producer".
Going into the album itself, can you tell us about 'Greed', which I consider one of the highlights of this concept?
"Greed is to me the bane of society as a whole. The way Ripper Owens describes it and sings it offers all sides of the coin. There is greed, good or bad, and greed of all kinds. It sums up the totality of what greed itself is. It's something people can identify with and understand."
And what about 'Beast'?
"'Beast' is also a very brilliant song both musically and lyrically. It tells of how a person can come to life and feel the strength to be the best individual and person possible. The Beast represents strength, not weakness or malice. Harry Conklin has done an amazing job and deserves his congratulations on the excellent work he has done".
Impossible not to mention among the highlights the impressive 'Dungeons And Dragons'…
"'Dungeons and Dragons' is the result of a creative process of hours and hours. I spend weeks and months working on the music like an artist does a famous painting. I take a step back and then come back to the song later to add colour, contrast and texture with new ideas and techniques. The content of the lyrics describes, in a metaphorical sense, the current state of the world we live in. Dungeon means "painful", the bottom and the end. The Dragon symbolizes the upper elite who have it all and who will devour and destroy anything and anyone in front of them to get it".

You are undoubtedly a versatile artist ranging from classic metal to progressive metal. What do you think is your true nature and what is the dimension in which you feel most comfortable?
"Absolutely! You nailed this question. The word "multifaceted" represents me well, because it is exactly the way I see and create my style of playing and producing the music of Pyramid. It gives a little bit of something that a lot of people can get from every song, regardless of musical preference."

You've been on the scene for several years now, if you look back on your career, what is the moment that you consider most important and of which you are particularly proud?
"I am proud to be able to do what I do. I never take anything for granted. I am very grateful and appreciative to everyone who helped make this journey possible."

Do you think it is possible to somehow promote this work live?
"I know many people would like to see this work on stage. The current economic situation and conditions are extremely volatile and it is not reasonable to aim for this at the moment. We are focusing on a new work in the studio, and also in this case there will be big surprises. I can tell you that at the moment Glen Drover, former guitarist of Megadeth, and King Diamond are working together to make an instrumental composition of the songs of Pyramid".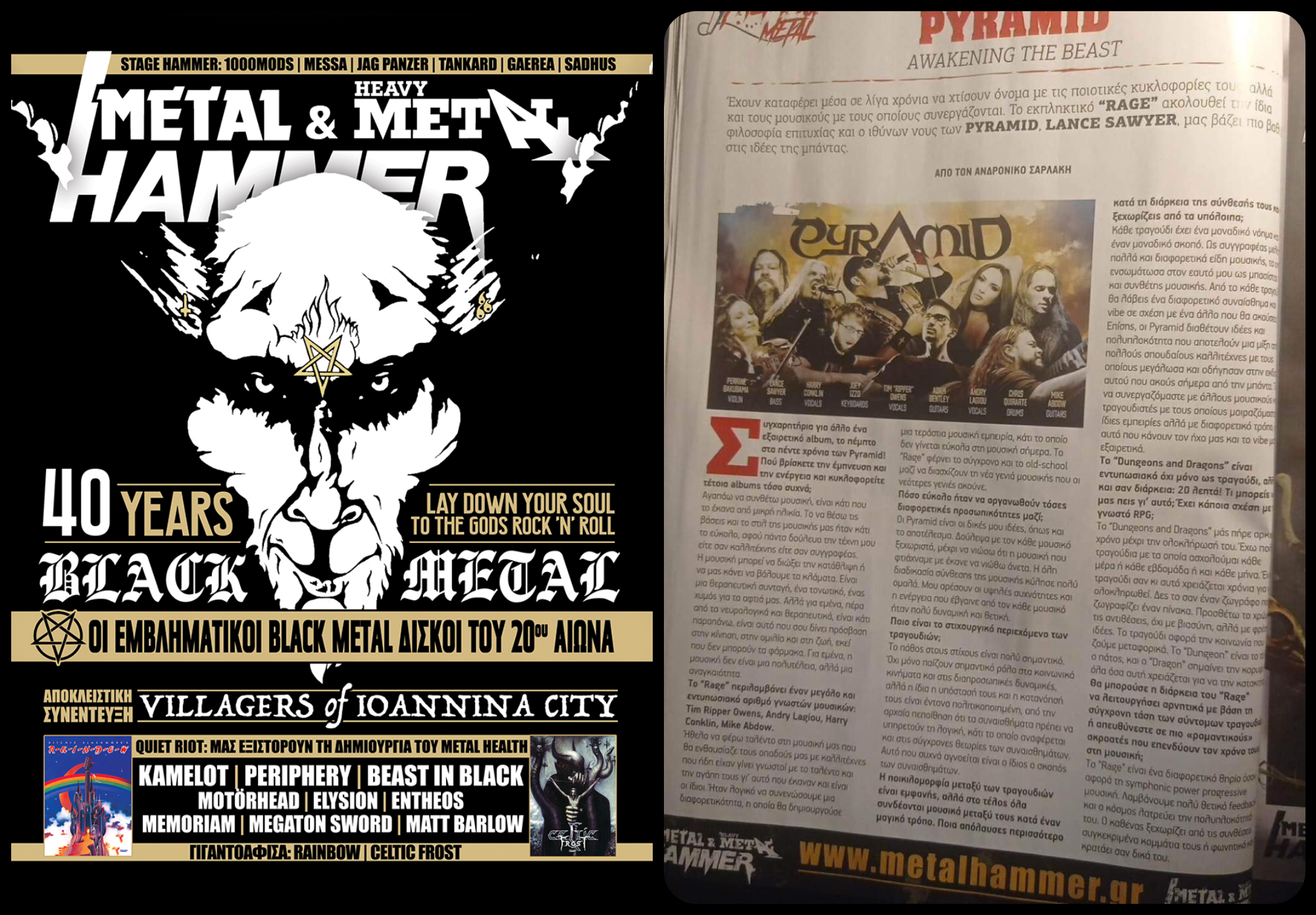 Release Date: November 4th, 2022
FFO: Dream Theater, Savatage, Judas Priest
Location: USA
Pyramid the American progressive metal super-project, finished the production of their upcoming 5th album "Rage" Revisited!
For the new masterpiece of Pyramid-like in their previous album "Validity" - Lance Sawyer, the mainman of this band some of the best musicians of the metal scene:
Tim Ripper Owens (ex- Judas Priest , ex- Iced Earth , among others), Andry Lagiou ( The Harps ), Harry Conklin "The Tyrant" ( Jag Panzer ) on vocals, Mike Abdow ( Fates Warning ) on guitars and Chris Quirarte (Redemption) on drums, Adam Bentley (Arch Echo) guitars and mixing engineer, Joey Izzo (Arch Echo) the master on the keyboards and Perrine Missemer on the amazing violin.
"Rage" is OUT NOW worldwide on physical (2-cd) and digital edition!!!
From this new album the band released two videos for the songs "Empty Roads" & "Greed"!!!
Check out the videos!
Add to your collection on Bandcamp!
 Check them out on Spotify! 
Also available on Apple!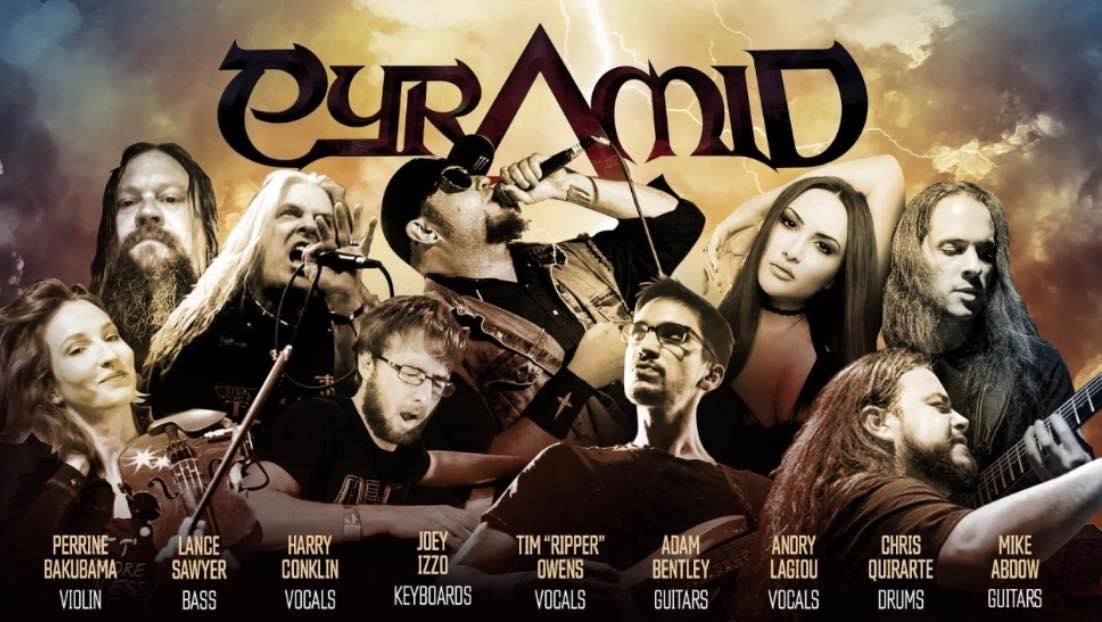 Follow the band at these links:
https://www.facebook.com/pyramidoffical
https://open.spotify.com/artist/4C9OSgJzXiqok229VyICc3
https://sleaszyrider.bandcamp.com/album/pyramid-rage
https://www.youtube.com/channel/UCYe4HTmmMHvVI0fSnpn7xag
https://sleaszyrider.com/