Truth to Power - Claim Your Freedom - Reviewed By fullmetalmayhem ! check it out here at this link: https://fullmetalmayhem.wordpress.com/2023/01/20/truth-to-power-mit-claim-your-freedom/
Band name and album title: Truth to Power with Claim your Freedom
Genre: Thrash metal
Release date and label: They actually released the EP themselves on December 26, 2022, but Bandcamp still says something about pre-orders. You should take a look to see if that's true.
Other releases by the band: After a single, this is probably their first EP.
How did I get to know the band: Again, Metal Devastation Radio showed me something interesting. At first I wasn't quite sure if the exaggerated patriotism they express on the cover is meant to be a parody or serious, but in the US it's considered good manners. But let's listen anyway:
How do I find the disc: The EP kicks ass, so much in advance. You can also clearly hear the hardcore punk. The vocals would be quite appropriate for either genre, angry and hoarse as it is. Add to that frenzied guitars and heavy drums, so what more could you ask for? Not much actually, so let's get to my favorite:
KILL TIL DONE doesn't sound bad, you can feel the anger they pack into the music here. A hard fast song that is also the longest on this EP. For me the best on the disc. With the moshparts this could even become their anthem.
Conclusion: Not a bad EP so far. I don't really know what to do with all that patriotism, but let's leave it to them. Anyone who likes frantic Thrash could find what they are looking for here, I definitely have fun with the music. So have a listen: fullmetalmayhem
Release Date:12/26/2022
FFO: Lamb of God, Everytime I Die, Pantera
Location: Gainesville, GA
Short Bio: Truth to Power was formed in the mid 2010s by bass player and vocalist Chris Chalmers. At that time Chris was a one man show and utilizing fill-ins to cover all the instruments in the band.  In 2021, Chris partnered with Kellan Scalf and Codye Satterwhite at The Maelstrom Studio to produce and record the EP "Claim your Freedom" which will be released later this year. After hearing the singles and laying down lead guitar on one of the tracks, Butch Cunningham became interested in pursuing Truth to Power full time. Chris obliged and at that point, Butch took over drums while Gabe Sweeney and Jonathan Lovall picked up the guitar playing duties. Since then the band has written several new songs and are preparing for a full length album and tour in 2023.
Check out this video!
Follow them on Spotify and add to your playlists!
Add them to your collection on Bandcamp!
Also available on Apple!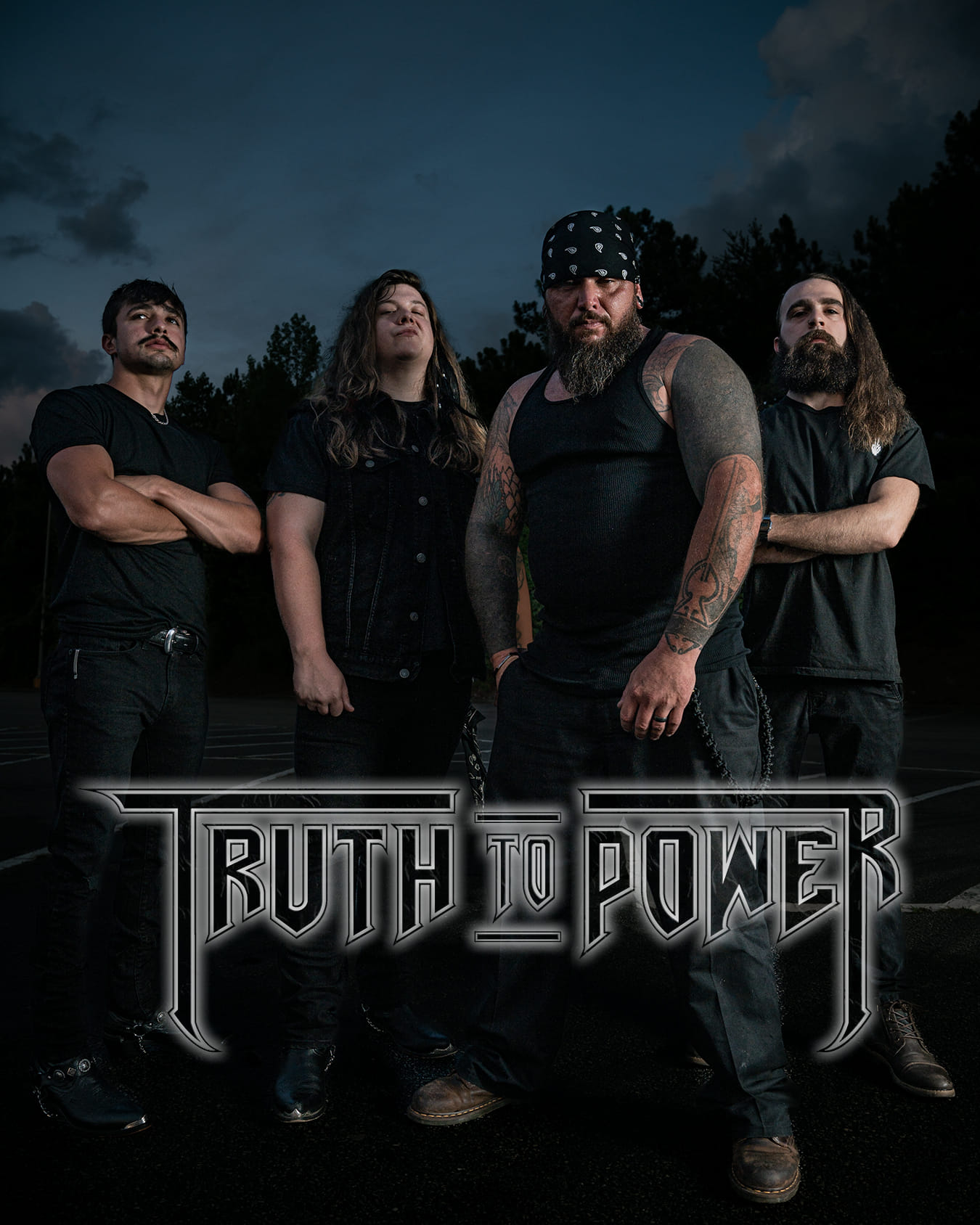 Follow the band at these links:
https://www.facebook.com/TruthtoPowerband
https://www.instagram.com/truthtopowerband/
https://hyperfollow.com/truthtopowerga
https://truthtopowerga.bandcamp.com/track/omega
https://open.spotify.com/artist/6oWSwrAfGNBl4FOEWHvk8V
https://music.apple.com/us/artist/truth-to-power/1591492025
https://www.youtube.com/channel/UC1V9flclM_P8gke4KOpYkQg
https://www.youtube.com/channel/UCjSFTpolYy1Ri_9qm2nKQOQ
https://darksailsentertainment.com/