Vulture Lord - Desecration Rite - Reviewed By vm-underground ! Check it out here at this link: https://www.vm-underground.com/review/vulture-lord-desecration-rite/
Even though the band formed in the mid 90's, Vulture Lord's career hasn't been all too prolific. In fact, apart from a debut album 'Profane Prayer' in 2003 and an EP a couple of years later, the Norwegians have been quiet for at least 15 years. Perhaps this has to do with the involvement of the band members in numerous other bands, as the line-up contains musicians that are of have been part of acts such as Urgehal, Carpathian Forest, Beastcraft and Endezzma. But most likely, the tragic passing of guitar player Trondr Nefas in 2012 also contributed to the long hiatus. Regardless, that period of silence ended in 2021 with the release of the second album, 'Desecration Rite'.
Musically speaking, the band's previous album featured Black Metal with a strong infusion of Thrash Metal. That comes down to Black Metal with rocking and grooving rhythms, mostly at decent pace with a high degree of catchiness. Think of Tsjuder and Carpathian Forest, but also a fair bit of Urgehal. The latter is perhaps not surprising since Trondr Nefas and drummer Uruz were both an important part of Urgehal. And although probably a little bit less dominant than on 'Profane Prayer', 'Desecration Rite' still has a noticeable touch of that Urgehal flavor. That's not strange, since at least part of the material on the new album was still written by Trondr Nefas. Similarties aside, the band rips through eight catchy and grooving tracks (excluding the intro), at times with Slayer-esque solos ('Bloodbound Militia'), sometime more midtempo ('The Vulture Lord') and often downright raging ('Diabolical Intervention'). Other bangers like 'Prepare the Coffin' and 'Burning the Kingdom of God' manage to stick out, but it's all of consistently high quality, making the album a joy to listen to.
Even though the band was silent for an extended time, they come back ripping with 'Desecration Rite'. And let's face it, that's a welcome fact. The bands that play a similar brand of music aren't exactly spewing out releases annually either. Let's hope this time around we will see more Vulture Lord releases (and in hindsight, 2022 already saw them release a split with Black Altar), because they have plenty to offer for fans of rocking and grooving Norwegian Black Metal. - vm-underground
Eighteen years after the release of their first full length album,  Profane Prayer , the legendary  Vulture Lord  have returned with its caustic, violent successor -  Desecration Rite ! The album will be released in  June  by  Odium Records and pre-orders started on April 22nd , along with the unveiling of the first single from the album,  'Bloodbound Militia' .
FFO: Urgehal, Beastcraft , Carpathian Forest, Marduk
You can see the video for the 'Bloodbound Militia' single at the Odium Records YouTube channel by following this link:
The album, Desecration Rite, featuring stunning cover art from  Jorge Vimendy , is available to pre-order on CD, Vinyl and a deluxe wooden box edition, limited to just 66 copies, along with accompanying t-shirts and longsleeves - all from Odium Records at:
www.odiumrex.com/webshop
www.odiumrecords.bandcamp.com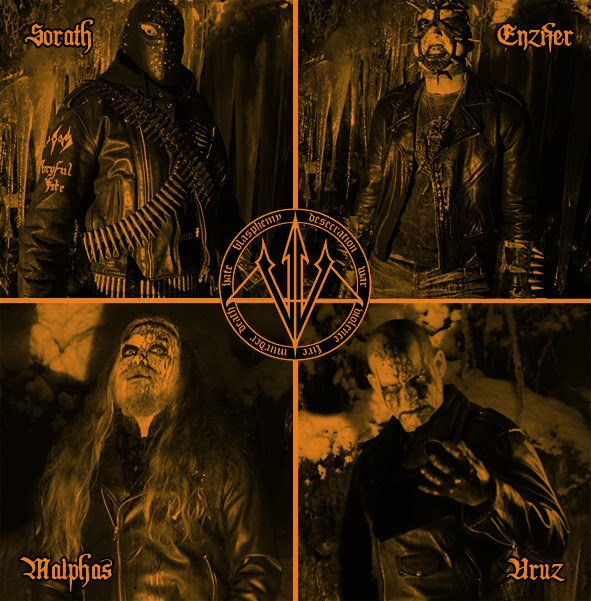 Vulture Lord feature members of   Urgehal ,   Carpathian Forest ,   Beastcraft   and   Endezzma   and Desecration Rite features material written by the sadly departed and much-missed   Nefas   of Urgehal.

Full track listing for Desecration Rite:

1   Glorification of the Dethronation
2. Bloodbound Militia
3. Stillborn Messiah
4. The Vulture Lord
5. Diabolical Intervention
6. Prepare the Coffin
7. Beneficial Martyrdom
8. Burning the Kingdom of God
9. Perverting the Bible
The Vulture Lord has returned and darkness, death and desecration await!
Follow them at these links:
https://www.facebook.com/deathcibel/
https://www.facebook.com/OdiumRex/