Gia G - Cosmic Wave - Reviewed by metal-digest ! Check it out here at this link: https://metaldevastationradio.com/thebeast/blog/17953/new-promo-gia-g-cosmic-wave-instrumental
I have been enjoying and dissecting instrumental guitar music since Satriani's 'Surfing With the Alien.' Many have come and gone; dropped many jaws and yes, caused a few yawns. I can unequivocally say Boston-based Gia Federico has the "it" factor. Under the moniker Gia G, she has recently released this 3-song EP which offers the tip of a mighty musical iceberg. 
'Cosmic Wave' is a beautiful amalgam that both seers and soothes. Incorporating several techniques, Her guitar sings, arcs and cries. All this is melded into a magical journey of the mind. In just over twelve minutes, Gia provides us with a story containing several chapters, adventures, and indelible memories. 
 The title track, "Cosmic Wave" is awash in Gia's impeccable tone. Simple melodies are tastefully adorned with a myriad of subtle, yet highly effective embellishments. In other words, lots of moving parts here and lots to enjoy. A fine introduction to her sound.  
With its acoustic underpinnings, "Reminiscing" is sheer melodic poetry. The song soars and dances playfully, painting its story along the way. Sadly, it is less than three minutes long. Seriously, I could listen to this for forever.
Equal parts fire and lace, "Intrical Force" is sprawling and truly captivating. While culling images of many guitar greats, Gia manages to maintain her own unique sound. 
Gia's technical ability is on full display here, but more importantly, her music's emotion shines even brighter. This music dazzles both the ear and the heart. I anxiously await for her star to rise.
Release Date: January 25th, 2022
FFO: Jason Becker, Steve Vai, Joe Satriani 
Location: Boston, USA
Gia Federico is an instrumental guitarist out of Boston, USA, she is signed with Sliptrick Records with both GIA G and Devil In The Mist . The ' Cosmic Wave EP ' is the latest release for Gia Federico's solo instrumental project Gia G and the first since 2019's The Ladder. The new EP is her best to date and takes her music in a different direction and higher level.  Showcasing her diverse prowess on the frets, with jazz modal and scalar legato featuring in Intricate Fusion and Cosmic Wave , to the acoustic slap song, Reminiscing, which shows another side of her style with a great feel, bluesy runs and phrases. Cosmic Wave takes the listener on a journey of musical knowledge, intricate writing, great for listening when you're in your car breezing down the highway.   
Check out this video:
Check her out on Spotify and add her to your playlists!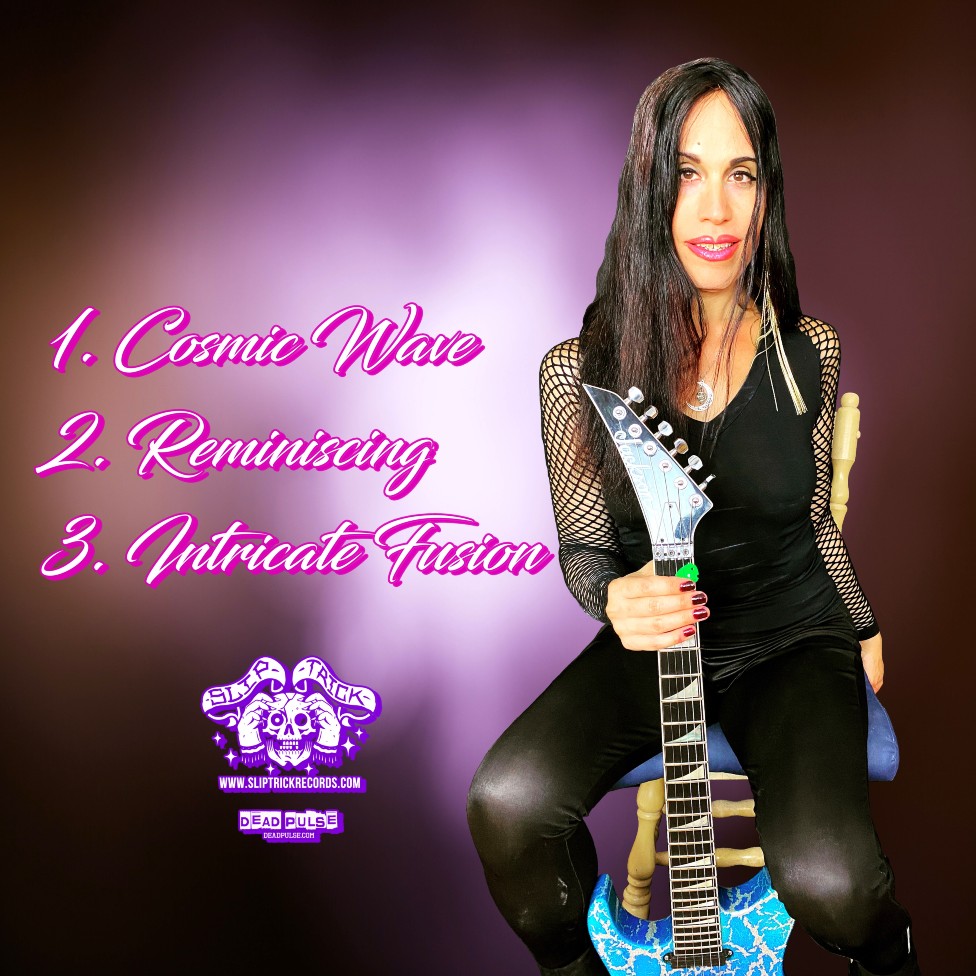 Follow the band at these links:
https://sliptrickrecords.com/gia-g-rides-the-frets-on-her-cosmic-wave-out-jan-25th/
https://sliptrickrecords.com/gia-/
https://www.facebook.com/SalinaFederico/
https://www.youtube.com/channel/UCqYHa39KWMkVjLzTeiU2tYA
https://www.instagram.com/gia_federico/
https://twitter.com/SALIN606
https://www.facebook.com/salina606
https://www.facebook.com/gia.federico.12
https://www.facebook.com/groups/169610116754891
https://www.reverbnation.com/giafederico
https://www.linkedin.com/in/gia-federico-52978b3/
https://myspace.com/gia606
https://open.spotify.com/artist/6eDztqZa2Z6c5fACxvariw
https://music.amazon.com/albums/B09NP97ZJ9     
https://music.apple.com/us/artist/gia-g/1541444525