Methane - Kill It With Fire - Reviewed By 195metalcds ! Check it out here at this link: https://www.195metalcds.com/2023/01/13/methane-kill-it-with-fire-2023/
Like much of the population, last year didn't quite go as planned as I spent the last six months fighting one health issue after the next. So much great music passed me by, although 2022 still managed to be my third best year of the last decade in terms of albums acquired. You can read my best albums of 2022 on my personal blog. But to the first of this year's offerings…
Following Slayer's early retirement in 2019 and before guitarist Kerry King can get his inevitably Slayeresque outfit can release anything—reportedly delayed by this pesky coronavirus—there is a currently a massive Slayer-shaped hole in the metal landscape. Could Sweden's Methane fill that gap?
Generally when I'm choosing submitted albums to review, I will first listen to any YouTube videos that have been bundled with the review pack. From the first four chords of "Thin the Herd", their 2019 single which was re-released last year, I was sold.
This week alone I've played their album 11 times.
The album opens with the feedback-fuelled, drum warm-up of title track, "Kill it with fire" (track 1) which quickly kicks off into what initially threatens to fall into a fairly thrash-by-numbers track of grinding riffs and acidic solos. A lesser band might have left it there, but Methane somehow turns up the intensity and transforms this fairly 'stock' thrash riff into a powerhouse of crushing metal, like Germany's Kreator meets the Netherlands' Gorefest clashing on a battlefield.
"Accuser (of the brethren)" (track 2) is scattered with what sounds like film clips. It's a powerful, driving and surprisingly melodic song that zig-zags around a central riff.
"Declare chaos" (track 3) features a punchy, stop-start riff that sounds like a metal band tapping out a message in morse code and a pleasing solo towards the end of the track.
"Shock and awe" (track 4) wastes no time getting to the point with a pounding riff that suddenly plunges into an old school thrash break within the first 30 seconds. The abrupt tempo changes as the band switches from riff to riff delivers a song that is true to its name. The middle eight towards the end of the song has one of the best grooves of any of the tracks on this album, overlaid with a pleasingly simple and melodic solo. Good stuff.
By this point in the album Methane have well and truly nailed their colours to the mast and I have to say that even on my first listen through, I was committed to following them to the end. "A blood red sky (track 5) builds from a muffled echo, like an ancient army gathering men and strength to the brow of a hill then unleashing hell as they thunder down towards the enemy on the fields below. (It's fun writing metal reviews!) More powerful, bouncing riffs and crashing drums. They simply don't relent. And that's a good thing. The track also features a shredding solo from CJ Scioscia of New York City area thrash legends Blood Feast.
"Down in the gutter" (track 6) features a riff that sounds rather like an offcut of the writing session for "A blood red sky" but want not, waste not. It's a galloping beast of a riff that slices through snarled lyrics, "No-one gets out alive!" Indeed. A slower paced, none-more-evil song, this is the perfect climb towards the Slayer-esque "Thin the herd" (track 7). Just take a listen at that Seasons in the Abyss-like opening riff. It is heavy as anything on this album. This is a masterclass in writing the perfect thrash song.
Conclusion
From my first listen to my (now) 82nd, I have adored this album. I've listened to it morning, noon and night. I turned it up to listen to while working. I used it to soothe me to sleep (yeah, I don't really sleep that well anyway). What a fabulous way to start 2023! What a fabulous way to return to review albums. Thank you, Methane! While there may have been a few moments that Lars Ulrich might have labelled as "stock", I can't but give it full marks. As soon as the album finishes, I spin it up again from the start … you can't ask for much more than that, can you?
Review score: 100% - 195metalcds

Release Date: January 27, 2023
FFO: Onslaught, Pantera, Slayer, Kreator
Location: Stockholm, Sweden
Presave now! https://smarturl.it/methanepresave
The album reverberates unapologetic thrash metal guitar riffing courtesy of guitarists Jimi Masterbo and Markus Grundstrom paired with the intense drumming of newly inducted drummer Jonathan Fundin . The album also features a colaboration with CJ Scioscia from New York City area thrash legends Blood Feast , who shreds a solo on track 5 ' A Blood Red Sky '.
Tim commented in a press release "The lyrics for the album have a darkened tone of irony about our contemporary societal woes and some deeply personal songs as well, of life and all its miseries. The music on the album sounds brutal, we really got a sick mix of old school thrash and heavy pit provoking groove riffs."
Check out the videos!
The music video depicts today's society, social media junkies hopped up Facebook likes. The idea for the song came from a day Tim was going through his friends list, deleting people that had no reason to be there. " I was culling them, deleting someone from your page is worse than death for some people. I think we are all going fuckin' crazy. Its a virus and we're all infected"
Support the band on Bandcamp!
Follow on Spotify!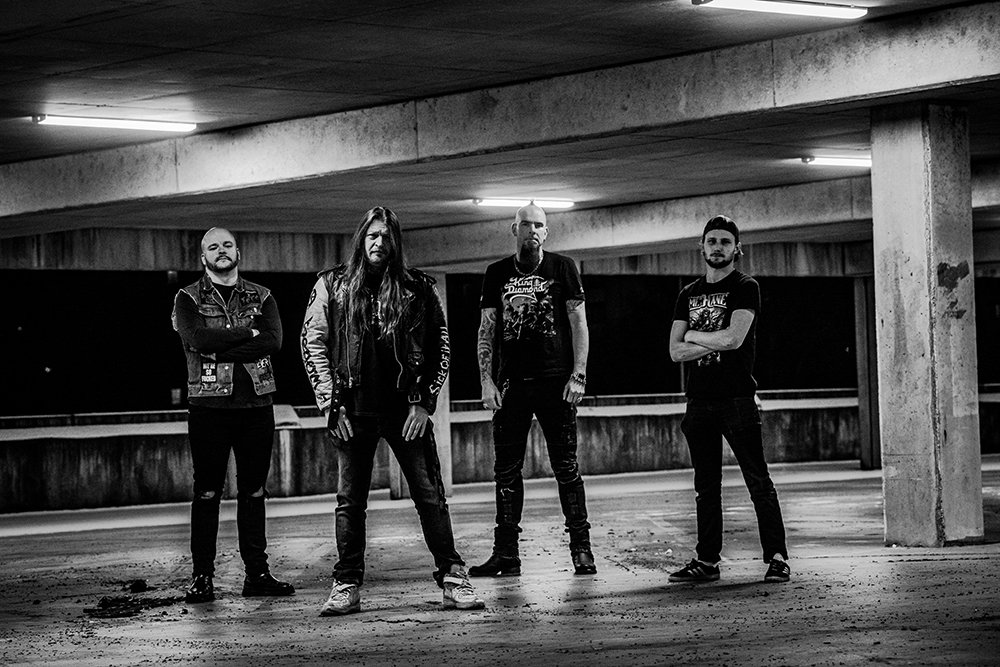 Follow the band at these links:
https://twitter.com/methanemetal
https://www.facebook.com/methaneband
https://methane.bandcamp.com/album/kill-it-with-fire
https://open.spotify.com/artist/2F5991oNfIR8cjD63Nbak2
https://www.youtube.com/channel/UCIut2PuGrMi3QP-ywnVw-aA