Cruel Bomb (USA) - Man Made - Reviewed By Metal Gods TV ! Check it out here at this link: https://metalgodstv.com/cruel-bomb-e-p-review-man-made/
Cruel Bomb are a thrash metal band from the USA formed in 2018, releasing three E.P.'s to date – 'Manhattan Mischief' (2019), 'Trinity Terror' (2020), and 'Man Made', released in 2022…
…seven fucking months ago! How the hell did I miss it? Cruel Bomb came on my radar two years ago with their breath taking second E.P. 'Trinity Terror' – the band quickly making my (forever growing) lists of "favourites" and "bands to follow" – only for me to discover seven months later, I'd missed a new E.P. release! Fuck, fuck, fuckitty fuck! I can't believe I missed it (insert "angry" emoji here). But I'm only human after all…
…with my faux pas now corrected. The new E.P. is five songs long, and is a fifteen minute barrage of the bands neck breaking brand of thrash – the one minute intro 'Keystone Mosh' a steady crescendo that leads directly into 'Dogs Of War' (and no, it's not a cover of the Saxon classic from 1995). Cruel Bomb cite Slayer as an influence – and it's clear to hear that influence in 'Dogs Of War', a savage slab of very heavy thrash that'll make any mosh pit go into overdrive. Cruel Bomb are back, and thrashing harder and heavier than ever!
With an incredible upsurge in speed, 'Bombed Squad' is a ferocious rampage of all out brutality – the band taking the Slayer sound to the next level! Fast and furious, 'Bombed Squad' will have all the worlds metal heads banging their heads like their lives depend on it. This is great stuff. I'm so glad I found this E.P. – I wouldn't want to miss out on this type of thrash. 'Stronger Than Yesterday' has a more traditional metal feel about it, melding pure heavy metal with thrash! Cruel Bomb opening their sound to a wider audience than just thrashers.
The final song on the E.P. 'A-10', is a blistering high velocity rampage that'll have the speed cops chasing you to the ends of the Earth! 'A-10' is a thrashy speed metal attack, full of immense savagery and raw brutality. I'd get the number for the local emergency services if I were you – you may just need it!
Overall, a savage thrash metal assault, Cruel Bomb deliver a breathless barrage of head bang ability. - Metal Gods TV

Release Date: Jan 7th 2022
FFO: Power Trip, Nuclear Assault, Hatebreed
Location: Wilkes-Barre, Pennsylvania
Cruel Bomb is a three-piece thrash metal band from Wilkes-Barre, Pennsylvania. Since forming Cruel Bomb in 2018, members Kennie Barto (bass/vocals), Brandon Gilvary (guitar/vocals) and Kyle McKeown (drums) have fed that machine with a consistent live show schedule and a trio of EPs. Their latest effort, Man Made, adds five new songs to the band's already diverse catalog of compositions.
Check them out on YouTube!
Follow them on Spotify!
Support them on Bandcamp!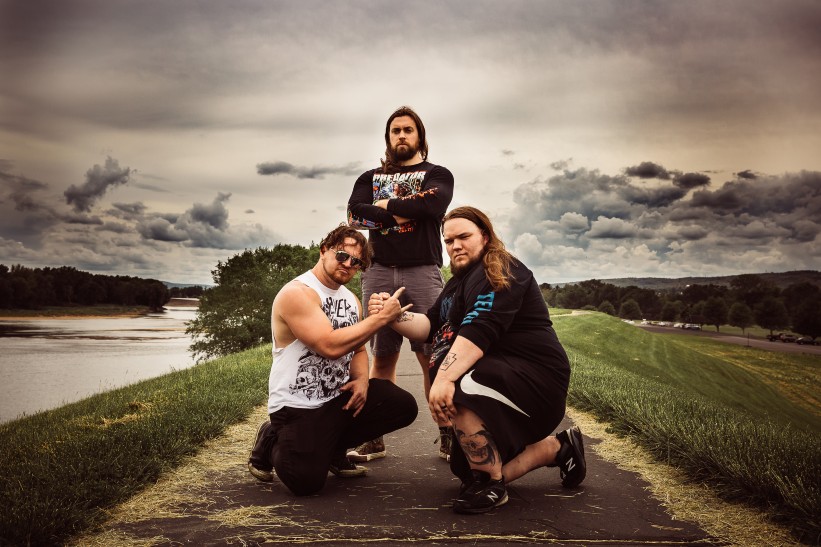 Follow the band at these links:
https://www.facebook.com/Cruelbomb
https://www.instagram.com/cruelbomb/
https://cruelbomb570.bandcamp.com/
https://open.spotify.com/artist/0OdGPZjEpEhjlfRncuRXax